by Alexandra Mrozowska
– Senior Columnist —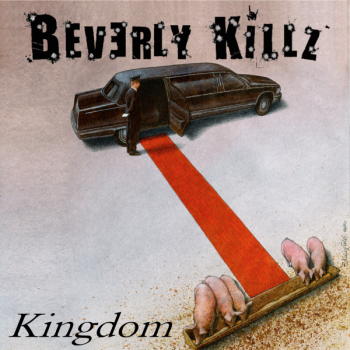 It was 2012, Denis Ward's finishing touch and Perris Records' auspices when the previous album released by the Italian act under the moniker of Beverly Killz saw the light of day. Rave reviews of Gasoline & Broken Hearts earned worldwide kept the band on the radar of many Hard Rock lovers. Now it's 2015 and a high time for another band release. But – as it turns out to everyone's surprise – the follow-up to the aforementioned 2012 album is not only independently released, but also made available for free via YouTube and SoundCloud (a number of printed copies severely limited). Is it a backlash against anti-piracy policy, or the band's own declaration of independence? All musings over this eyebrow-raising move aside, Kingdom is a worthy addition to the Italian band's catalog even despite its DIY formula.
The album starts with "Your World," a feisty mixture of Hard Rock and Glam/Sleaze Metal that doesn't fall far from Beverly Killz' previous recordings (2012's first full length as well as their debut EP) sound-wise. From dynamic lead guitar work to trademark background gang vocals and simple-but-catchy chorus, the band's music still reflects the distinct '80s Rock influence seasoned with a tint of Punk-ish roughness. With its tell-all pun-laden title, "My Kingdom For A Whore" continues in a similar manner, albeit with a bit more aggressive and darker vibe to it which perfectly completes the sardonic lyrical nature of the piece. "Crazy Little Girl" is as sarcastic as its predecessor – a tongue-in-cheek heartbreak song – its melody being in half a neat pastiche of sentimental Pop and Country tunes, in half a typical Killz' track.
Even more of a twist is given to "Shock To The System" as the track draws from Blues and Jazz aesthetics rather than Glam or Sleaze Metal with its complex arrangement and melody line. "My Way Or The Highway" marks a return to the band's usual style, yet with interesting changes of pace and surprisingly ballad-ish outro. "Second Home" is feisty and raw, corresponding with straight-in-your-face style Beverly Killz were eager to utilize at the very beginning of their career.
However, on their first EP Straight From Underground there were no tracks such as "Blue Nights," an elaborate final piece of the album with its Jazzy flavor, instrumental richness and boogie piano charm. It could be the musical direction the group is going to embark on in the future – certainly an interesting one.
An independent release made available in its entirety via the Internet, Kingdom may or may not reflect the condition of the music industry nowadays. It may or may not refer to the fact that the music market is particularly harsh for the young bands (a reference complete with the perfect satire on contemporary show business the cover artwork presents). Most of all, however, it's Beverly Killz' best recording so far, combining the youthful energy of their early days with more mature, diversified approach to their sound and style as well as sardonic social commentary. Recommended.
Genre: Melodic Hard Rock, Sleaze Metal
Band:
Vince (vocals)
Mark (lead guitar)
Andre (bass)
Fabio (drums)
Track List:
1. Your World
2. My Kingdom For A Whore
3. Crazy Little Girl
4. Shock To The System
5. My Way Or The Highway
6. Second Home
7. Blue Nights
Label: Independent
Website: http://www.beverlykillz.com
Hardrock Haven rating: 8/10