Black Veil Brides | Alive and Burning
by Grace Kindred
– Columnist —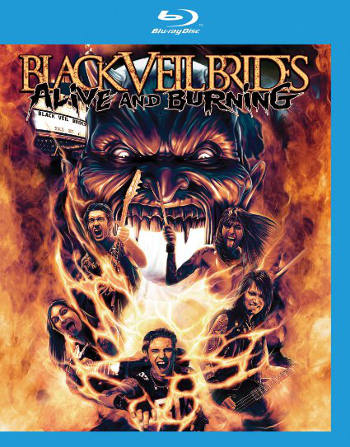 With Alive and Burning, Black Veil Brides releases their first-ever live concert Blu-ray/DVD via Eagle Rock Entertainment. The Blu-ray/DVD was filmed Nov. 1, 2014, at Wiltern Theater in Los Angeles during "The Black Mass" tour. Black Veil Brides performed to a sold-out crowd in their hometown and kicked off their inaugural Halloweekend. The Blu-ray/DVD was directed by Casey Tebo and features 16 songs culled from the band's four studio albums.
From the opening chords being struck, lead singer Andy Biersack pushes the crowd to their limits with new songs being performed – "Heart of Fire" and "Faithless." But the group also keeps it original, performing old favorites, such as "Knives and Pens," "Fallen Angels" and "Rebel Love Song."
Throughout Alive and Burning, Black Veil Bride fans and the audience attending the show experience all of the band members' showmanship. From CC, as he delivers his drum solo mid-set and gets the crowd fired up, to Ashley, as he throws guitar picks into the large crowd, then shifting to Jake and Jinxx, as the camera focuses in on them as they play their instruments.
Alive and Burning features one bonus feature in which Black Veil Brides interact at an autograph-signing session with their fan base.
Alive and Burning is a very accurate title for the Blu-ray/DVD. The live concert performance offers fans an accurate representation of the band in a live setting, as well as their willingness to step off the stage and meet the BVB army.
Genres: Metal, Hard Rock
Band:
Andy Biersack
Ashley Purdy
Jinxx
Jake Pitts
Christian "CC" Coma
Format: Blu-ray, NTSC
Language: English
Region: Region A/1 (DVD, Blu-ray)
Number of discs: 1
Run Time: 127 minutes
Track List:
1. Heart of Fire
2. I Am Bulletproof
3. Coffin
4. Faithless
5. Wretched and Divine
6. Knives and Pens
7. Overture
8. Shadows Die
9. Last Rites
10. Rebel Love Song
11. Drum Solo
12. The Legacy
13. Sweet Blasphemy
14. Perfect Weapon
15. Fallen Angels
16. Rebel Yell
17. In the End
Label: Eagle Rock Entertainment
Web: http://www.blackveilbrides.net/
Hardrock Haven rating: 8.5/10
Alive and Burning Trailer Video: