Dimino | Old Habits Die Hard
by Justin Gaines
– Senior Columnist —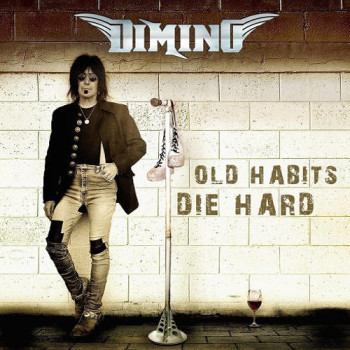 Old Habits Die Hard may just be the most unexpected release of 2015. Former Angel (yes, that Angel, whose last release was in 1979) frontman Frank DiMino returned after a very long absence this year with his very first solo album. And he's in very good company. DiMino is joined here by guitarists Oz Fox (Stryper), Paul Crook (who also produced the album), Pat Thrall (Hughes-Thrall), Punky Meadows (Angel), Jeff Duncan (Armored Saint), Eddie Ojeda (Twisted Sister) and Ricky Medlocke (Blackfoot), as well as Meat Loaf supporting musicians Justin Avery (keys), John Miceli (drums) and Danny Miranda (bass).
Let's answer the burning questions right off the bat: no, Old Habits Die Hard doesn't sound like an Angel album and no, DiMino doesn't still sing in the same high-pitched style he did back in the '70s. If that's all you want to hear, you're better off simply revisiting those classic Angel LPs. It would be a shame though, as you'd miss a really solid album that has to be considered an "all star" melodic rock release.
You can tell from the very start that Old Habits Die Hard is not a tired nostalgia effort. Opening rocker "Never Again" puts an end to that idea in seconds flat, and sets the tone perfectly for this electric, blues-infused rocker of an album. DiMino's voice is a bit deeper, a bit rougher, and is absolutely perfect for this kind of music. He sounds a bit like Biff Byford of Saxon, actually, which isn't a bad thing. As you might expect, the guitar playing on this album is first rate. Everyone involved seems to be having a blast, and that energy really comes through in these songs.
Listen to "Rockin in the City" for a good snapshot of what Old Habits Die Hard is all about. The most Angel-sounding moment on the album is the slower, more dramatic "Tears Will Fall," which ought to send shivers up the spines of quite a few Angel fans. Closing number "Stones By the River" ends things on a soulful note, and is just the perfect way to say goodbye to this most pleasant of surprises (at least until the next spin).
As long as you're not expecting the second coming of Angel, it's hard to imagine many fans of Frank DiMino's previous work not finding something to love about this album. Old Habits Die Hard is just a strong, soulful hard rock album, and one that fits perfectly alongside recent albums by Uriah Heep, Y&T, UFO and Whitesnake.
Genre: Melodic Rock
Band:
Frank DiMino (v)
Justin Avery (k) (v)
John Miceli (d)
Danny Miranda (b)
Paul Crook (b)
Track Listing:
1. Never Again
2. Rockin in the City
3. I Can't Stop Loving You
4. The Rain's About to Fall
5. Even Now
6. Tears Will Fall
7. Mad As Hell
8. Sweet Sensation
9. Tonight's the Night
10. The Quest
11. Stones By the River
Label: Frontiers Records
Hardrock Haven rating: 8.25/10