Margarita Monet of The Edge of Paradise
by John Kindred
– Publisher —
The Edge of Paradise is a female-fronter Metal band from Los Angeles, CA. Currently the band has released the full length studio album Immortal Waltz produced by the legendary Michael Wagener (Dokken, KEEL, King's X, Megadeth). With the release of the new album the band has recently signed a distribution deal with Pure Steel Records and with Extreme Management Group.
The talented vocal-vixen Margarita Monet, who fronts The Edge of Paradise, recently spoke with Hardrock Haven about the new album, Michael Wagener and the recent developments within the band.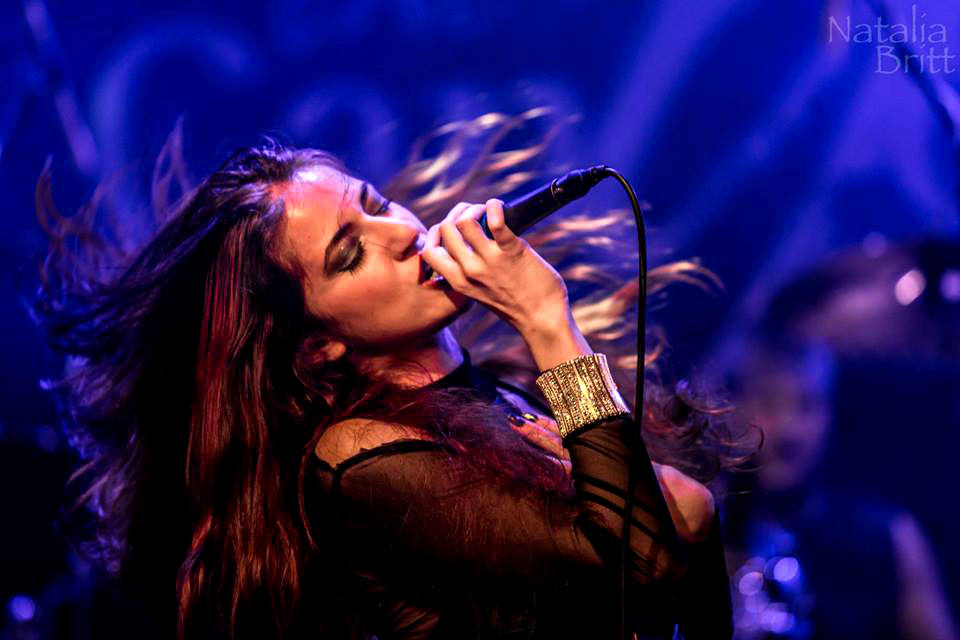 Hardrock Haven: Hey Margarita it's great to talk with you.
Margarita Monet: Hi John, thank you very much for having me, love Hardrock Haven!
Hardrock Haven: To the uninitiated, how would describe Edge of Paradise's sound?
Margarita Monet: Our sound is aggressive, but very melodic, with driving rhythms, heavy guitars, symphonic and classical elements. The songs are dynamic, some are theatrical and at times we even bring out a heavy metal circus. The music will definitely take you on a roller coaster ride!
Hardrock Haven: Female fronted Metal bands seem to be the all the rage these days. How does Edge of Paradise differ from what these others bands offer music fans?
Margarita Monet: When Dave and I started this band, we set out to create a sound that would define Edge Of Paradise. I came from a classical piano background and wasn't really aware of the scene and the stigma that might follow a female fronted band. But I always loved heavy music, bands like Iron Maiden and Black Sabbath! When Dave and I started writing music together, we didn't want to follow trends, we wanted to create something we're proud that could stand the test of time and we really put our heart and soul into it. We knew it was going to be something unique because Dave and I are very different from each other and come from different backgrounds in musical and many other ways. We found a way to work together to bring out and complement what each of us had to offer. So i think it's the combination of the people that make up the band, and with John on drums and Nick on bass, we have a pretty unique group of people, and that allows us to create something unique and put on a show to match that!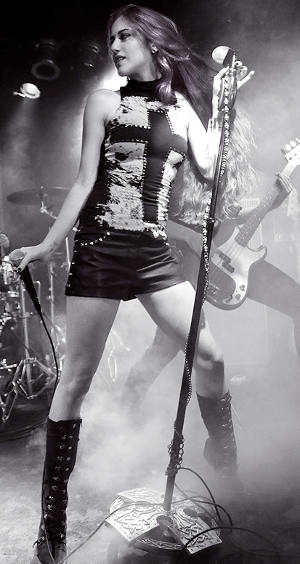 Hardrock Haven: There is a lot happening in the Edge of Paradise camp. First off the band released the full length studio album Immortal Waltz this year on Pure Steel Records. How has the label support helped the band?
Margarita Monet: Yes it's been a long wait, we're very excited Immortal Waltz is finally out there! The label helped immensely with distribution of the CD, especially in Europe, we have a lot of interest from overseas and since Pure Steel is based in Germany they are able to put our CD in a lot of cool places, we've had people send us photos of our CD being sold in record stores out in Europe, yes they still exist there! So that's really cool! They've also had Timo Wuerz create the artwork, we love the album cover he created and the physical CD has a 10 page booklet inside with different illustration on each page, it's definitely a piece of art! So it's been good to have them on our side, and help us keep moving forward!
Hardrock Haven: What kind of response has the album received from fans, from critics?
Margarita Monet: So far it's been really great! It was voted album of the week on Revolver magazine, it debuted at #2 most added on the national metal radio and is top 20 at #12! Most of the reviews have been really great from all parts of the world and we are getting more fans every day, which is a great feeling to hear from people, that they are loving the music and that it resonates with them! It's not easy to do what we're doing, but we love creating music and sharing it with people, so all the sleepless nights are definitely worth it!
Hardrock Haven: You have worked with Michael Wagener now on Perfect Shade of Black and the Immortal Waltz studio albums, how did you hook up with him? How has his knowledge helped with the song arrangements and Edge of Paradise's sound?
Margarita Monet: Michael Wagener is a huge part of creating the sound of the band. "In A Dream" was the first song Dave and I wrote together and we felt like we found the direction where we wanted to take our sound. We wanted to find someone great to mix it that gets what we're going for! Michael Wagener worked on all our favorite albums so Dave emailed him, we weren't sure if he was going to respond, but he did and we loved what he did with "In A Dream!" He is also such an amazing and cool guy that we really wanted to work with him on the rest of the songs for the album! It real feels like a great accomplishment for us!
The best thing was going up to his studio in Nashville and recording the songs with him! He was great at guiding and getting the right performance out of us, getting the sounds that are perfect for the songs! We had so much fun working on the title track, it was like arranging an orchestra! Our music is a bit complex, as we have a lot of layers of guitars, keys and harmonies, and Michael got that huge sound out of the music and keeping the clarity and dynamics, the songs sound epic and it's really Michael's magic touch that makes that! But most importantly he is truly inspiring, it's all about the music with him, it was an amazing experience and we can't wait to go back and work with him again!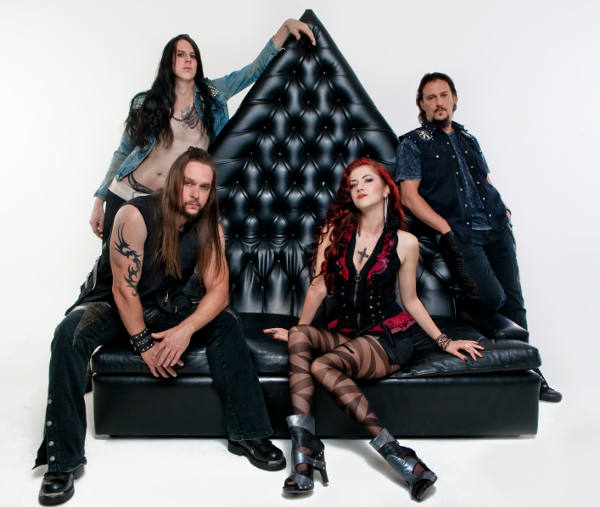 Hardrock Haven: How has the music evolved since the release of Mask?
Margarita Monet : We pretty much sound like a different band. Most of the songs on Mask were already written by Dave (our guitarist) and Robin McCauley, before I came into the picture. Dave and Robin had a band, Bleed, and then Robin went on to tour with Survivor. Dave had a lot of material left over from that project so I just sang over it, the songs were cool and i had some big shoes to fill as Robin is a great singer, but they were not my songs, so they sounded a lot different from our songs now. I'm glad we did that first, because it gave me a chance to figure out what I could do with my voice, as I never snag in a band before, let alone a Metal band. It was a great foundation to start building on! The new songs, I feel very connected to and I really put my entire self into the writing and performing. I was able to introduce the classical and symphonic element and have that compliment Dave's guitars. And as our songs evolved, some got more theatrical, some got heavier. One of the new song we're working has a real industrial feel to it. I like that our songs are quite different from each other, yet still sound like Edge Of Paradise, makes it really fun to perform them live!
Hardrock Haven: Another announcement was the band signing with Extreme Management Group. How did this come about? What are your expectation's working with them?
Margarita Monet: Yes, after releasing the CD we were at the point where it was the right time for us to partner up with a management, and we've heard a lot of good things about Joann Gullo, who is the head of Extreme Management. They really like the band and have a great plan for us, so it was a good fit! We're looking forward to seeing where our partnership takes us. The further along you get the more work there is, so to have the right people on your team is very important! Regarding expectations, we definitely want them to help us make the right decisions to grow the band financially that will enable us to do more, expose the band to more opportunities and touring is going to be the big priority, and we're working towards bringing the band to Europe in 2016. We are keeping busy!
Hardrock Haven: Touring also appears to a big part of the Edge of Paradise experience. How has life been on the road been?
Margarita Monet: We love touring, we always get a great response, the songs resonate very well with people and we've been growing our live show visually as well to match the music! Life on the road is very fun, it's hard as hell, but definitely worth it! When we did the East Coast tour it was a massive undertaking, driving cross country in the winter, lining up shows ourselves, we hit a few obstacles, but all the guys in the band are problem solvers, so it turned out to be a great trip! We got to visit some awesome radio stations that support the band, meet a lot of cool people. The main thing is we drove cross country in a mini van and didn't have one fight! We recently did, Colorado and Texas trip, that was great! The guys love checking out all the local food places, they already got it planned out for our UT and ID trip coming up, sight seeing is always fun too! We've already covered over 15 states, but there is a whole world out there so we're coming! We are working towards being able to stay out on the road longer and reach as many places as possible!
Hardrock Haven: Thanks again for taking time out for my questions, anything that you might want to say to your fan base that I didn't ask?
Margarita Monet: It was my pleasure, thank you so much for having me! Just want to thank everyone for the support and keep posted on our Facebook page for tour dates, giveaways and other fun stuff! By the way, we have a new single and music video coming this fall! We look forward to seeing you on the road!
Visit Edge of Paradise online: https://www.facebook.com/EdgeOfParadiseBand