KC Summer Jam: Def Leppard with STYX and Tesla
by John Kindred
– Publisher —
August 11, 2015 at Starlight Theater in Kansas City, MO. —
Starlight Theatre's latest round of summer concerts featured three heavy-hitting Rock bands that, in their prime, delivered fans a montage of hits and Classic Rock albums that are staples in many record and/or CD collections.
Def Leppard, currently on tour with Styx and Tesla, arrived in Kansas City in celebration of Kansas City's radio station 101 the Fox's 30th anniversary. Today, the music climate is not what it once was, and Classic Rock radio certainly is a dying market. The Fox is Kansas City's last true Classic Rock radio station and has retained a loyal listening audience, as the station has stayed true to its format.
You couldn't have picked a better eveing for a sold-out concert in an outdoor amphitheater setting.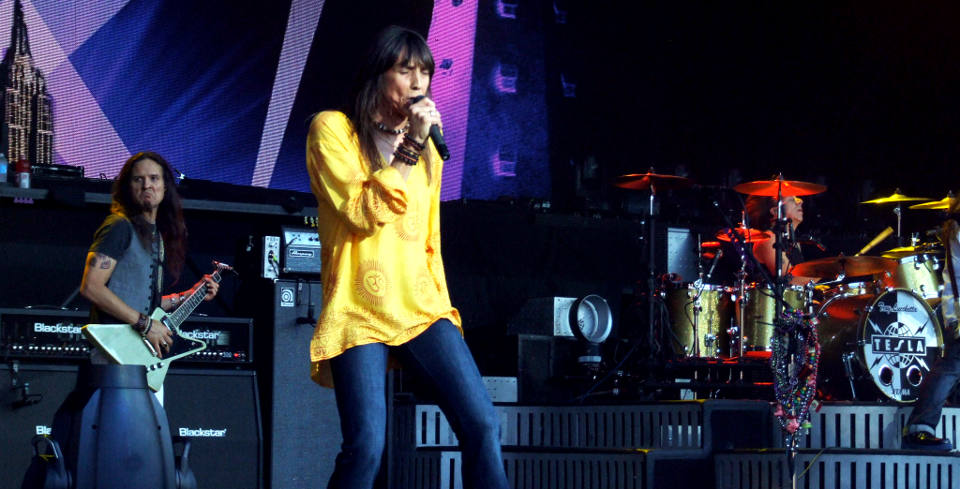 Tesla opened the triple-header concert with the song "Edison's Medicine." In February, Tesla recently came through Kansas City on a headlining tour at the Midland Theater. The band's set on this night was brief, featuring eight of its Classic Rock songs, going back to the band's debut album, Mechanical Resonance, which was released in '86. Vocalist Jeff Keith, recently back in action after hip replacement surgery, was in fine form. He dazzled the crowd with his laid-back banter and delivered the goods with his gritty, bluesy voice.
The band, with the limited time allotted, hit the stage with the same passion and fire for which it is known. Tearing through many of its classic songs, the audience instantly was tuned into the Rock cover of "Signs" and "Love Song," as fans belted out the lyrics right alongside the band.
Band:
Jeff Keith
Frank Hannon
Brian Wheat
Troy Luccketta
Dave Rude
Set List:
Edison's Medicine
Getting Better
Hang Tough
Heavens Trail
Signs
Love Song
Lil Suzie
Modern Day Cowboy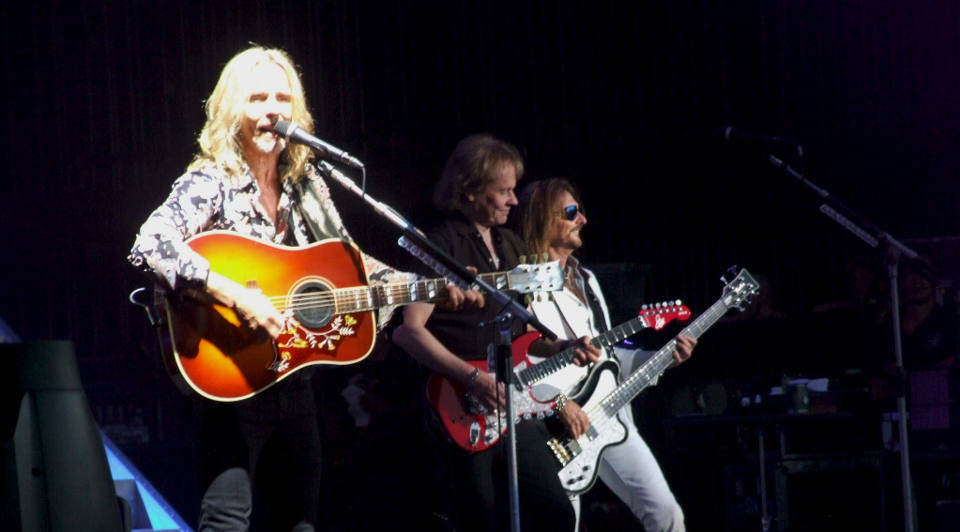 Styx took the stage to a packed house, as fans had trickled in and made it to their set. Led by Tommy Shaw and James "J.Y." Young, the veteran rockers kicked off their set with "Grand Illusion" and proceeded to put on a serious Rock 'n' Roll show. Age certainly doesn't factor into the youthful energy that Styx delivers live to a full house of Rock fans. Shaw and Young, both, original band members, carried the torch high, but fellow bandmates more than filled the shoes of those who have left the band.
Knocking out Rock 'n' Roll classics, the band certainly left every ounce of passion and energy on the stage floor. Keyboardist Lawrence Gowan treated fans to a melody of Rock hits when he took to the stage solo and played Elton John's "Rocket Man," then Queen's "Bohemian Rhapsody" and finally wrapped it up with Otis Redding's "Sitting on the Dock of the Bay." All the while, the audience sang along. Bassist Ricky Phillips is quite the animated performer, and drummer Todd Sucherman mans the drum kit and keeps the rhythmic pulse of the band alive and kicking.
Wrapping its set up with its encore performance of "Rockin' the Paradise" and "Renegade," fans were left satisfied, smiling and ready for the next act.
Band:
James "J.Y." Young
Tommy Shaw
Todd Sucherman
Lawrence Gowan
Ricky Phillips
Set List:
Grand Illusion
Too Much Time on My Hands
Fooling Yourself
Miss America
Lady
Blue Collar Man
Come Sail Away
Encore:
Rockin' the Paradise
Renegade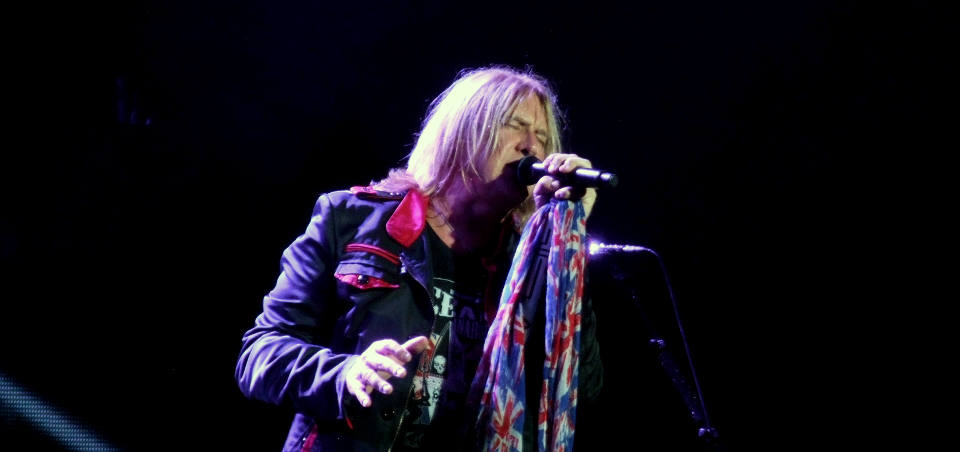 Def Leppard hit the stage with the level of fanfare carried over from the band's Arena Rock days of the late '80s. Laser lights, video screens and a full-press visual spectacular was presented to a crowd full of veteran concert-goers.
The storied career of Def Leppard is built around tragedy and loss. With a shelf life that now is headed into its fifth decade, it is not a surprise that we find the band dealing yet another emotional blow as guitarist Vivian Campbell battles cancer. Yet the band perseveres and moves forward, not allowing these negatives to stop the music.
A true Metal warrior, Campbell showed poise as he performed alongside his bandmates, playing music that has defined a generation of Rock fans from the late '70s to the present.
Fans of Def Leppard either love the band's entire career or pick and choose albums from its catalog that fits their own personality. The set list featured music from the different eras and was more than satisfactory to listen to. The musicianship was rock solid, and the unity of the band deflated any weaknesses of the five-piece Rock band.
Band:
Rick Savage
Joe Elliott
Rick Allen
Phil Collen
Vivian Campbell
Set List:
Disintegrate (Intro)
Rock Rock
Animal
Let It Go
Foolin
Promises
Love Bites
Armageddon It
Rock On
Two Steps
Rocket
Switch 625
Let's Get Rocked
Pure Some Sugar on Me
Encore:
Rock of Ages
Photograph
Def Leppard with STYX and Tesla Concert Photo Gallery
[Photos appear courtesy of Kathy Kindred]