Kelly Keeling | Mind Radio
by Alexandra Mrozowska
– Senior Columnist —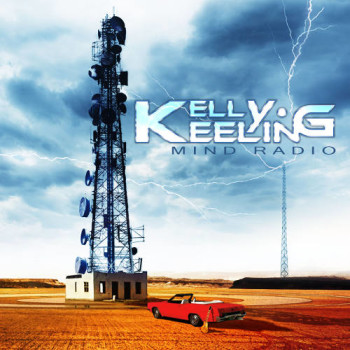 Even though the cover artwork of this album could have been a rejected idea for a mid-'90s Skynyrd album (or a washed-up country star even), it's no such thing but rather another largely anticipated Rock release. A decade after his first solo take, it's Kelly Keeling striking back again with Mind Radio released via Frontiers Music. The album itself is business as usual when it comes to Frontiers – foundations laid as a result of the artistic collaboration between Keeling and Alessandro Del Vecchio and the album being produced by the latter of the two. In addition to that, the restless Italian musician contributes to the album with his trademark keyboard sound and backing vocals, the backing band being comprised of another Frontiers' household names: Mario Percudani, Anna Portalupi and Alessandro Mori. Out of all these talents, combined with Kelly Keeling's powerful vocals, came a solid, melody-laden album.
Although this is not an objection of any kind – quite the opposite, actually – key concepts that define the sound on Mind Radio are Frontiers Records and Alessandro Del Vecchio rather than Kelly Keeling's previous endeavors. Be it Baton Rouge, Blue Murder, Trans-Siberian Orchestra or Heaven & Earth's sophomore effort, Keeling's name has not been usually associated with polished AOR sound. However, this kind of sound aesthetics seem to fit the seasoned singer pretty well as the new release is miles ahead of somewhat odd musical choices on 2005's solo CD Giving Sight To The Eye.
For the most part, it's refined mid- and up-tempo songs with bombastic choruses and the wall of sound effect all over (check out "This Love Our Paradise", "Isolated Man", "Written In Fire" or "No Man's Land"). "Take Me To The Limit" is particularly strong track which brings back the best '80s Pomp Rock tradition with a contemporary touch to it (and some really stunning keyboard work as well). In spite of the piano-based intro suggesting a ballad-ish vibe to it, "Still Need You In My Arms" is no moment of slowdown too.
The same goes for semi-acoustic but relatively dynamic "Love Will Tear Us Apart," also not a ballad in a strict meaning of the word. Its melody and arrangement somewhat harkens back to Keeling's distant musical past. "Sunshine Over Me" and "Monkey House" do so even more distinctively – especially the former is classic Baton Rouge sound revisited and updated.
The first solo album ever released by Kelly Keeling featured a star-studded line-up but also material that was slightly chaotic and uneven. Mind Radio is just the other way around – not a dull moment here, each sound and note exactly in the right place. Due to the choices made genre-wise, it's obviously a recommendation mostly for AOR and Melodic Hard Rock fans. However, also fans of previous artistic incarnations of Kelly Keeling should at least give it a try – even though the album doesn't reflect his musical history, it's certainly another interesting chapter of it.
Genre: AOR, Melodic Hard Rock
Band:
Kelly Keeling – lead vocals
Alessandro Del Vecchio – keyboards, backing vocals
Mario Percudani – electric and acoustic guitars
Anna Portalupi – bass, fretless bass
Alessandro Mori – drums
Track List:
1. This Love Our Paradise
2. Isolated Man
3. Sunshine Over Me
4. Still Need You In My Arms
5. Written In Fire
6. Take Me To The Limit
7. Love Will Tear Us Apart
8. No Man's Land
9. Frozen In Time
10. Monkey House
11. Ride The Storm
12. Who Do You Run To
Label: Frontiers Music
Website: www.kellykeeling.net
Hardrock Haven rating: 8.5/10