Lucid Fly launches IndieGoGo campaign for first LP release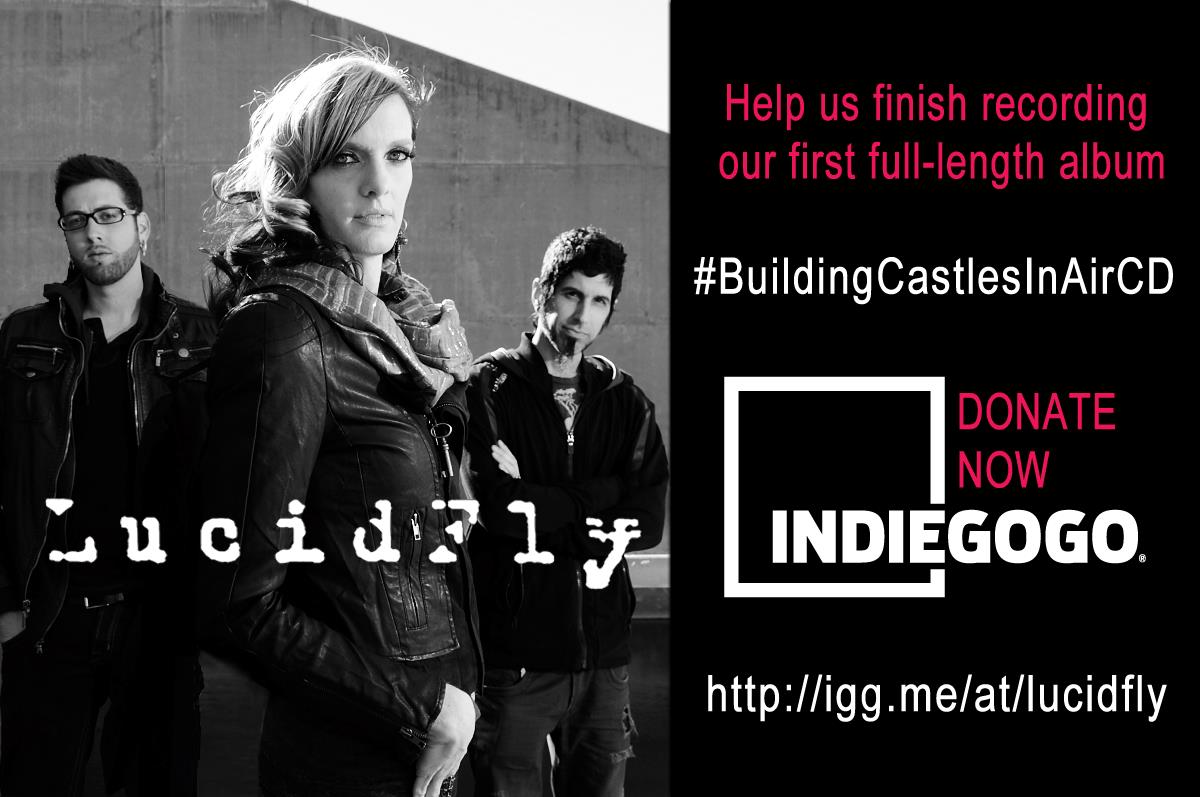 LOS ANGELES – Established Alt/Prog/Rock band, Lucid Fly, has launched a crowdfunding campaign to help support its upcoming full-length album release titled, 'Building Castles In Air.'
Lucid Fly's sound is unerringly Progressive – rock solid – with a powerfully feminine punch. Loyal fans describe Lucid Fly's music as "epic," "dark" or "post-industrial." It's heavy Rock with strong and, at the same time, vulnerable vocals, and some say the band's sound is "like Evanescence meets Circa Survive and A Perfect Circle."
In order to complete the project, the band needs to raise $12,500 USD over the next 40 days. Fans will be rewarded for their donations with 'Building Castles in Air' crowdfunding packages through the IndieGoGo.com website. Packages include limited-edition merchandise, unique "space-themed" rewards (in honor of the band name), unforgettable personal fan experiences and more. All physical reward packages also will include an autographed copy of the upcoming album.
"We have already put out three very professional recordings, and we always managed to do it very DIY and all on our own budget," according to Lucid Fly band members.
'Building Castles In Air' will be Lucid Fly's fourth release but its first full-length effort.
"With this new set of 10 songs that we have spent the last four and half years writing and creating, we realized they have taken on a life of themselves. They have come to represent everything we have learned on our musical journey so far: How we've grown (as musicians and people), who we've met along this journey and who we will meet once this CD comes to life," the band commented. "We feel that this is a cycle completing itself, but a new beginning, all the same. Growing up listening to our favorite artists, we have always identified 'bands' by their albums. (Tool, Aenima etc.) And now, we feel it's our turn. We can't wait to share this experience with our biggest fans and supporters who have been there along the way. Our fans are the reason that we are still here after 15 years and why this new record is going to be our most important."
To check out the Lucid Fly campaign video, unique rewards and to donate and help spread the word about the campaign, go to the Lucid Fly's IndieGoGo site (http://igg.me/at/lucidfly).
Lucid Fly plans to tour in support of 'Building Castles In Air' once the album is released. Stay tuned for more information on Lucid Fly and 'Building Castles In Air.'
Lucid Fly CDs, 'Adapting To Gravity,' 'The Escape Stage' and 'Stasis' currently are available via the band's website (www.lucidfly.com) and online retailers, including Amazon.com, iTunes music store and CDBaby.com.
Lucid Fly comprises Nikki Layne (vocals), Doug Mecca (guitar) and Aaron Ficca (drums). The band's website (www.lucidfly.com) features band news, photos/videos, tour schedule and biographical information.
Lucid Fly Links:
http://igg.me/at/lucidfly
www.lucidfly.com
www.facebook.com/lucidflymusic
www.youtube.com/lucidflymusic
www.soundcloud.com/lucidfly
www.twitter.com/lucidfly