by Alissa Ordabai
– Senior Columnist —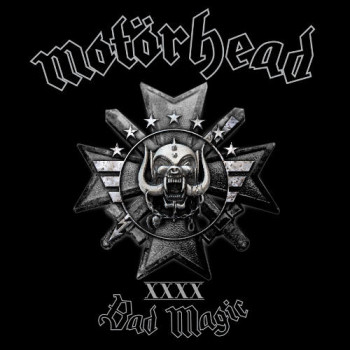 Thirteen brand-new tracks straight out of Motörhead's crucible of frenzy may not deviate from the familiar recipe, but they do hit the spot with the hallmark nonchalance of the most brazen band on earth. The media's applause to their previous release Aftershock must have confirmed their view that change stands for confusion and hesitation — something Motörhead don't know the meaning of. So straight out of the gate they whip themselves into their habitual Punk-meets-Metal gallop — as if they've just discovered this blueprint — and stick to it like it's a religion.
Lemmy had to take time off before going into the studio to look into his health issues, and you can hear the onset of age in his voice from the very first track — especially when he sings unaccompanied over a drum beat. The effect, however, is not frailty but gravitas of a survivor who stays true to his precepts, whether we like it or not. "Don't tell me who I am, I don't give a damn," he sings on standout "Electricity", as if to emphasize this defiance, and the band supports him with the tightest wall of sound we've ever heard from this rabid trio. It could be their own brand of synchronized virtuosity or simply the fact that they've played as a unit for 23 years, but the way they make their small universe smack-dab solid is nothing short of awesome.
Phil Campbell's breakneck leads galvanize the proceedings while keeping the subtlest nuances of articulation intact — each bend and vibrato rings out with note-perfect clarity as a proud declaration of Classic Rock values, albeit stirred up by Punk's frantic lunacy. On highlight "Fire Storm Hotel" he digs deeper for a bluesy feel, bringing to mind the chugging elegance of ZZ Top, only sans the Disco feel of his Texan peers, replacing it with accentuated Hard Rock brutality. If there is a player who can make a guitar solo instantly memorable, it's Campbell, and he does it with such sharp focus, it feels like he is giving a new meaning to the word "shred."
Brian May guests on "The Devil," adding a pathos-laden Hair-Metal feel to the cut and bringing in the much needed diversity. But so does "Till the End" — the only ballad of this record which offers a glimpse into Lemmy's softer side where he remains as plain-spoken and blunt as on his usual turf. The Rolling Stones cover "Sympathy to the Devil" becomes a meaningful closer, and makes you glad that all the traps laid by the King of Hell for these particular troubadours haven't worked, although the bait goes missing.
Genre: Hard Rock, Heavy Metal, Punk
Personnel:
Ian "Lemmy" Kilmister – vocals
Phil Campbell – guitar
Mikkey Dee – drums
Track Listing:
1. Victory or Die
2. Thunder & Lightning
3. Fire Storm Hotel
4. Shoot Out All of Your Lights
5. The Devil
6. Electricity
7. Evil Eye
8. Teach Them How To Bleed
9. Till The End
10. Tell Me Who to Kill
11. Choking on Your Screams
12. When The Sky Comes Looking for You
13. Sympathy for the Devil
Label: UDR
Online: www.imotorhead.com
Hardrock Haven rating: 8/10