Slave Raider | Take the World By Storm
by Justin Gaines
– Senior Columnist —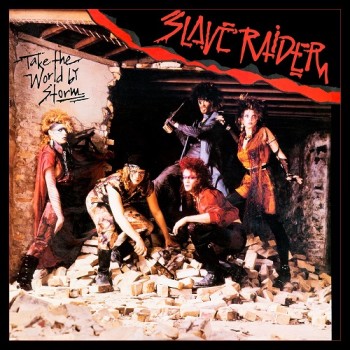 Originally self-released in 1986 (then remixed and reissued in 1989), Take the World By Storm was the debut album from Minneapolis-based Glam Metal band Slave Raider. The term "cult classic" gets tossed around pretty freely, but in Slave Raider's case it is completely appropriate. Here's a band that had a wild look, an even wilder sound, and that went beyond the normal party Rock clichés, yet outside of the Twin Cities area, they just didn't make a huge impact.
Slave Raider's look and attitude owed a lot to bands like Twisted Sister, WASP and Lizzy Borden, and their sound took a lot of those same cues as well. They took the basic Melodic Hard Rock formula and gave it a metal edge and a flamboyant sense of style. The catchy hooks and Chainsaw Caine's raspy vocals are what stand out the most initially, but the metallic crunch is what get heads banging.
Slave Raider does not mess around here. Take the World By Storm gets right to rocking, and keeps that up one Metal anthem after another until the very end. Caine has a huge presence as a frontman. He gets right in your face with his raspy, boisterous vocals, and is the perfect balance to the rowdy guitar licks Nikki Wikkid and Lance Sabin were laying down. There are only eight songs on Take the World By Storm, and they're all straight-up rockers. "Make Some Noise," "Survival of the Fittest" and the party-ready title track are highlights, but the whole album is a lot of fun.
In the end, Slave Raider didn't exactly take the world by storm, but they were still one of the era's most interesting and entertaining Hard Rock/Glam Metal acts. If you like your '80s Rock loud, catchy and over the top, this is a band you really need to discover, especially now that their early albums are once again in print.
Edition Notes: The Slave Raider catalog has been out of print for ages, and the original pressings have been selling quite high on the secondary market. Thanks to the reissue specialists at Divebomb Records though, fans can get their hands on a superior version of Take the World By Storm without paying a collector's price. Divebomb's deluxe reissue features the original album with brilliant new digital remastering, and a booklet that's loaded with a band bio, lyrics, and vintage photos, interviews and press material. There are no bonus tracks, but just having this album back in print and sounding this great more than makes up for that. It's limited to 1000 copies, and isn't available digitally, so don't wait too long to pick one up.
Genre: Heavy Metal, Glam Metal
Lineup:
Nikki Wikkid (g) (v)
Chainsaw Caine (v)
Lance Sabin (g) (v)
The Rock (d)
Letitia Rae (b) (v)
Track Listing:
1. Take the World By Storm
2. Backstabbin'
3. Make Some Noise
4. Burnin' Too Hot
5. Long Way From Home
6. Survival of the Fittest
7. The Devil Comes Out In Me
8. The Black Hole
Label: Divebomb Records
Hardrock Haven Rating: 8.5/10