by John Kindred
– Publisher —
July 30, 2015 at Cricket Wireless Amphitheater in Kansas City, MO. —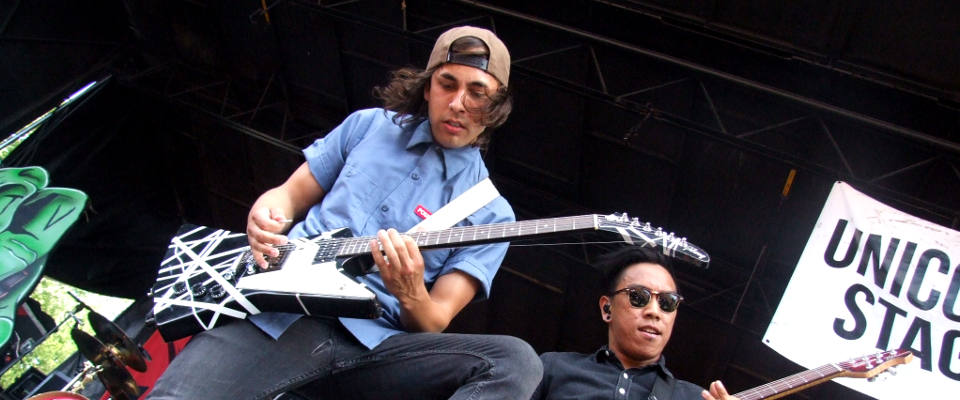 The 21st edition of the Vans Warped Tour rolled into Kansas City on a sunny day, when the high was 88 degrees, and the bands were the ones heating up the venue.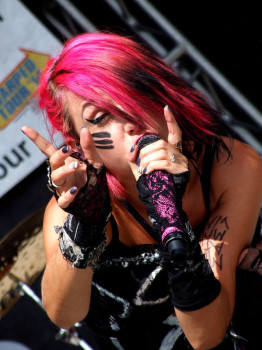 This year's edition of Vans Warped Tour featured Asking Alexandria, Black Veil Brides, Miss May I and Pierce the Veil on the Unicorn and Shark main stages. In all, the tour featured nine stages, including the Monster Energy Stage, Journeys Left Foot Stage and Right Foot Stage, the Ernie Ball Stage, the Beatport Stage and the Acoustic Basement Stage. Comedians and spoken word artists were featured at The Vans Warped Comedy Tent, which was sponsored by The Laugh Button.
Thousands of fans mingled with fellow music lovers as artist autograph session tents filled the majority of the music festival venue. Monster Energy's 18-wheeler truck had its side open, giving fans a place to get cooled down and amped up on Monster's assortment of flavored energy drinks.
With nine stages tapped with plenty of talented artists representing the Metal, Alternative, Pop and Acoustic Rock genres, the variety of acts provided fans with several choices of music. While the nationally known acts surely were the draw to Vans Warped Tour, it was great to hear new and unknown acts to get acquainted with their sound and become a new fan. Phosphene, hailing from Chicago, was one such band that performed on the Ernie Ball stage. The four-piece band, led by Jennifer Imparato, hammered through a short set of Metalized tunes.
Vans Warped Tour 2015 Concert Photo Gallery
Line-up:
'68, Aaron West and The Roaring Twenties, Alvarez Kings, American Opera, As It Is, Asking Alexandria, Attila, August Burns Red, Baby Baby, Beartooth, Beautiful Bodies, Bebe Rexha, Being As An Ocean, Black Boots, Black Veil Brides, blessthefall, Born Cages, BoyMeetsWorld, Brian Marquis, Buttons, Candy Hearts, Carousel Kings, ChrisB, Citizen, Crossfaith, Drama Club, Escape The Fate, False Puppet, Family Force 5, Fit For A King, Grey Gordon, Handguns, Hands Like Houses, Have Mercy, Hundredth, I Killed The Prom Queen, Icon For Hire, Jake Ducey, Jule Vera, Juliet Simms, Kaya Stewart, Knuckle Puck, Koji, Koo Koo Kanga Roo, Kosha Dillz, Le Castle Vania, Lee Corey Oswald, M4Sonic, Major League, Mallory Knox, Man Overboard, MC Lars, Meghann Wright, Memphis May Fire, Metro Station, Miss May I, Mod Sun, Moose Blood, Neck Deep, Never Shout Never, New Beat Fund, New Years Day, Night Riots, Onward, Our Last Night, Palisades, Pierce The Veil, Phosphene, PVRIS, Riff Raff, SayWeCanFly, Seaway, Senses Fail, Set It Off, Sgt. Corrin Campbell, Army Musical Outreach, Silverstein, Sirens and Sailors, Splitbreed, Svetlanas, TAT, The Amity Affliction, The Bunny The Bear, The Dirty Nil, The Karma Killers, The Kenneths, The Wonder Years, This Wild Life, Tori Kravitz, Transit, Trey The Ruler, Trophy Eyes, We Came As Romans, While She Sleeps, Youth In Revolt
<h3