Annihilator | Suicide Society
by Alissa Ordabai
– Senior Columnist —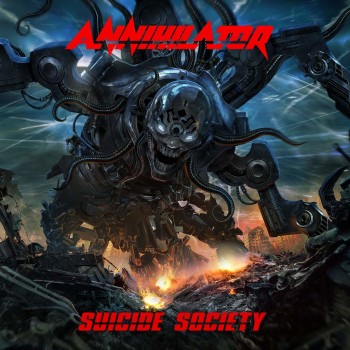 When a thrash veteran starts chasing trends after 30 years of plugging away as a niche act, you realize that a show biz career is indeed an unpredictable journey. Singer Dave Padden's recent departure must have prompted band leader Jeff Waters not only to take on vocalist's duties, but to rethink the band's purpose.
Surprises, however, don't end here. The album's slipshod structure comes in as an even bigger shock: sleek radio-friendly material is intermeshed with half-baked throwbacks to the early Eighties that indulge in quoting young Metallica verbatim and generally pretending to be written by a 19-year-old. But Waters is anything but, and proves it by staking his bid for airplay on the most passe trends: Noughties-style commercial Metalcore and pop-friendly folly a la Five Finger Death Punch.
Although even when coveting chart action Waters still ends up sounding dated: on standout "My Revenge" the Trivium-style slushy vocal melody makes for a bizarre contrast with the frenzied old-school Thrash parts. Neither trendsetting, nor vintage, the cut highlights the weird posture Waters assumes on this release: trying to retain his old fan base while appealing to a younger audience.
Same goes for another biggie "Every Minute": any credence you initially give to the ballad's Pop-Metal melancholy evaporates once the wacky Pop-Punk-fuelled chorus comes in. You can't deny Waters's knack for catchy songwriting (simply because he can't mask is talent), but you just don't believe that this is a true expression of his inner self, especially knowing his real temperament.
A hit-and-miss affair, Suicide Society is a drastic departure from the coherent, eloquent brilliance of its predecessor Feast. There is no question of Waters — a naturally gifted writer — being able to master all the ropes of radio-friendly songwriting. The real issue is whether it isn't too late to jump on the Pop-Metal bandwagon which favors young disbelieving slickers. After all, this is the sort of scene that can sniff out sincerity from 10 miles away and give it such a forceful rebuff you'd never want to dabble in these sort of moneymaking ventures again. And if you still decide you need too, it calls for a much greater degree of focus and cynicism.
Genre: Metal
Personnel:
Jeff Waters – guitars, vocals
Mike Harshaw – drums
Oscar Rangel – bass
Aaron Homma – guitar
Track Listing:
1. Suicide Society
2. My Revenge
3. Snap
4. Creepin' Again
5. Narcotic Avenue
6. The One You Serve
7. Break, Enter
8. Death Scent
9. Every Minute
Label: UDR
Online: www.annihilatormetal.com
Hardrock Haven rating: 6/10