by Alexandra Mrozowska
– Senior Columnist —
Things just don't disappear indeed – it is so indeed, if you look upon music genres. It's been more than thirty year now s after the powerful sound of '70s Heavy Metal was blended with the raw vibe to Punk Rock into a bulging, pulsating entity called New Wave Of British Heavy Metal. But even though the years go by and band names change, the sound and the substance keeps on resurfacing again and again. Hence the emergence of the so-called New Wave Of Traditional Heavy Metal and bands like Enforcer or Wolf… or the Italian act Nitehawks. In their recent interview with Hardrock Haven, the latter group discussed not only their debut album Vendetta in slightest detail, but also their concerts, future plans and the band's affiliation to the classic Metal sound and attitude.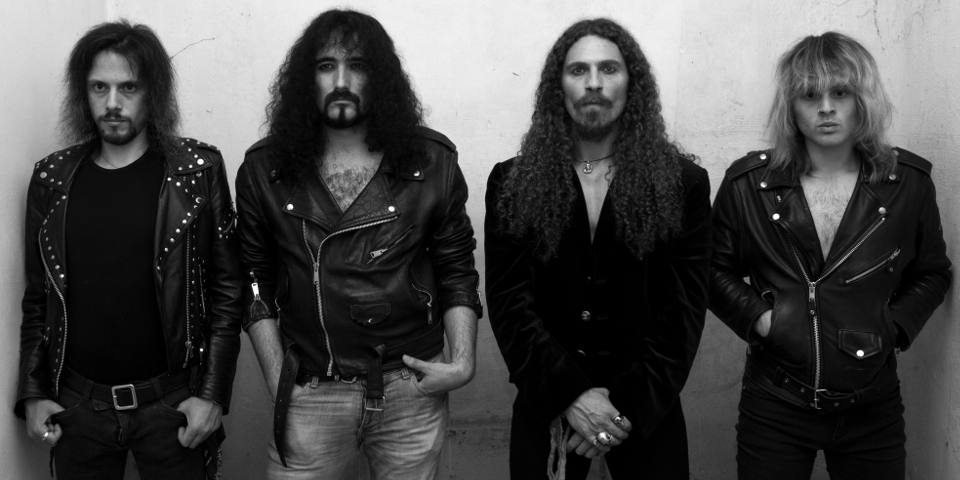 Hardrock Haven: Your debut album Vendetta is set to be released towards the end of September. Are you satisfied with the result of your efforts? Were the goals made reality?
Nitehawks: Absolutely! It actually took a lot to achieve what we had in our minds. We had to track the drums twice in different studios and with different set-ups in order to get what we wanted. And it all sounds exactly as we expected. Actually, we managed to make it thanks to our sound engineer, Alex Conti. He worked his ass off, he experimented a lot and listened to what we were looking for. He's a great man.
Hardrock Haven: The band was formed in 2015. Do you have any professional experience prior to recording Vendetta and pursuing your activity under the moniker of Nitehawks?
Nitehawks: Frank Leone and Fabio were playing in Gengis Khan. They toured with Enforcer, Skull Fist and Vanderbuyst in 2014 in what was probably the greatest NWOTHM tour so far. But we needed something more – we needed to stand out from the mass to create something unique – so we started to rehearse with Frank Macrì (who was playing with Fabio in a DIO tribute band) and Mike (who was that kind of an amazing guitarist who never had the chance to prove what he could do).
Hardrock Haven: What was the course of events that led to making the album? What's prompted the choice of the Polish label Skol Records?
Nitehawks: Well, Fabio and Frank Leone were like: "Okay, we got a record, and it's almost done, but we need you to push it to the limit". We went to a studio, rehearsing and tracking down some vocals, arrangements and guitar solos, and it all worked great! As for the label – it's because we knew Bart Gabriel, the CEO of Skol Records. He's that kind of guy who's always standing with the band… like a real band member! He's a pure man in the ocean of thieves. He's passionate about what he does and wants the band to develop, so we were pretty lucky he wanted us in his roster. We felt as if he was the only one who was going to believe in us in professional terms.
Hardrock Haven: Onto the album – what do you think are the highlights of Vendetta?
Nitehawks: Well, that's pretty tough question! It's actually a trip onto different moments of our lives. We can honestly say you'll find a different moments for yourself on the album. Every listener will be able to define their personal highlights, whether they're speed metal lovers or addicted to smoochy ballads!
Hardrock Haven: As you're compared to the likes of Accept, Priest or the modern-day acts such as Enforcer, what are your personal choices as listeners? Is the sound on Vendetta a reflection of your lifelong inspirations?
Nitehawks: Of course it is! Every of us has different music inspirations – from Mötley Crüe to Celtic Frost, from Cinderella to Venom. But you know, when it's time to rehearse or try something fresh, we end up smashing down some maniac riffs and killer vocals. It's the natural reflection of our music personalities – it's impossible to change what comes out from your heart so naturally when you're playing. That's the exact moment when you realize you want to be yourself and play what you love. We're into metal, and that's all we can do.
Hardrock Haven: Approximately forty minutes of furious Heavy Metal gallop, Vendetta is pretty coherent music-wise. Are you open to and draw your inspiration also from other genres than Metal?
Nitehawks: As I said, when we get together, nobody can predict what we're going to do. We're all about what you can hear on Vendetta. We can say we're pretty much open-minded but it's all about what we do when we plug guitars and hit drums in a stinky noisy room. We enjoy listening to and playing pure Metal. There are no subgenres, we can only define it as Metal as we listen to it and play it.
Hardrock Haven: Do you think Nitehawks may be up to some stylistic experiments in the future? Are you eager to take a risk and diversify the sound of the next album, or will you rather stick to the sound perfected on Vendetta?
Nitehawks: We'll surely spend a lot more time in the rehearse room to make the next record even more personal than the first one. Our goal is to have all Nitehawks' personalities inscribed onto a record. That's what we have to get better at, and what we really think having a band stands for. We believe we're a bunch of musicians who have a lot of things to prove.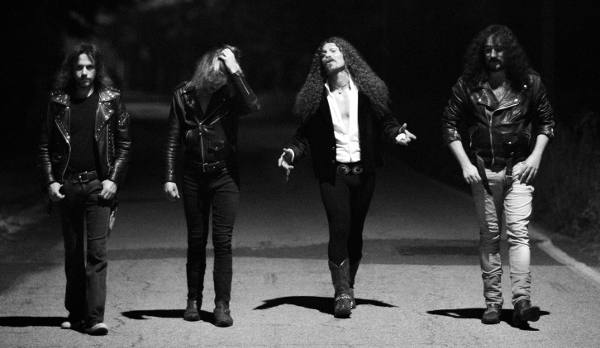 Hardrock Haven: Vendetta is going to be released in two different formats – CD and vinyl. Are you vinyl collectors yourselves? What do you think contributed to the revival of the format?
Nitehawks: We're indeed! That's the only way you can really crank up your favourite music. Surviving in this era ain't easy if you're a real music lover. People listen to music in elevators, on the radio, at the restaurant – consume it the same way as eating a hamburger. We're really glad however there's still a lot of people giving the music its proper shot and we're sure there'll always be those who buy vinyl records. Even in fifty years from now! Vinyl's got something magical vibe to it, something you'll never find in an mp3 file on your iPhone.
Hardrock Haven: Is Heavy Metal just a music in your view, or perhaps a lifestyle of sorts? What about the importance of maintaining the appropriate image, selling cool band merchandise or having stylish cover artworks?
Nitehawks: Heavy Metal is more than music or a lifestyle. It's a world in which we're all brothers and we can always find peace there. It will never be just a fad – some people are not aware of that, and they're all wrong. Metal is a safe place for anyone that has something to say in a boring world full of boring people with no passion. As far as the image, merchandise and visual things are concerned – we think that says a lot about the band. People buying vinyl albums should be like "Wow, that's a really cool artwork – an interesting one. I'll buy it, hoping they're even better than what I'm seeing now!". People seeing us live should identify themselves with our image too. Things like t-shirts are very important – they let the other people be a part of what we do. They help us to spread the word about us!
Hardrock Haven: The band being pretty active in social media, how important do you think it is? Is it more about the promotion itself, or keeping in touch with fans and receiving a feedback from them?
Nitehawks: Playing live is the most important thing for us. Being active on social network should be a part of that. People should get home after a gig and be able to find information about us. Social media is like the natural extension of our real activity. And that's a great way to get in touch with the fans too!
Hardrock Haven: So far, there's been at least a couple of enthusiastic write-ups on Vendetta on various webzines and blogs. Do you treat these opinions seriously, or rather are focused on following your vision independently from reviewers?
Nitehawks: Well, this is a really good question. We actually think there are too many reviewers nowadays. Internet gives anybody the chance to speak about anything. It's important to focus on the ones that are honest and without preconceptions – those are the reviews that we care about. We don't like those mentioning things like "Italian accent" – Come on, have you ever listened to Scorpions? (laughs) – or "They can get better" (What does it mean..? We spent a lot of time doing that and all you can say is that we can be better? Of course we can and we will be but… come on, it looks like you needed some more words to fill your "review"!). With the exception of such things, we're really happy about the reviews we received so far.
Hardrock Haven: Which of the concerts played so far as Nitehawks you think was the best one, or a breakthrough for the band? Was there any you have particularly fond memories of?
Nitehawks: Well, every gig has been a breakthrough. Every time we played, we wanted to experiment with something new. Sometimes we failed, sometimes it worked. Actually we'll want you to ask about this after the first tour!
Hardrock Haven: In July, you were on the bill for the Cypriot Power Of The Night Festival headlined by such acts as Blynd, Wotan and Bonfire. Any impressions?
Nitehawks: That was one hell of a show! Panayiotis was outstanding: he managed to organize the show, take care of all bands and play with his band – what a great man! We chatted a bit with Wotan and our good friends in Crimson Wind, and we were all excited and surprised about Cyprus. Nicosia rocks!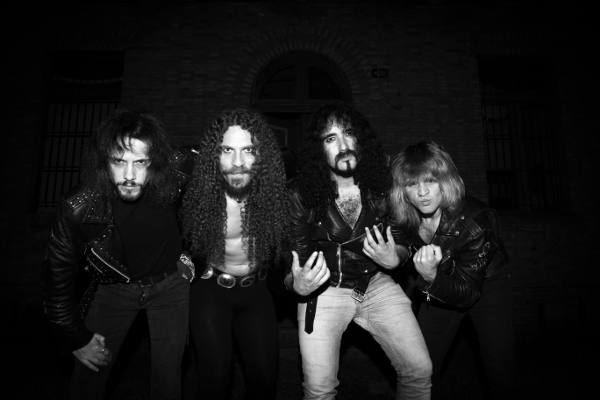 Hardrock Haven: How often do you have a chance to participate in big outdoor events like the aforesaid POTN festival and do you prefer them to club gigs? Is the audience or the atmosphere any different?
Nitehawks: We've always noticed that it all depends on people who attend the gig. Not the quantity, but the quality. Sometimes you play in front of a huge crowd and they don't care and sometimes you play in front of twenty people and you have the time of your life. It all depends on the mood of the night!
Hardrock Haven: With more and more Metal bands emerging from your homeland Italy as well as countries such as Cyprus or Greece, what do you think of the current condition of the Mediterranean Metal scene?
Nitehawks: Well, the situation of Italy has been the same for years. We always thought it wasn't as good as in Sweden or Germany and we weren't wrong. That's the reason why we don't actually enjoy playing in our country. But we love Cyprus and we saw some Enforcer live videos in Greece that are surprisingly good. We will be back there really soon!
Hardrock Haven: Do you build your concert setlists around material released on Vendetta, or are there any other songs included – cover versions perhaps?
Nitehawks: It all depends on the venues, timetables, support bands, etc. We'll play all songs of the record throughout the whole tour, but when we'll need some additional material to be played longer, we'll include covers of some classic tunes: Led Zeppelin, DIO, Black Sabbath and so on. No karaoke (laughs) – just what we dig and what we grew up with.
Hardrock Haven: Talking about gigs, in October and November you're about to go on tour across Europe. Are there any chances for adding any more dates, or perhaps expand the tour onto other parts of the world?
Nitehawks: Yes! Of course, there will be some other dates, and we will announce them really soon! We would really love to play in the US or Japan. We will try our best to make it and we want everyone in the world to listen to Vendetta – dreaming is free!
Hardrock Haven: Also just recently it was announced a new video's in the pipeline. Could you please reveal any details?
Nitehawks: Well, we started working on that in May with the two amazing guys – Max and Armando. They've done a serious managing job with that. It involved a lot of people, several places and a lot of enthusiasm. It took 4 days to film it – we can't say a lot about that yet, but it really is inspired by David Lynch. There will be zombies and a lot of "heavy" scenes. You won't believe your eyes!
Hardrock Haven: Are there any other plans as far as band activity and promotion is concerned?
Nitehawks: Well, we are planning to move to Holland and, most of all, we want this band to play as often as we can. That's the only way people will talk about us. We won't stop after this first tour, since more and more gigs are going to be announced.
Hardrock Haven: Any last words?
Nitehawks: Thanks for the interview, we loved your questions! We hope you guys from Hardrock Haven will dig our first record! See you on tour!