Louder Than Life Set To Be Louder Than Ever
by Steve Patrick
– Senior Columnist —

Fans of hard rock, gourmet man food, craft beer, whiskey and bourbon finally have their own Woodstock. The Louder Than Life music festival will be returning to Champions Park in Louisville, KY on October 3 & 4, 2015. The event is the brainchild of festival creator Danny Wimmer who also personally selected the food and beverage options onsite.
While attendees will have their tastebuds entertained by the alcohol and culinary options, their ears will also be treated to the likes of Rob Zombie, ZZ Top, Godsmack, Shinedown, Lynyrd Skynyrd, Slash featuring Myles Kennedy & The Conspirators, Breaking Benjamin, 3 Doors Down, Bring Me The Horizon, and many more.
This year's The Louder Than Life festival will also feature live in-ring matches with WWE's NXT Superstars, as well as interactive experiences such as artist autograph signings at the Monster Energy Hospitality Rig, the Monster Energy viewing area with beverage sampling, The Crazy Dave's Music Experience, Jack Daniel's Experience, and Zippo Encore Music Experience.
2015 may mark the second year for this young festival, but it is clear that The Louder Than Life is only going to grow year after year. There is something absolutely perfect about sipping some Kentucky bourbon and eating a turkey leg while rocking out to your favorite band in the crisp autumn air. Louder Than Life offers that kind of experience and so much more.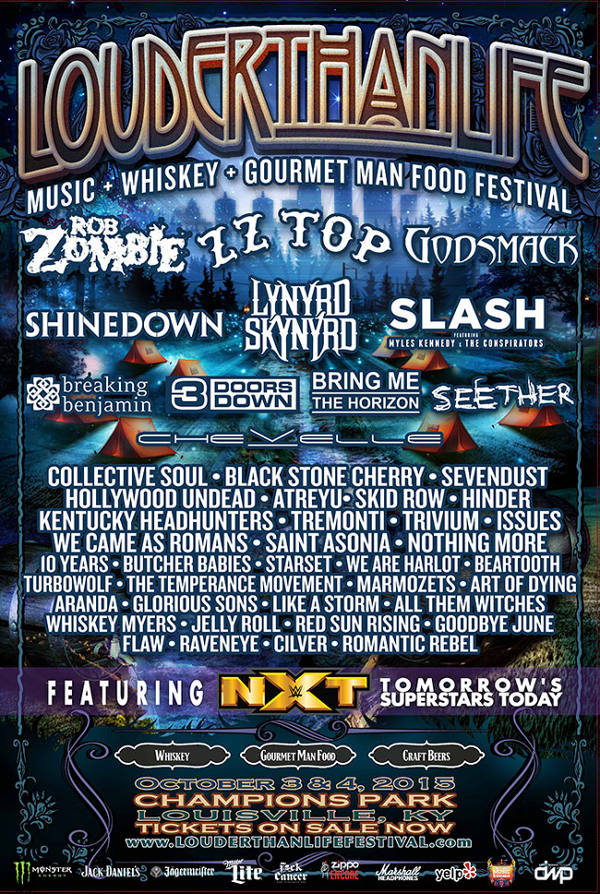 For more information on Louder Than Life, please check out www.louderthanlifefestival.com/ or www.facebook.com/louderthanlifefestival.