Enertia | Piece of the Factory
by Justin Gaines
– Senior Columnist —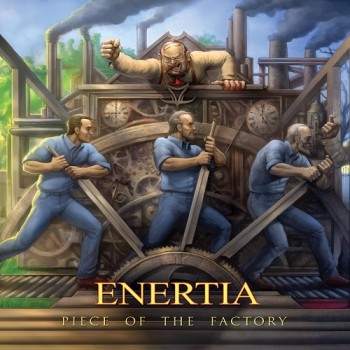 It's been more than a decade since we last saw a new studio album from Enertia, one of the more overlooked bands to emerge from the American Progressive/Power Metal scene in the mid '90s. The New York-based band is finally back with their fourth full-length album, titled Piece of the Factory, which has been in the works for quite some time.
Enertia is a band that was always more thrash-minded than their Progressive/Power Metal-minded peers, and that combination of fast riffing and technicality is still a vital part of their sound, but Piece of the Factory showcases a heavier, more aggressive Enertia. Part of that is vocalist Scott Featherstone, who seems to be channeling "angry" Russell Allen here. Between the huge vocal presence and the crunch in the guitar sound, Enertia sounds a bit like heavier Symphony X minus the excessive technical noodling (or Adrenaline Mob without all the annoying "bro metal" posturing).
Angrier, heavier Enertia works really well, and the end result is a very strong Heavy Metal album. Piece of the Factory really grabs you by the throat with songs like "The Prisoner," "Demons of Silence" and the title track that have just the right mix of pummeling rhythms, intricate solos and powerful vocals. Speaking of the album title, Piece of the Factory also boasts a three-panel fold-out cover image that really gets to the heart of the song and is very reminiscent of the classic '80s Thrash Metal album covers.
Piece of the Factory was ten years in the making, but is arguably well worth the wait. Unfortunately, at this point all indications are that this is the final Enertia album. Even if that's the case, this is a band that's still well worth discovering, especially if you expect your Progressive/Power Metal to have speed, heaviness and real power, like Iced Earth, Symphony X and Nevermore.
Genre: Heavy Metal, Thrash Metal
Band:
Scott Featherstone (v)
Roman Singleton (g)
Jeff Daley (d)
Joe Paciolla (b) (v)
Track Listing:
1. Do It Again
2. Demons of Silence
3. The Hardest Sorrow
4. Piece of the Factory
5. Beside You, Beside Me
6. An Old Fashioned Beating
7. Hard to Follow
8. The Prisoner
9. Can't Breathe
10. Letting Go
Label: Divebomb Records
Website: www.facebook.com/realenertia
Hardrock Haven Rating: 8/10