Halloween Book Signing Announced for South Dakota Horror Writer Derric Miller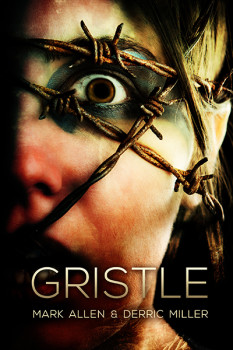 On Halloween, Oct. 31, horror writer Derric Miller will be holding a book signing at Poppadox Pub, located at 2808 S. Minnesota in Sioux Falls, S.D. The book signing begins at 4 p.m., and later that night Poppadox is also holding a costume contest.
Miller was first published in 1995, in Aberrations Magazine, and then took nearly two decades off before picking up the pen again. Although he wasn't writing fiction during those years, he immersed himself in the field of music journalism at the website Hardrock Haven (www.hardrockhaven.net) as the managing editor.
He will be signing two books—the recently released novel Gristle and a Heavy Metal horror novella titled Mudslingers. Both were co-written with former Hardrock Haven staffer Mark Allen. Back in 2013, the duo decided to work on a project together with little planning beforehand, and since they were both music reviewers, Mudslingers turned into a gonzo splatterpunk battle between two music journalists, where, as the synopsis reads, "hell is unleashed in an orgy of bloodlust and butchery in front of 20,000 screaming fans."
Gristle was actually a screenplay written by Allen, which reached the semi-finals in a Slamdance Screenplay Competition, subsequently turned into a novel by the duo. Miller took the first crack at the novel, sent it back to Allen, and over the course of the next nine months, they created their version of Gristle. The book has peaked as high as #5 in Amazon.fr (France) Kindle Horror, and in the same category at Amazon.uk, it has consistently charted in the Top 100 for months. Its highest ranking on Amazon.com is #24, so far.
Paperback versions of both books will be available for purchase at the book signing.
Halloween drink specials are Happy Hour all night for everyone in costume ($1 off all drinks.) The costume contest starts at midnight and there are four categories: Best Costume ($50 gift card), Best Couples Costume ($50 gift card), Sexiest Costume ($25 gift card), and Worst Costume ($10 gift card). Various prizes will also be given away throughout the night, and Musivend is giving away Touch Tunes gift cards as well.