Nine Miles South | Nine Miles South
by Alexandra Mrozowska
– Senior Columnist —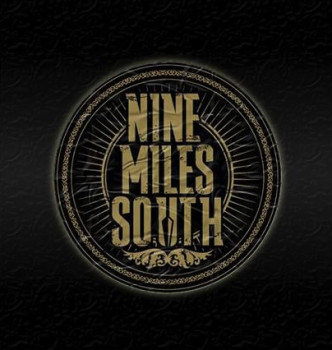 A British Hard Rock band with a soft spot for a sound that's the American heritage rather than their own – this may raise a few eyebrows at the both sides of the pond. However, the incorporation of Country and Blues influences may become Nine Miles South's trademark as they combine these distinctively Southern flavors with contemporary, muscular Hard Rock sound. Their self-titled mini-album released independently this fall is not only a fine introduction to their style, but also, proof that you don't really have to breathe the hot Southern air and drink water from the Mississippi river to know what it's all about.
There's one thing certain about Nine Miles South as one discovers them. In spite of them being a UK-based band, it seems as if there was a substantial amount of the Southern blood running through their veins anyway. The first track on their EP is, for a lack of a better word, perfection in the art of adaptation. It becomes evident a minute or two into "The Reckoning". It may seem ordinary and somewhat uninspired Alt Country piece at first, but after a while it develops into a generous portion of country-ish swagger against the heavy, bluesy background. And even though the quartet's sound is deliberately rootsy, still one wouldn't have called it outdated – gritty, distorted guitar sound and modern arrangement make it closer to contemporary works of Lynyrd Skynyrd rather than their classic albums.
"Leave Me Be" gravitates towards slightly less Americana-oriented aesthetics than its predecessor, with a certain radio-friendly quality to it. "Fingernails", however, returns to meaty Hard Rock/Blues crossover sound the band is the most convincing at, from a groovy opening riff to the guitar-laden finish.
Standing out among the sea of ordinariness is not an easy thing to do, especially within the music industry nowadays. Nine Miles South have certain ace up their sleeve not only with their solid musicianship, but also with the Southern vibe to their music adding a tint of uniqueness to their solid sound. Otherwise, they might run the risk of turning into yet another modern Hard Rock band. Having memorized a recipe for a tasty brew of modern heavy guitars and classic Americana inspirations by heart, this four-piece can really make it big. Let's hope their first full-length will turn words into deeds then.
Genre: Hard Rock, Country, Blues
Band:
Seb Mikkelsen – guitar and vocals
Jon Antony – guitar and backing vocals
Andy Sleigh – bass and backing vocals
David Wilson – drums
Track List:
1. The Reckoning
2. Leave Me Be
3. Fingernails
Label: Independent
Website: http://www.ninemilessouth.com – https://www.facebook.com/ninemilessouth
Hardrock Haven rating: 7/10