Royal Hunt | Devil's Dozen
by Justin Gaines
– Senior Columnist —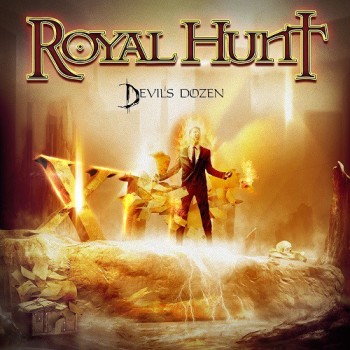 Devil's Dozen is an appropriate title for the 13th studio album by Danish Melodic/Progressive Metal band Royal Hunt. It's the band's third album since vocalist DC Cooper rejoined the lineup, and helps usher in a third decade of Royal Hunt music.
Devil's Dozen picks up where the previous two Royal Hunt albums (2013's A Life To Die For and 2011's Show Me How To Live) left off. Like those two albums, Devil's Dozen is relatively short (eight songs totaling just under 50 minutes), and like those albums this is the work of a more mature band. With 20+ years on the scene, Royal Hunt doesn't have anything to prove. Andre Anderssen, who handles the bulk of the songwriting, knows what the Royal Hunt sound is, and doesn't mess with that formula here. You're going to get keyboard-oriented progressive metal with lots of background vocals and a strong melodic aspect. You're also going to get a very strong performance from one of the best vocalists in the business.
Of course there's a downside to playing it safe and not taking chances, and that's that it becomes harder to wow listeners. Show Me How To Live grabbed you right away just by being the first Royal Hunt album in ages to feature Cooper's distinctive vocals. A Life To Die For took a few spins to really sink in, and the same is true of Devil's Dozen. It's a good album, make no mistake, but you can't help but wish for some of the grand scope of Paradox or even the simple catchiness of Moving Target here, if for no other reason than to inject some electricity into things.
Again, Devil's Dozen is a very solid release, and it does have some very melodic songs. "May You Never (Walk Alone)" is the one song that really hooks you right away, but after a few spins "A Tear in the Rain" and "Until the Day" also emerge as standouts. The bonus track "How Do You Know" is half the length of any other song on the album, and is easily twice as catchy. There's that Moving Target spirit! An album with a dozen (13 even) of that kind of song would go over very well.
Even though it takes a few spins, Devil's Dozen does grow on you, and it is another worthy addition to the Royal Hunt discography. Long time Royal Hunt fans will definitely want to check this out, as should fans of DC Cooper's other projects and melodic progressive metal in general.
Genre: Progressive Metal, Melodic Metal
Band:
DC Cooper (v)
Andre Anderssen (k)
Andreas Passmark (b)
Jonas Larsen (g)
Track Listing:
1. So Right So Wrong
2. May You Never (Walk Alone)
3. Heart on a Platter
4. A Tear in the Rain
5. Until the Day
6. Riches to Rags
7. Way Too Late
8. How Do You Know
Label: Frontiers Records
Website: www.royalhunt.com
Hardrock Haven rating: 7.5/10