The Baltimore Ravens Marching Band Plays Van Halen
by Alissa Ordabai
– Senior Columnist —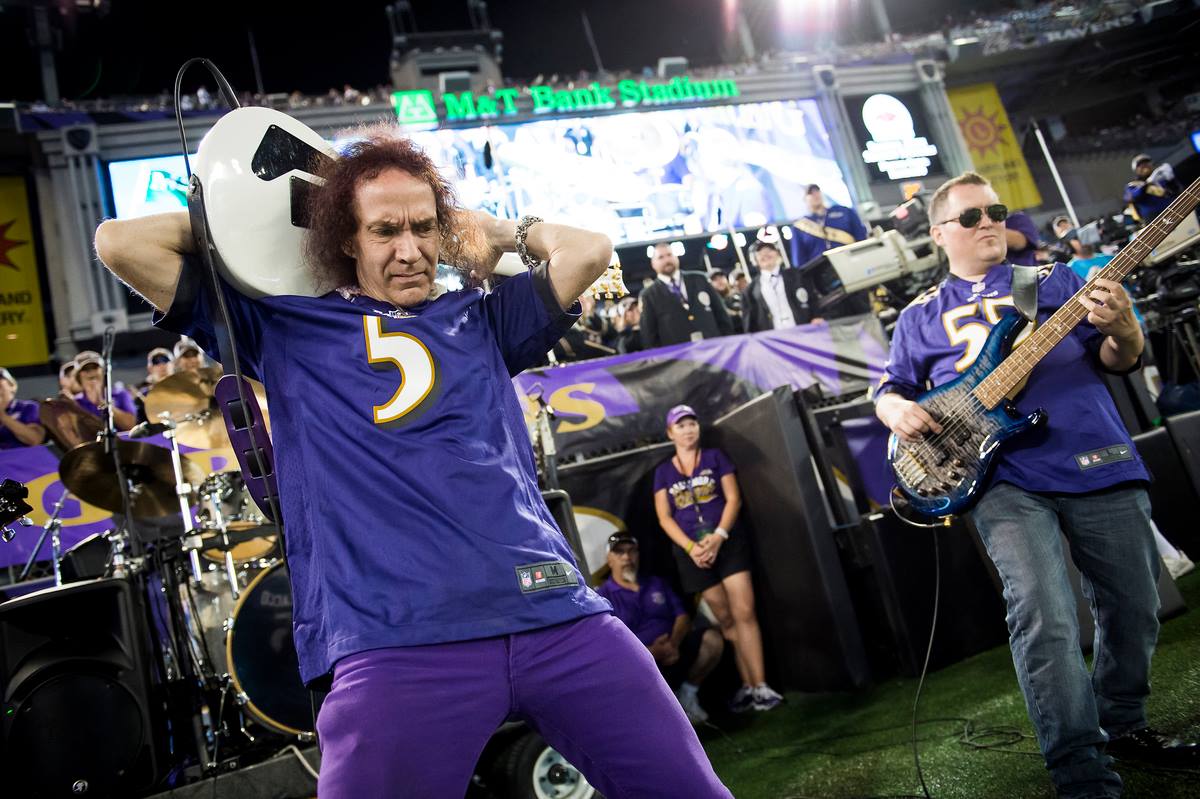 Тhe Baltimore Ravens Marching Band, The Marching Ravens, led by the legendary John Ziemann, was asked to play a Van Halen medley in September. The Marching Ravens is not just a traditional marching band. It incorporates a rock ensemble as well, of which Tobias Hurwitz is the lead guitarist. The rock band wears jerseys and jeans instead of uniforms and doesn't march. The other members are Mark Neuman – Guitar II, Rich Snyder – Bass, and Andrew John Davis – Drums. The Marching Ravens play to 75,000 or so people every home game in M&T Bank Stadium (Ravens Stadium).
The band worked out the details of the Van Halen medley and then Todd Clontz scored all of the parts for the rest of the marching band. Lead guitarist Tobias Hurwitz handled the "chore" of beginning the show at half time with Eruption (Unaccompanied), the ultimate rock guitar cadenza, and then the band blasted through six cool VH tunes with Hurwitz on lead guitar. The marching band played the vocal melodies and counterpoint as the rock band played like VH. Hurwitz used his fractal axe FX II direct, his PRS guitar and Ernie Ball Strings for an awesome tone.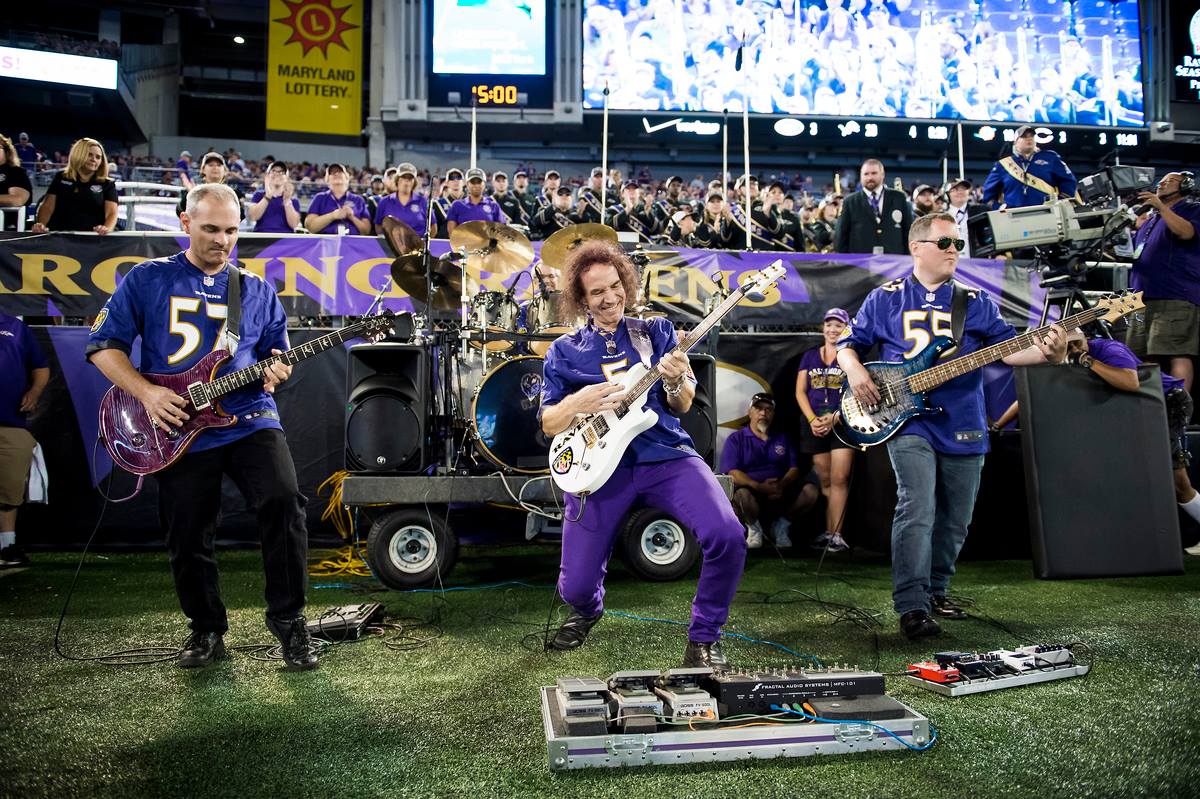 It takes three conductors to make this happen due to time delay. Reading and writing music as well as note for note copying and improv skills are required for the guitar gig. "We are asked to play everything from Latin Jazz to TV themes, military music, rock, pop and metal," says Hurwitz. "I have frequently been asked to shred!! We are encouraged to duck walk and generally ham it up so the cameras will love us. It's a very cool gig. I'm all over the RavenVision boards (the huge HD boards in the stadium)." Other highlights of 2014 included a Beatles show in October and the rock band being featured without the marching band during 3rd quarter breaks. During these breaks the Marching Ravens are the focus of the stadium.
The 2015 season has already begun. During 3rd quarter breaks, when Hurwitz played the solo to Purple Haze behind his head the stadium erupted in applause, and Crazy Train and Rock You Like a Hurricane got the band on national TV. "Playing these iconic solos is exhilarating!" says Hurwitz. "We have a Boston half time show slated for November and music from AC/DC, The Stones and Ozzy on the map. I also get to improvise from time to time. I'm particularly excited to be playing Beat It with the cool Van Halen solo and also some Rage Against the Machine with all of Tom Morello's wonderful tricks. The most fun yet was probably playing the simple power chords to Seven Nation Army with 75,000 rabid football fans singing along! The Fractal enables me to model all of these tones perfectly. I'm starting to get recognized on the street and asked for pictures and autographs."
Tobias Hurwitz web site: www.tobiashurwitz.com