Artch | For the Sake of Mankind
by Justin Gaines
– Sr. Columnist —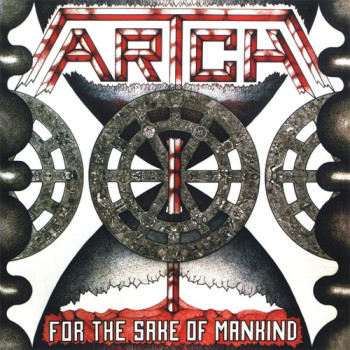 Originally released in 1991, For the Sake of Mankind was the second album from Norwegian Heavy/Power Metal band Artch. The band made quite an impression with their critically acclaimed debut Another Return a few years earlier, which put a European spin on the American Power Metal sound, and was ready to do the same with their second release.
What strikes you right from the start with For the Sake of Mankind is that Artch really dialed up both the speed and the power. Another Return had plenty of power, but it was a more refined, early Fates Warning/Queensryche kind of power. For the Sake of Mankind sounds more like Dio meets Vicious Rumors. The thrashing riffs pair perfectly with vocalist Eric Hawk's (real name Eirikur Hauksson) killer range and massive vocal power. As impressive as Hawk was on the Artch debut, he's an absolute force of nature on this album.
"When Angels Cry" and "Turn the Tables" are two of the more powerful tracks on For the Sake of Mankind, bringing to mind Liege Lord and even Accept. The whole album is hard hitting and very strong though. The only head-scratcher in the bunch is the band's cover of Nazareth's "Razamanaz," and even that one got metalized fairly well.
Sadly, Artch didn't last too long beyond this album's release. They were another casualty of the Grunge revolution, and disbanded for the better part of a decade. They never became a major name in the power metal scene, but Artch still left behind an impressive musical legacy. For the Sake of Mankind remains an underrated classic, and one that just about any serious fan of Crimson Glory, Dio, Vicious Rumors, Liege Lord and the '80s Heavy/Power Metal scene in general ought to hear.
Edition Notes: Divebomb's 2015 reissue of For the Sake of Mankind puts this classic album back in fans' hands after a long absence. The album has been newly remastered and includes four bonus demo tracks, and has an expanded booklet with a band essay, lyrics and vintage photos and press clippings. It doesn't have quite as much bonus material as the earlier Metal Blade reissue, but those are long gone and besides, the remastering alone makes this a nice upgrade.
Genre: Power Metal, Heavy Metal
Lineup:
Eric Hawk (v)
Bernt Jansen (b)
Cat Andrew (g)
Gill Neil (g)
Jack Jamies (d)
Track Listing:
1. When Angels Cry
2. Appologia
3. Burn Down the Bridges
4. Paradox
5. To Whom It May Concern
6. Titanic
7. Confrontation
8. Turn the Tables
9. To Be or Not To Be
10. Batteries Not Included
11. Razamanaz
12. Daredevil
13. Jezebel
14. Dog on the Run
15. Sirens
Label: Divebomb Records
Website: www.artch.net
Hardrock Haven Rating: 9/10