Def Leppard | Def Leppard
by Alexandra Mrozowska
– Sr. Columnist —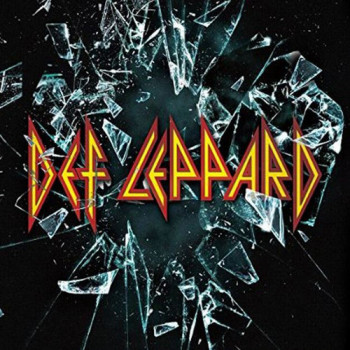 What does an established act releasing a self-titled album suggest? The usual policy in the music industry is that the self-titled album is a debut one, therefore an introduction of an artist or a band to the audience. Among the older acts, it's usually seen as an act of redefining themselves, both artistically and personally. Is Def Leppard, the eleventh album in the Sheffield-based quintet, opening a new chapter in the band's musical history? Rather not. Is the self-titled release, out on Oct. 30 via earMUSIC, a combination of all elements that made Def Leppard noticed, then skyrocketed them to stardom and contributed to their longevity? The answer, to the fans' delight, is yes.
The opening piece "Let's Go" was one of the two songs revealed prior to the album's release. And also – an answer for those who wondered if Joe Elliott and the pack are still able to transform their late '80s spirit and sound into the 21st century. It's a simply a conglomerate of all things Def Leppard as remembered from their glory days. Bombastic and melodic, with polished Mutt-esque production and trademark multi-layered vocal harmonies, it's a blatant but nifty throwback to the days of Hysteria with only a tad modern vibe to it. "Dangerous", another promo track one's been already introduced to, continues in much the same manner. A Leppard-esque sound and style taken to the utmost, complete with a melodic lead guitar riff and an infectious chorus that is, for the lack of a better phrase, so totally '80s.
However, it doesn't really mean the Sheffield-based ensemble's simply re-recorded Hysteria and now rides a wave of nostalgia with just a handful of reprised "Rockets" and "Pour Some Sugar On Me's." With a quite different vibe to it than its predecessors had, "Man Enough" has them wandering off the safe track. Its pulsating bass line, thud drum sound and funky groove make it a contemporary counterpart to Queen's 1980 classic "Another One Bites The Dust" rather than anything else. Still, it remains catchy to the utmost and one of the album's highlights.
Next is a mid-tempo track "We Belong", a reminder Def Leppard actually grew up to be more than larger-than-life choruses and Hair Metal craze – especially lyrically. In terms of music it might have taken a bit after the title track of the Hysteria album, but it would have been hard to consider it an actual fault. With "Invincible," the band delivers a portion of solid yet relatively unremarkable Melodic Rock. Its follow-up "Sea Of Love" seems to spell change for the better with feisty verses and slightly funk-ish riffs, but the overly sugary choruses fail to be particularly memorable. "Energized" comes next, with its slightly modern flavor drawing more from post-Adrenalize Leppard than their classic era.
Tracks such as "All Time High" or "Broke 'n' Brokenhearted" return to the energetic mode of the first few tracks on the album. In spite of its modern sound, "Forever Young" has a youthful Leppard-esque vibe to itself indeed. The same kind of vibe resonates even louder in the-next-to-last piece "Wings Of An Angel," an instant classic embroidered with trademark Hysteria choruses. Elliott and the gang also show multiple dimensions to their craft of rock balladry, from the acoustic-driven, slightly bluesy "Battle Of My Own" to the melancholic undertones of "Last Dance" and atmospheric, epic final piece "Blind Faith."
Yet before the self-titled album saw the light of day, Def Leppard emphasized the diversity of the recorded material. In this respect, it wasn't an idle talk for sure. Def Leppard ranges from tracks sounding as if they were forgotten outtakes from recording sessions to Hysteria to pieces with a modern twist to them. Obviously, the record's neither as groundbreaking as Pyromania nor as hit-studded as Hysteria. And, perhaps, a bit too lengthy – omission of a song or two wouldn't have probably done much harm to the album's structure… However, especially after having given it a spin a few times in a row, the self-titled Leppard release turns out to be a classy release altogether, and also, a worthy successor to a line of albums in their catalog. Fans of particular era(s) in the band's history will find something for themselves here, each of them something different. Assuming that was the actual idea behind recording Def Leppard, the goals were made reality. Recommended.
Genre: Hard Rock, Melodic Hard Rock
Band:
Joe Elliott – vocals
Vivian Campbell – guitar
Phil Collen – guitar
Rick "Sav" Savage – bass guitar
Rick Allen – drums
Track List:
1. Let's Go
2. Dangerous
3. Man Enough
4. We Belong

5. Invincible

6. Sea Of Love

7. Energized

8. All Time High

9. Battle Of My Own

10. Broke 'N' Brokenhearted

11. Forever Young

12. Last Dance

13. Wings Of An Angel

14. Blind Faith
Label: earMUSIC
Website: www.defleppard.com – www.facebook.com/defleppard
Hardrock Haven rating: 8.5/10