by Christophe Pauly
– Sr. Photojournalist —
Dean Wells of Teramaze talks with Hardrock Haven about the groups new album Her Halo. Wells provide fans insight into the song-writing process, the addition of Nathan Peachy on vocals and joining Mascot Records.

HRH: How did this band get started?
Dean Wells: Well I started Teramaze in 2000. But I quickly stopped it to do something else until 2008. So I consider that all really began in 2008. Then we did our first album Anhedonia in 2012 and Esoteric Symbolism in 2014.
HRH: Your new album is called Her Halo. How was the songwriting compared to the previous material?
Dean Wells: Well, I think that the band was tighter for this album. Everyone was more involved. If you look at previous albums, a lot was done by me and the drummer for signature times for example. But this time, it was different because a lot of the music was composed online via Facebook. We were giving ideas and lyrics at each other on the internet. So Her Halo is more a band album than the other ones.
HRH: Nathan Peachy has recently joined the band as the new singer. How did you find this incredible talent?
Dean Wells: Well, I was writing a song and had some lyrics for it. So I put that on the internet and we did some auditions. And the result was fantastic! We get different people from around the world which is really cool. It was a very good experiment. We finally choose Nathan from Australia who fitted perfect and that song is now on the album. It's called "For the Innocent."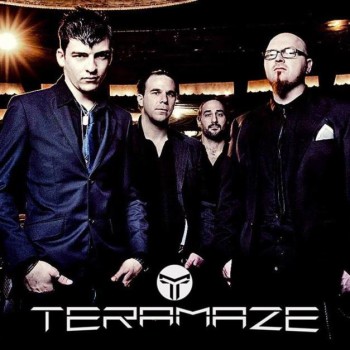 HRH: How's life for a Prog band in Australia? Do you have many fans there?
Dean Wells: You know that kind of music is not really big here. You can play a couple times per year but that's not easy to do more; but we now we're looking for more shows in Europe and Japan for example to push it to another level.
HRH: It's the first album with Mascot Records. Was it necessary to switch to a new label for Teramaze carreer?
Dean Wells: Yes! It's really great! They're great people. Mascot is a pretty big label in Europe. They've helped us for the production on this album and they have major bands too like Flying Colors, Zakk Wylde, Joe Bonamassa… They've been really fantastic with us and very involved.
HRH : Where did you find the inspiration for this album?
Dean Wells: We've put a lot of our feelings in this album. We've put our pains, melancholy, etc. And everything came very quickly actually. We've put a little of everyone in it. And I think you can hear it in the album.
HRH: This album has something more cinematic in the themes and the atmospheres. Was it deliberate?
Dean Wells: Yes, Her Halo is more a concept album. So we wrote a story that takes you on a journey. It was a consistent decision to put a lot more space in the songs. Everything is not overly technical, there's a lot of melody and it was a lot of fun to write.
HRH: Your band has evolved a lot through the time. Which artists inspired the band to become what it is nowadays?
Dean Wells: Well, we've listen to many bands like Dream Theater, Tool,… Some pretty heavy stuffs and some more pop music too. In fact, we've been inspired everywhere and there's no limitation to what we listen to. We just wanted to do whatever we want with this band. That's the most interesting thing with progressive, there's no rule or limitation so you can always do something fresh.
Connect with Teramaze online at https://www.facebook.com/teramaze/.