by Kent McIntire
– Photojournalist —
October 26, 2015 at Crofoot Ballroom in Pontiac, MI. —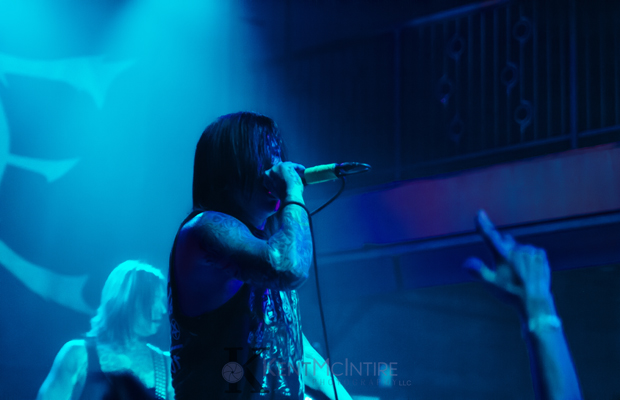 Monday, October 26, 2015 "A Nightmare On Pike Street", an all-ages show, came to the Crofoot Ballroom in Pontiac, Mich. There were a total of Post-Hardcore/Metalcore bands scattered across two stages (Ballroom Stage and Pike Room Stage) that kept the crowd moving to catch their favorites and maybe see ones they were not as familiar with. The bill in its entirety looked like this: The White Noise, Wage War, Ice Nine Kills, MYKA Relocate, Sirens and Sailors, Sworn in, and A Skylit Drive. Closing out the show, hailing from Las Vegas, was Escape The Fate.
During this Hallowed (workday) evening event, I tried to catch as many of the bands as I could. The schedule was such that there was some overlap in the start times which forced you to keep moving. Good in some respects, but not as ideal in others. For instance, if you wanted to see a band in its entirety, it meant missing the start of another. This did not seem to bother those in attendance, however. People were moving from one stage/room to the other without complaint. If anything, it probably keep the bar busy with people looking to re-hydrate after going up and down the stairs repeatedly.
Escape The Fate was formed in 2005 and has proven through the years that the only thing that is consistent is change. Changes that consisted not only of membership, but also having members do different things to better their sound and create some diversity. For example, TJ didn't always play rhythm guitar, he started on bass. The addition of a rhythm guitar to their sound a couple years ago has really given them more depth compared to their earlier days. No bass guitar? It works … and works well!
The stage fades to black, the crowd starts chanting "Escape The Fate. Escape The Fate." Mabbit walks to center stage and the crowd goes crazy. "Thrasher" shreds the opening of "Just a Memory" from their new album Hate Me which will be available Oct. 30, 2015. Continuing to excite the crowd with some of their older stuff, like "Ashley", "Gorgeous Nightmare", and more.
The one thing that really stood out to me with Escape The Fate is Craig Mabbit. While it easy for bands to get stuck in the performance, play the songs, get back on the bus and move on, this is clearly not his style. I've not met or spent any time with Craig, but I have to believe he is one of those guys that's a people pleaser and wants to make certain everyone having a good time. Between almost every song, Craig is talking to and interacting with the crowd; reaching out to the fans, slapping high-fives, and getting down to eye level. Each time he did this, the crowd responded exponentially.
If you're looking to take in a rock show with nonstop high energy, and dare I say, maybe even sound better live than on their albums … Escape The Fate is the show to see. You will not be disappointed!
Oh! When did Slash start playing drums? I kid … sort of. If there were a doppelganger for Slash, Ortiz is it – in looks and talent. Just a different instrument …
Full Set List:
Just A Memory
The Flood
10 Miles Wide
Ungrateful
Les Enfants Terribles
Massacre
Issues
Ashley
Something
Remember Every Scar
Gorgeous Nightmare
One For The Money
The Guillotine
This War Is Ours
The Aftermath
Members:
Craig Mabbitt (Lead Vocals)
Robert Ortiz (Drums)
Kevin "Thrasher" Gruft
TJ Bell (Rhythm Guitar and Vocals)
Escape the Fate Concert Photo Gallery