by Anabel DFlux
– Sr. Photojournalist —
November 14, 2015 at The Roxy in Hollywood, CA. —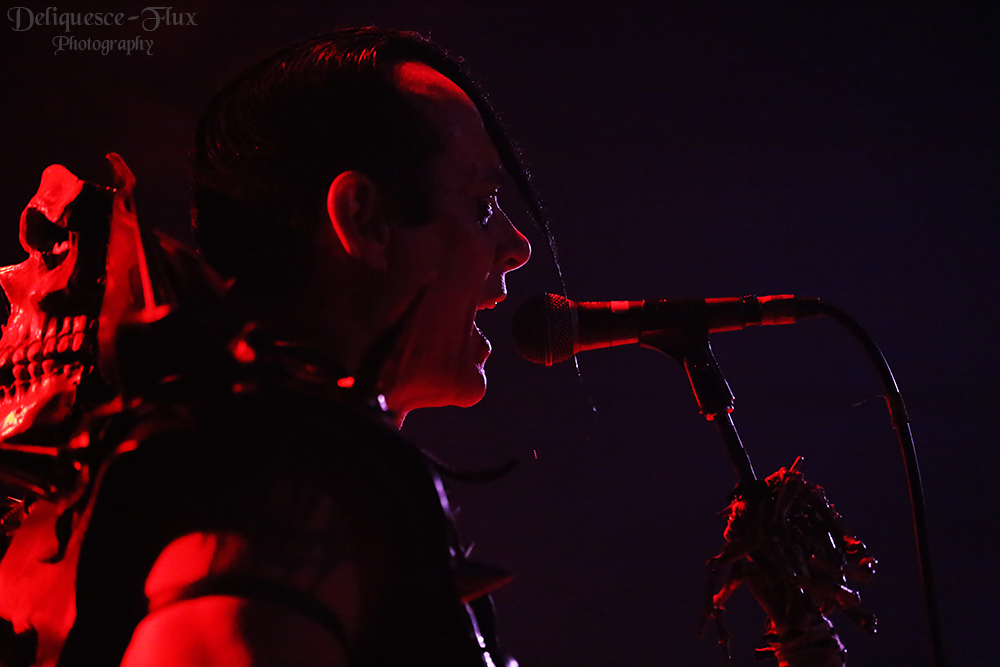 With the fiend skull in full glory, the sold-out Roxy played host to one of the most famous bands in the world: The Misfits.
No concert will ever be the same for the night's audience members, as The Misfits gave them an unforgettable experience. Each band member made a point to interact with the fans, and gave the audience quite an intimate encounter. From fist bumping, to even lifting a young fan, The Misfits know how to woo the crowd. Even after the concert was done, the band members stuck around to meet each and every fan.
The stage featured a full set, from skulls to skeletal microphone stands, a truly atmospheric, visual representation of the music. Jerry Only was donning the fiend skull on the back of his leather, a symbol that become a world icon in pop culture. The symbol's standing in our society is a direct representation of just how impactful this band is on music history. Jerry Only's incredible magnetism and fun nature makes his performance a blast. Chupacabra absolutely killed it on the drums, playing with a veracity the Misfits are known for. Jerry Caiafa Jr. played right into the audience, and was absolutely eating up the energy of the night!
The set list was quite long and varied, running through some of the Misfit's finest. Each song elicited a mosh pit and full crowd participation, as each soul within the venue was moving, dancing, singing, and jumping to the melodies. It's clear to see how these songs have survived the tests of time- they are timeless.
Members:
Jerry Only
Eric "Chupacabra" Arce
Jerry Caiafa Jr.
LIVE! | The Misfits Concert Photo Gallery
Connect with The Misfits here:
www.Misfits.com
www.Facebook.com/Misfits/