Final Sign Hold High the Flame
by Justin Gaines
– Sr. Columnist —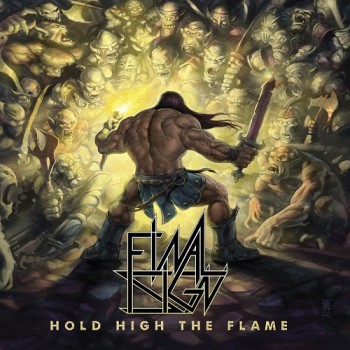 Hold High the Flame is the debut album from North Carolina-based Traditional Heavy Metal band Final Sign, which was put together by October 31 guitarist Brian "Hellstorm" Williams and features Livesay/Line of Fire vocalist Shawn Pelata. The two had previously collaborated in the band K-Octave, and it's apparent from the very start of Hold High the Flame that their chemistry remains strong.
Hold High the Flame is a straight-up, uncompromising Heavy Metal album that captures the very best elements of the Classic Heavy/Power/Speed Metal era. Williams, true to form, delivers riff after blistering riff to get heads banging. And even with the high speed riffing and steady, pounding rhythms, there's just enough melody to keep it from becoming a total shred fest. Factor in a powerhouse vocal performance from Pelata (and if you only know him from his more melodic Line of Fire albums, this will be an eye-opener) and you have a fantastic mix of old school sounds.
The touchstones for Final Sign's sound are bands like Metal Church, Reverend, Vicious Rumors and Exciter. The opening tracks "Daring the Sun" and "Burn the Temple Down" recall some of the best Geoff Thorpe/Carl Albert collaborations, while songs like "Possessor" and "The Ominous Black" bring equally massive doses of speed and heaviness. And like the best of those classic '80s metal albums, Hold High the Flame never wears out its welcome. Eight songs, 38 minutes, and all killer.
America already has quite the roster of high caliber Traditional Heavy Metal bands, and Final Sign is a more than worthy addition to that list. Hold High the Flame is a very impressive debut, and one of the better traditional metal albums 2015 has to offer. Whether your tastes run to the old school – Vicious Rumors, Reverend, Heretic – the new – Enforcer, Wulfhook, Twisted Tower Dire – or any point in-between, you will want to discover Final Sign.
Genre: Heavy Metal, Traditional Metal
Band:
Howard Baker (b)
Kevin Haverlah (d)
Brian Williams (g)
Shawn Pelata (v)
Track Listing:
1. Daring the Sun
2. Burn the Temple Down
3. Hold High the Flame
4. Possessor
5. The Sinister Silence
6. Scaling Lies
7. Madness Eternal
8. The Ominous Black
Label: Divebomb Records
Website: www.facebook.com/finalsignofficial
Hardrock Haven rating: 8.5/10