Forever Still | Tied Down
by Joe Mis
– Sr. Columnist —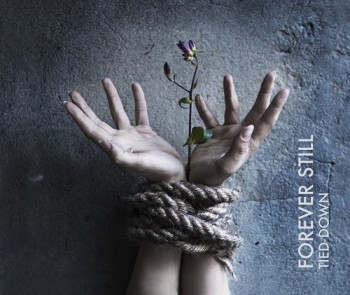 At long last the Copenhagen-based modern rock act Forever Still has readied their full length debut album – and Tied Down was definitely worth the wait! Their debut fully lives up to the promise shown in their 3 EP releases, so fans of the band will not be disappointed. Tied Down gathers the 6 tracks that made up the band's two recent EPs, and completes the story begun in Scars and Save Me with the addition of 4 powerful new tracks. According to the band's own press material, "the record grapples with a glut of personal issues stemming from depression, anxiety, and worthlessness, through to perseverance and recovery."
Despite a few lineup changes since their formation, the core of Forever Still has remained the same. Dynamic vocalist Maja Shining has been working together with bassist/engineer Mikkel Haastrup since 2009, and guitarist Dennis Post has been with the band since the 2013 Scars EP. Forever Still continues to produce music that crosses genre boundaries, and while the overall tone is dark and mostly Gothic-influenced their overall sound is a blend of type and tempo that keeps the listener involved. Maja proves herself to be an exceptionally passionate vocalist who can ably deliver anything from a soft whisper to a full-on metal roar. Her range is wide and she uses all of it, even dropping into a near-Death-Metal growl (which she thankfully does not abuse). Post's guitars are slick throughout, and he seems to be a fine rhythm player (but as on many modern releases he does not do many solo breaks). His big riffs and hooks are backed nicely by Haastrup's in-your-face bass, and the pair work very well together. The drums and keys complete the aural picture, adding layers of interest and tons of texture.
The first 3 tracks, "Scars," "Once Upon A Nightmare," and "Miss Madness" are from the Scars EP (reviewed here: http://hardrockhaven.net/online/2014/12/forever-still-scars-ep-review/), while "Awake The Fire," "Breathe In," and "Save Me" make up the Save Me EP (http://hardrockhaven.net/online/2015/08/forever-still-save-me-ep-review/). These six tracks alone show that Forever Still is not going to be pigeon-holing themselves into a single musical genre as they hit everything from ballads to Gothic to arena rocker to Alternative Metal.
"Your Light" kicks off the new tracks with a gritty and intense rhythm line packed with flowing synths and strong bass/drums. Maja's voice soars high above the murky bottom end. The band conjures up a little bit of Evanescence on the poignant "Alone" thanks to a languid vocal line and flowing rhythms. "Break The Glass" focuses on bass and vocals – while Maja visits her full range with her trademark fiery delivery, particularly on the high end. Massive bass, delicate piano, and tonal/tempo changes make the closing track, "Tied Down," a strong example of what Forever Still can do.
Forever Still continues to keep their arrangements simple and clean, resulting in a strong, accessible sound. They maintain a wonderful sense of melody across entire release, and deliver each with the appropriate tone and just the right amount of passion. Maja's voice is truly the centerpiece, but the instruments back it up and make everything complete. The songs are well written and structured, and no matter the style or intensity they are delivered with the maturity of a veteran act and built around a voice that can pretty much do anything a rock singer might ask.
Musically enthusiastic and ambitious, Forever Still's Tied Down is a very solid debut. The passion they displayed on their earlier EPs is magnified as the band leaves nothing on the table. The only downer, and a very mild one, is that the first six tracks are lifted from their EPs intact rather than being rearrannged or recorded anew. Tied Down should have broad appeal – far beyond just Female-fronted Rock or Gothic Metal.
Very highly recommended!
Genre: Rock, Hard Rock, Female-fronted Rock, Gothic Metal
Band:
Maja Shining (vocals)
Mikkel Haastrup (bass)
Dennis Post (guitar)
Track Listing:
1. Scars
2. Once Upon A Nightmare
3. Miss Madness
4. Awake The Fire
5. Breathe In
6. Save Me
7. Your Light
8. Alone
9. Break The Glass
10. Tied Down
Label: Independent
Website: http://foreverstill.dk/
Hardrock Haven rating: 9/10