Gregg Russell & Dieter Schanzer of Wraith
by Marija Brettle
– Sr. Columnist —
Hailed as "the new hope" for the British Hard Rock scene, Nottingham based WRAITH had an illustrious and successful career playing capacity crowds worldwide and even having Lemmy Killmeister (Motorhead) singing backing vocals on their debut album.
Wraith formed in 1987 by the former Deuce guitarist Gregg Russell. From the beginning Wraith were supported by the best in the industry. Their first EP and debut album, Danger Calling being produced by Guy Bidmead (Whitesnake/Motorhead), mixed by Pete Way (UFO) and Brian Robertson (Thin Lizzy).
The next release Riot produced by Mark Bruce (Black Sabbath) saw Wraith's popularity spread to Europe and Japan, followed by the third critically acclaimed album, Schizophrenia, charting worldwide. Unfortunately, in 1998 the band parted ways on the pinnacle of their career and went off to do solo projects. The band reformed in 2013 to celebrate their 25th year in the music industry, performing on the Jagermaster stage and the UK's metal Festival, Bloodstock.
After long time in the making, this year, due to a popular demand of fans, Wraith are back and this time stronger and tighter than ever, with a classic heavy rock sound and big stage presence. With the new line up on board; Dieter Schanzer and Gregg Russel on guitar, Jay Graham on drums and Ryan Coggin on vocals, the band is preparing to record some new tracks and old favorites for their new album. We caught up with Gregg the founder of this band and the guitarist Dieter, to discuss their latest work for the new Wraith record, about the bands formation and all the ups and downs to find a permanent line up, as well all about their 80's and 90's music heroes UFO, Schenker, Sabbath and many of the U.S. giants, like Motley Crue, Ratt Kiss, Ratt and more…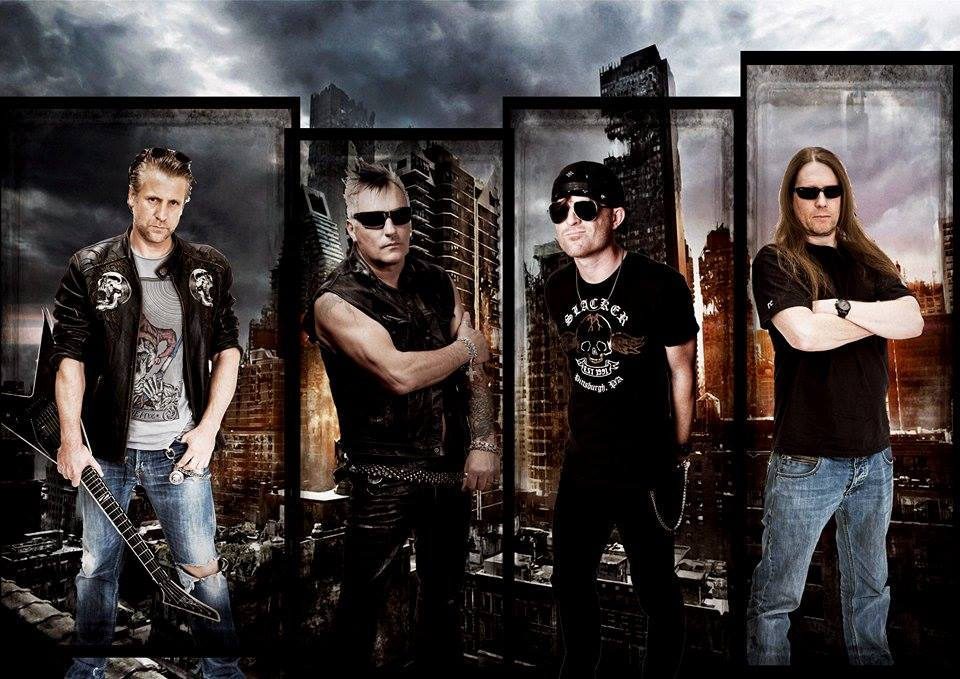 HRH: I hear you've been working for a while on the new songs for the next Wraith album. Tell me more about the making of this album?
Gregg Russell: After the line up all dissolved in 2013, I decided that I really needed to find the right like minded people to work with. So I collaborated with my lifelong 'brother' Dieter Schanzer and together we decided that this would be the best album we had ever worked on. A friend recommended a local studio and as soon as we met Jay Graham-(Ravens Creed), we knew we had made the right choice. Jay agreed to help with all the drum parts and here we are with around 20 awesome tunes in the bag! (Laughs)
Dieter Schanzer: Well, Wraith was on hiatus for a while following the departure of the singer and second guitarist until I put myself forward for the vacant slot of guitarist. I have been in side projects with 'Gregg on and off' for many years and we already knew we had great chemistry when we played live. What we didn't realise was how good a song-writting team we were. Wraith then underwent a bit of a clear out of remaining members and top level musicians. Jay Graham on Drums and Ryan Coggin on Vox were brought in, who had already proved themselves to be of a very high standard musicians. Our biggest coup being our singer Ryan who we snatched from the jaws of RATT.(Laughs) He's fantastic vocalist and a great writter too!
HRH: With the new recorded material can we expect more of the old Wraith signature duel guitar sound and major riffs, something that this band has become acclaimed for?
Dieter: New Wraith music combines hard-edge guitars with great vocals and burning lead solos all tied together with big melodies and great drumming. We also have a great ballad which I wrote…sort of Whitesnake/Scorpions vibe to it. The songs represents all of our influences but with the modern twist. Just very raw and natural, they all flowed real easy. They could be classed as hard melodic rock in the Icon vain who were a huge influence. There's also sprinklings od UFO, Schenker and the Scorpions, along with Ratt/Dokken/Crue who we also loved back in the day. They're all original tunes that we're very proud of! I mean hand made rock!(laughs) The first single is called "Under The Hammer" written with Pete way from UFO. He also plays on the track and few others on this album. He's a long time friend of Greggs and a hero of both of ours.
Gregg: We are totally returning to our roots, drawing on the fantastic heritage, we have been working with legendary bassist Pete Way (Waysted, UFO). Also he has helped with a lot of the writing. The album is out and out classic guitar drenched rock, with massive melodies and lead boots at the same time!
HRH: How did you get to work with one of the world's top rock producers , Mike Fraser?
Dieter: I have to take the credit for that! (Laughs) Being a bit of a hustler I made a direct approach to Mike with "Under The Hammer" song, in demo form. 'Under The Hammer" is such a strong song…heavy but melodic and Ryans voice is blasting on it! Mike simply liked the song and we just hit it off. We were very very lucky as he's one of the best, if not the best guy on earth to handle our album!
Gregg: We were discussing producers and Deet was researching some of the top names. He is a perfectionist and said why we don't aim for the top and take it from there. He sent an email to Mike with 'Under the Hammer' … attached a little tongue in cheek mail which unbelievably Mike replied to. (Laughs) We were over the moon! We asked if he would produce the track and he liked it enough to go with it. The final result blew us away. We are now working with Mike to complete the whole album. It's a monster!
HRH: I have listened to your new track, 'Under The Hammer' and I must say its a awesome song… blasting guitar sound, amazing vocals and drums…
Dieter: We are very proud of 'Under The Hammer!' That was the first track where we realized how well we worked together as writers and it will be the first single. But the other tracks are just as good; like 'Fall Into the Fire, 'Humanhater No Respect' … Well, if you like Def Leppard/Dokken/Ratt, listen to, 'Hunted.' That's a killer! But 'Under The Hammer' set the bench-mark for the other songs . We rejected anything that wasn't as good as that , so if you like UTH you will love the rest of the tracks on the album. We spend two years just writing and crafting the songs till they were perfect!
HRH: You have a new singer from LA, tell me about him… how did you find him?
Gregg: Yet again the wonders of the internet. (Laughs) We had searched long and hard for a great UK vocalist and spoke to some top names here, but no one actually fitted the bill. Deets had spotted Ryan doing a Ratt track on YouTube and we just said that is the guy! We have to get hold of him. We emailed him (Ryan Coggin) and discovered he was living in Texas, but instead of being defeated we mailed him with some tunes and simply asked if he would be interested in doing a U.K. classic rock album and that was it! It couldn't have worked out any better! (Laughs)
HRH: Which bands were most responsible for you to set your heart on rock music?
Gregg: My first ever rock gig was Judas Priest! When I heard those guitars riffs my soul was sold! I was influence by great bands like UFO, Scorpions and Sabbath. Also many of the US giants like Motley Crue, Ratt plus many lesser known acts, always the guitars and big tunes…
Dieter: For me it would be UFO in particular … they did some amazing stuff which I still listen to. Their music is very special to me so working with Pete is a bit of a beyond dream come true! (Laughs) Then Michael Schenkar/Scorpions. But I would say Schenker is the central influence for me, which you may hear in my playing and its not intentional… its now in my DNA (Laughs) Also I love icons like Dokken, Ratt ForeignerKiss Dio Y&T Tesla, Crue and early Aerosmith were my main influences. Def Leppard in their Pyromania/Histeria phase … just awesome melodies and songs, but their unique sound was probably down to Mutt Lange and Steve Clarke being involved. I also like some AOR stuff too, but prefere harder edge music.
HRH: Gregg, How did you end up playing with Tigertailz?
Gregg: A friend mentioned they were looking for a bass player for a tour and straight away I offered my services, even though my main thing is guitar. I've always been a fan of Steevi and Aceso, so it was a pleasure to work with them! During recording Joules the guitar player had to leave so I ended up back on guitar.
HRH: What was the most memorable show you did with them?
Gregg: The best gig ever with this band was my first gig abroad in Italy. It was a storming show, packed solid and even more amazing after.
HRH: I heard you went to see Motley Crue at Wembley for their last ever show? How was it?
Gregg: It was a stunning show and all you could ever expect. It's the end of a massive chapter, but far better to exit in a blaze of glory!
Dieter: It was both a fantastic production and quite having seen them live from beginning of their career to the 'end'…but I am sure it's not the last we see of them!
HRH: How was it for you seeing two of your 80's heroes and most iconic rock acts in one night?
Gregg: The whole thing was a stunning show. I've never seen Alice live and I must say was blown away. Their axe player is a goddess!
HRH: You've been in this music business for quite a long time and played together with bands such as UFO, Legs Diamond, Saxon and Motorhead. What would be your advice to all those new bands out there?
Greg: Just follow your hearts and do it because it's what you live for, never get disheartened and always play like you are playing to a sold out Arena!
HRH: Thank you guys for making the time for this Interview. Best with the new record … and hope to see you back on your new tour!
Gregg: Hey… thank you! Its'been a real pleasure working with you! Awesome!
Visit the band online: https://www.facebook.com/UKWraith
Photo appears courtesy of: Chris Denner.