by Justin Gaines
– Sr. Columnist —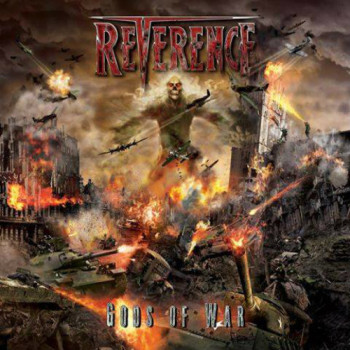 U.S.-based Heavy/Power Metal band Reverence returned this year with their second full-length album, titled Gods of War. The band, which features vocalist Todd Michael Hall (Riot V, Jack Starr's Burning Star), guitarists Bryan Holland (ex-Tokyo Blade) and Pete Rossi (Overland), bassist Michael Massie and drummer Steve "Doc" Wacholz (ex-Savatage) made an impact with their 2012 debut When Darkness Calls, but with Gods of War they've taken a big step forward.
It shouldn't come as a surprise, given the artists involved, that Reverence's sound falls right in that middle ground between classic Heavy Metal and Power Metal. It may come as a surprise just how good Gods of War is. When Darkness Calls was a totally solid release, but Gods of War just knocks you off your feet from the very start. The riffs are wicked, the rhythms crushing, and the vocals are absolutely fantastic. Hall has won a lot of fans over with his recent work with Riot V, and he's in top form here, bringing a ton of power to the album.
Gods of War sounds like the love child of Metal Church and Riot, and is loaded with heavy, melodic, anthemic songs. Leadoff single "Gods of War" is a prime example, and is all but guaranteed to get fists pumping and heads banging. "Tear Down the Mountain" and "Battle Cry" are also high octane anthems, while the melodies on "Angel in Black" and "Choices Made" are unforgettable.
By and large, it's the European bands like Masterplan, Pretty Maids and Firewind that dominate the Melodic Metal genre. With Gods of War, Reverence delivers an album worthy of that top tier. This is Melodic/Heavy/Power Metal done very, very well, and if you're a fan of any of the bands listed above, it belongs in your collection. It's going to be very interesting to see where Reverence goes from here.
Genre: Heavy Metal, Power Metal, Melodic Metal
Band:
Todd Michael Hall (v)
Bryan Holland (g)
Steve Wacholz (d)
Pete Rossi (g)
Michael Massie (b)
Track Listing:
1. Gods of War
2. Heart of Gold
3. Until My Dying Breath
4. Angel in Black
5. Tear Down the Mountain
6. Blood of Heroes
7. Battle Cry
8. Choices Made
9. Splinter
10. Cleansed by Fire
11. Race to Obscene
Label: Razar Ice Records
Website: www.facebook.com/reverencemetal
Hardrock Haven rating: 9/10