Room Experience | Room Experience
by Alexandra Mrozowska
– Sr. Columnist —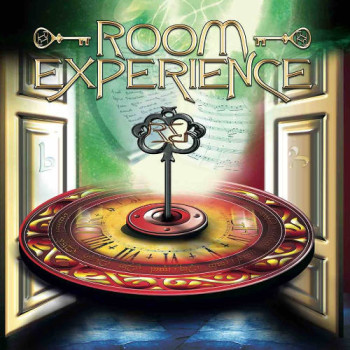 Recent years brought abundance of Melodic Rock/AOR bands and projects – almost to the point of losing track among the vast number of them. One of the projects which might not ring a bell yet but are still a real treat for the genre's listeners is Room Experience. The ensemble is built around the Brescia-based musician/songwriter Gianluca Firmo. Not only did he gather a good number of renowned musicians (members of Shining Line, Charming Grace, Street Talk etc.) for the recordings. Also, he got no one else but David Readman of Pink Cream 69 and Voodoo Circle to sing the lead. Recorded under the guidance of the producer Davide "Dave Rox" Barbieri (and then polished by the omnipresent Alessandro Del Vecchio at the mixing and mastering stage), their self-titled album was released via MelodicRock Records this year.
"Shock Me" opens the album in a typical AOR fashion, its massive keyboard intro and lots of the '80s synth-esque flavors throughout the track being nothing too odd for a project founded by a keyboard player. Embroidered with a certain hook and a blistering guitar solo that, again, harkens back to the old school of axe playing, it's the quintessential Melodic Rock tune. It's much more difficult, however, to talk first impression in the case of "Tomorrow Came" the first seconds into the mysterious, non-musical intro. Yet, what resonates in your speakers throughout the next two tracks (this as well as its follow-up "Run To You") turns out to be a generous dose of sugary AOR mid tempo thing overall. "Queen Of Every Heart" returns to more dynamic, hook-oriented mode with its pulsating, keyboard-driven rhythm, followed by another slow-ish, emotionally laden tune "Another Day Without You".
A riff that gives a start to "One Way Out" might be a bit Leppard-ish, but the track's excellent hook proves Joe Eliott and the gang weren't the only ones so skillful in song crafting. "The Only Truth" oozes with melancholy, its delicate verses building up to the soaring choruses. It's one of the finest pieces on the album, David Readman's vocal expressiveness adding much to the emotionally charged melody constructed around wailing guitar sounds. Another piece of perfect balladry approaches along with "Rainbow In The Rain". The Hammond organ tone adds a bit of a '70s Hard Rock flavor to it – with a real shot of adrenaline entitled "Not Time Yet For A Lullaby" coming in between the two slow-ish tunes. Next is "No Sign Of Summer" that draws much from the Foreigner-esque tradition of well-crafted mid tempos embroidered with tinkly keyboards. As for the grand finale, there's "Only Goodnight" featuring the project's mastermind Gianluca Firmo on vocals. Another heart-rending slow track, its instrumental richness forms a perfect background for Firmo's emotional performance and finishes the album on a high note altogether.
Breaking ground within the genre of Melodic Rock/AOR surely wasn't the purpose behind forming Room Experience, and the album is far from the musical novelty indeed. The actual purpose was to come out with a handful of well-crafted, charming and melodic songs ranging from soaring balladry to chest pumping tunes with infectious hooks. As Room Experience rightfully proves in its eleven-track entity, the goals were made reality. The seasoned ensemble behind the album did their job very well, contributing to the album's richness and variety of different tones and instrumental flavors. Much can be praised about David Readman providing his well-trained vocals, too, but what is the record's particular highlight is the songwriting factor above anything else. Room Experience's main man Gianluca Firmo proved his excellence in AOR craft, going irresistibly catchy at times but never cheesy. For the fans of a genre, this album is a must.
Genre: Melodic Hard Rock, AOR
Band:
David Readman (Pink Cream 69, Voodoo Circle): Lead & Backing Vocals
Gianluca Firmo: Keyboards, Backing Vocals & Vocals
Davide "Dave Rox" Barbieri (Wheels Of Fire, Charming Grace): Keys, Acoustic & Electric Piano, Acoustic & Rhythm Guitars, Backing Vocals
Pierpaolo "Zorro11" Monti (Shining Line, Charming Grace, Lionville): Drums & Percussion
Amos Monti (Shining Line, Charming Grace, Lionville): Bass
Steve De Biasi (Gunshy, Charming Grace): Guitars
Additional musicians:
Alessandro Del Vecchio (Revolution Saints, L.R.S., Three Lions, Shining Line): Hammond [track 9]
Ivan Gonzalez (Secret, 91 Suite): Guitars [tracks 2, 5 and 10]
Sven Larsson (Street Talk, Fergie Frederiksen, Lionville, Charming Grace): Guitars [track 7]
Stefano Zeni (Wheels Of Fire, Charming Grace): Guitars [track 4]
Boris Matakovic (Human Zoo, Charming Grace): Sax [track 2]
Aurë (Charming Grace): Backing Vocals [tracks 2 and 9]
Minna Ora (The Electric Lady, Charming Grace): Backing Vocals [track 5]
Nicoletta Tona: Guitar solo [track 1]
Andrea Gipponi: Bass [tracks 2, 4 and 7]
Track List:
01. Shock Me
02. Tomorrow Came
03. Run To You
04. Queen Of Every Heart
05. Another Day Without You
06. One Way Out
07. The Only Truth
08. Not Time Yet For A Lullaby
09. Rainbow In The Rain
10. No Sign Of Summer
11. Only Goodnight
Label: MelodicRock Records
Website: http://www.roomexperienceofficial.com – https://www.facebook.com/roomexperienceofficial
Hardrock Haven rating: 8.5/10