by Ron Higgins
– Columnist —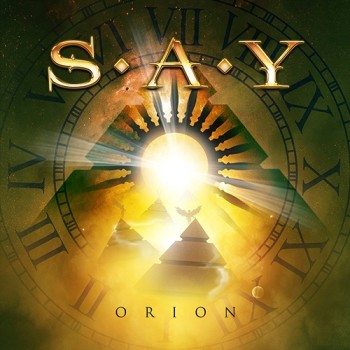 Sweden once again offers up some tasty melodic hard rock to satisfy the world's musical appetite. S.A.Y. is a new project featuring longtime members of StoneLake, which pumped out six studio records between 2006 and 2013. As you might expect from an album released on Aussie Andrew McNeice's MelodicRock Records, this debut album is filled with soaring vocals, blazing guitars, rhythmic keyboards and pounding drums that keep your toes tapping and provides the perfect soundtrack to a summer drive with the top down.
Vocalist Peter Grundström, who channels Tony Harnell at times, and guitarist Jan Åkesson organized this new project after playing together in several different bands over the years. Their musical collaboration dates all the way back to 1984 when, playing at the same venue for different bands, Jan left his Ravage band to join Peter's Whitelight.
The album starts out furiously with a slamming version of the Bee Gees classic, "Tragedy." Actually, it only contains the same title as the early disco tune, but like the Brothers Gibb song, this song is quite good and is one of the record's highlights. It's very melodic and features excellent guitar work from Jan. It's certainly a good way to introduce the world to this new band.
Other album highlights include "Eight Hundred Miles" and "Dream On." And no, "Dream On" isn't a cover of Aerosmith's classic either. "Eight Hundred Miles" has a driving rhythm and extremely catchy chorus with fist pumping chants of "What I know!" and another great guitar solo. This might just be the best song on the record and would've been a great lead-off track. Of course, any poker player knows that it's never a good idea to show your hand up front so it's probably for the best that they held this little gem until midway through the album. "Dream On" is interesting because it features a crunchier guitar sound as well as rougher vocals. It sounds like a completely different band until the chorus kicks in.
Other songs include "Heroes", "Crash and Burn", "Never Say Goodbye" (not a cover of Bon Jovi's ballad masterpiece), "Broken Wings" (nope, not Mr. Mister), "Illusion", "Love and Affection" (okay, really, it's probably time to start coming up with some more original titles; this is not Nelson's great song, although the entire album is done in much the same vein as Nelson's classic debut), and "Memories" (definitely not The King classic!). All of these feature great guitar work and impressive vocals but probably the best of the bunch is "Illusion" which has a really cool guitar intro. Unfortunately, the high adrenaline guitar riffing disappears once the singing starts and what once promised to be an up-tempo beast of a song limps along at a snail's pace until midway through the song when the riffing returns. It's still an excellent song; it's just not the homerun it was on target to become.
Wrapping up this fine debut release is "Under Your Spell", another album standout. It's got a nice, classic eighties sound (in a good way) with powerful guitars and keyboards and another Neal Schon worthy guitar solo from Jan. It's very radio-friendly and would've been a huge MTV hit circa 1985.
Overall, this is a very solid release and should make lovers of good melodic rock and roll very happy. It's not perfect, but it's good enough to warrant many purchases and repeated plays. Hopefully they will start working on a suitable follow-up, and some creative, original song titles to go with it!
Genre: Melodic Rock
Band:
Jan Åkesson – Guitars, Keyboards, Bass, Backing Vocals
Peter Grundström – Vocals
With: Jens Westberg – Drums
Track Listing:
01. Tragedy
02. Heroes
03. Crash And Burn
04. Never Say Goodbye
05. Eight Hundred Miles
06. Broken Wings
07. Dream On
08. Love And Affection
09. Illusion
10. Memories
11. Under Your Spell
Label: Melodicrock Records
Website(s): https://www.facebook.com/sayoriontheband
Hardrock Haven Rating: 8.2/10