The Poodles | Devil In The Details
by Alexandra Mrozowska
– Sr. Columnist —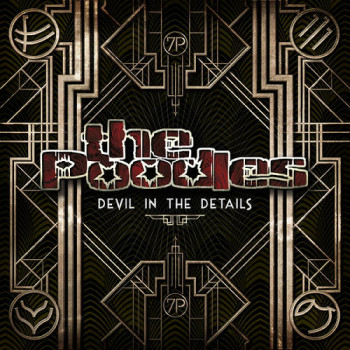 Whatever seemed to be swept away by a giant grunge wave twenty years ago, now is back in all its bombastic, melodic glory. Recent years brought a huge number of new bands trying to emulate, at their best, the '80s Glam/Hair Metal or Melodic Hard Rock. The older fans relished the nostalgia while the younger generation – those not able to witness the actual heyday of the '80s Rock – embraced these groups' 21st century swagger. One of such bands who embodied the resurgence of all things '80s – but with a modern twist to it – was The Poodles. In spite of their rather humorous moniker, the Swedish ensemble was rather serious in their claim that "Metal will stand tall". And so will they, apparently, as 2015 saw the release of their sixth album Devil In The Details.
The opening track "Before I Die" pretty much sets the direction for the rest of the tunes on the album, with its big stadium Rock feel, thick, pulsating drums and synth-tinted melody. "House Of Cards" relies more on the guitar-laden groove than its predecessor, with a generous dose of catchiness to the well-crafted chorus. First seconds into "The Greatest," the listener's eyebrows may go up a little bit. This mid-tempo essentially shows The Poodles at their poppiest – which is certainly not their worst, just a bit odd maybe. A return to the band's more typical Pomp Rock sound is marked by the song number four, a feisty piece entitled "Crack In The Wall."
What the opening riff to "(What The Hell) Baby" brings to mind is nothing else but the 8bit video game music – in all its hectoring, 'chipstyle' glory. Surprising? Think of this demure, robotic theme evolving into a huge, groovy track with clearly funky vibe to it. An interlude reach in harmony vocals – in vein of Queen and Revenge-era KISS – wasn't all that necessary perhaps, but it still doesn't stop "(What The Hell) Baby" from being one of the album's highlights. "Everything" is the other, with its infectiously bombastic chorus that harkens back to the revival of Scandi Melodic Rock and Wig Wam's "In My Dreams" era.
Next are the feisty groove of drum-driven "Stop" and an obvious Zeppelin-esque flavor to "Need To Believe." An even if some Jimmy Page's fans may find themselves slightly grinding their teeth at the latter – don't worry, it's no "Come With Me," but a neat piece of Progressive-tinted Hard Rock instead. On the other hand, the ninth track "Alive" seems a bit uninspired at first and one would have been eager to call it a filler if it hadn't been for the blistering guitar solo. "Life Without You" and "Creator And Breaker" are both bombastic rockers rich in clichés and strongly embedded in the group's trademark style. Preceded with a short but powerful drum intro, a soaring mid-tempo "Borderline" closes the entire album on a particularly high, AOR-ish note with a total number of 12 songs included.
Six albums already under their belt, The Poodles are not a passing fad or a novelty to the music industry anymore. They don't have to struggle in quest of their own style or question their authenticity anymore. They do what they're best at instead, a catchy but powerful mixture of Pomp Rock and Heavy Metal. Speaking shortly, Devil In The Details is an album that their fans have surely welcomed with open arms. And also – the one to have secured itself a place on all Melodic Hard Rock/Glam Metal-oriented Top 2015 lists. With their sixth effort, The Poodles prove that – in spite of the revolving door of singers fronting Crashdïet, Wig Wam's disbandment and the boyband-esque flavor to Reckless Love – the mid 2000s Glam Metal resurgence is still a force to be reckoned with.
Genre: Glam Metal, Hard Rock, Heavy Metal
Band:
Jakob Samuel – Vocals
Henrik Bergqvist – Guitars
Johan Flodqvist – Bass
Christian Lundqvist – Drums
Track List:
1. Before I Die
2. House Of Cards
3. The Greatest
4. Crack In The Wall
5. (What The Hell) Baby
6. Everything
7. Stop
8. Need To Believe
9. Alive
10. Life Without You
11. Creator And Breaker
12. Borderline
Label: Gain Music
Website: www.thepoodles.se – www.facebook.com/thepoodles/
Hardrock Haven rating: 9/10