by Franco Cerchiari
– Columnist —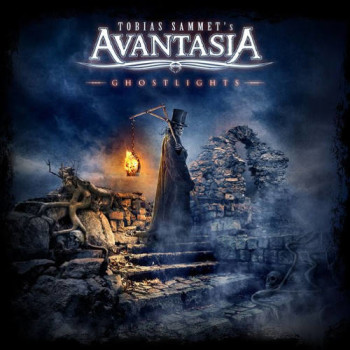 Getting their moniker from the words "avalan" and "fantasia" that describes "a world beyond human imagination," Tobias Sammet's Avantasia have come roaring back, following 2013's Mystery of Time with their 6th studio album Ghostlights, released on the Nuclear Blast label. Said to be the continuation of the story begun on Mystery of Time, of how "time affects us as human beings," Avantasia continue their brand of Melodic Power Metal, and on this, the sound is louder, darker, with more metal guitars pushed out to the forefront, larger orchestration, bigger melodies, and even more vocal choirs than heard on releases past.
The songs are massive, with melodies that soar to the stratosphere with keyboard and guitar hooks that are everywhere. Featuring guest musicians Bruce Kulick, Dee Snider, Geoff Tate, Marco Hietala, Jorn Lande, Sharon Del Andel, Michael Kiske, Ronnie Atkins, Bob Catley, Robert Mason, and Herbie Langhans, Ghostlights could very easily be this band's musical triumph, for this was just superb. Each song is perfectly crafted, then perfectly played, with structures that are technical, precise, and the artistic talent that Tobias has been blessed with shows in droves. Each guest musicians coming into the studio seems to have known they had a huge responsibility in that it would be their talents that could either make or break these songs, and what each of them did was deliver, and deliver big. No song seems to take a backseat to the one previous to it, but rather as the CD plays out the passion of the album grows, until it becomes obvious that is just best to sit back and allow the music to bring you to one immense musical climax.
Opening this perfect album is "Mystery of a Blood Red Rose," that could have been on Meat Loaf's Bat Out of Hell. It is operatic as hell with a glorious piano providing an excellent background of music. Listen as well to the evil hiss of "The Haunting," featuring Dee Snider, but brace yourself when the 12-minute monster "Let The Storm Descend Upon You," is able to find its way to your eardrums. Good Lord what a song. It is an enormous outing of everything and it presents itself with an orchestration that is just massive beyond belief. Tobias Sammet, Jorn Lande, Ronnie Atkins and Robert Mason all take turns at the lead vocal mic, and at times all four singing at once. Absolutely impossible to not reach for the volume knob, this was the CD highlight.
Be amazed as well by the ferocious attack of "Master of the Pendulum," featuring the screaming growls of Nightwish bassist Marco Hietala, and "Draconion Love" with Herbie Langhans on vocals is the best song that The 69 Eyes never wrote. "Seduction of Decay" is a perfect song for Geoff Tate, "Lucifer," with the always excellent Jorn Lande on vocals features the talents of keyboardist Michael Rodenberg, as his piano work here is mesmerizing. "Isle of Evermore," is the gorgeous Sharon Del Andel's time to shine as she takes this somber track right to your head where it will stay for days. The title track with Michael Kiske is simply glorious, and "Babylon Vampyres," with Robert Mason on vocals features Bruce Kulick, Sascha Paeth and Oliver Hartmann providing a killer three-guitar attack.
"Unchain the Light" is another CD standout with the high reaching vocals of Ronnie Atkins and Michael Kiske taking this song to even loftier heights. This is probably the hardest rocking song on the entire CD. It never gets truly fast, but it is forceful nonetheless. Closing this magnificent record is "A Restless Heart and Obsidian Skies," with the always great Bob Catley. It is an emotional, somber tune, with a massive chorus that talks of the state of the world around us.
It's a shame that mainstream American radio is as worthless as they are in helping support bands like Avantasia, and giving them the radio airplay they so richly deserve for Tobias without question did everything right here. Not a flaw to be spoken of, and this journalist will already go on record in saying this could already be one of the standout releases of 2016 and we are not even past January. Finding words to give this standout of a release the praise it is so worthy of is becoming difficult at best, for this was simply flawless, and it's best to just leave it at that.
Genre: Power Metal, Hard Rock, Melodic Metal
Band:
Tobias Sammet – lead vocals, bass, keyboards
Sascha Paeth – guitar, bass, keyboards
Michael Rodenberg – keyboards, orchestration
Oliver Hartmann – guitars
Felix Bohnke – drums
Guest Musicians:
Dee Snider
Bruce Kulick
Michael Kiske
Sharon Del Adel
Ronnie Atkins
Bob Catley
Jorn Lande
Herbie Langhans
Robert Mason
Geoff Tate
Marco Hietala
Track Listing:
Mystery of a Blood Red Rose
Let the Storm Descend Upon You
The Haunting
Seduction of Decay
Ghostlights
Draconian Love
Master of the Pendulum
Isle of Evermore
Babylon Vampyres
Lucifer
Unchain the Light
A Restless Heart and Obsidian Skies
Label: Nuclear Blast Records
Website: www.tobiassammet.com
Hardrock Haven rating: 10/10