by Christophe Pauly
– Sr. Photojournalist —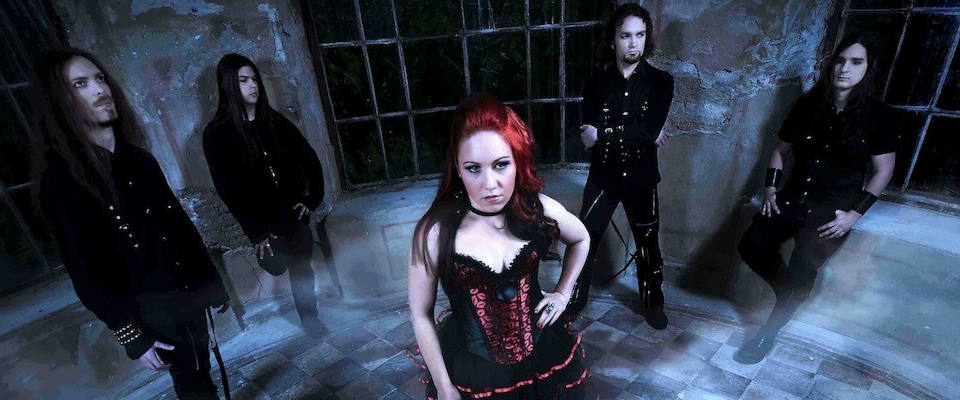 Sorronia is a female-fronted, Symphonic Metal band from Budapest, Hungary. Vocalist Anna Kiraly talks with Hardrock Haven about the formation of the band, signing with Bakerteam Records and the release the album Words of Silence and more …
HRH: Thanks a lot for doing this interview! I was totally amazed by your music. I didn't know you before and really appreciated your band as I discovered your first album and EP. So here are some questions to give our more information about you and Sorronia. The band was formed in 2011, could you tell me how Sorronia was born? How did everything started?
Anna: Our keyboardist István and I started the band back in 2011. We started to search for musicians and the line-up was complete in 2012. We started to work on our first album. The first video of Sorronia, "Enemy of Yourself" was published in January, 2013. Our first album Words of Silence was released in October, 2013 by Bakerteam Records in a worldwide deal. After the release we started to tour around Europe.
HRH: Did you know each other before?
Anna: István and I knew each other before.
HRH: Did you play in another band before?
Anna: Yes, many of us did during our teenage years.
HRH: How did you come to this kind of music?
Anna: I would say, this is the kind of music we love and we can truly express ourselves through it.
HRH: Where do you find inspiration musically and lyrically?
Anna: Our inspiration musically mostly comes from classical music. We love classical music. Classical music is something that people can learn from, something that can give so much to the soul and to the mind as well. It is hard to even express myself, because we could talk about it for hours.
Our lyrics are based on life experiences. When I write a lyric I always get the inspiration from live events that I went through and affected me in some ways.
HRH: How do you compose your songs?
Anna: We have the lyrics first. After that our main composer, István writes the basic parts for piano and I write the vocal parts. We start the arrangements after that.
HRH: Do you compose a song directly from start to the finish, or do you create some parts for a later revision in the studio?
Anna: It is always different. Sometimes we have the whole song and sometimes we do the different parts of a song separately.
HRH: This kind of Metal is very successful nowadays. Were you afraid of being lost in the shuffle among the other bands when you started?
Anna: It is very successful but no, we were not afraid. You have to focus on yourself, improve yourself and get better and better compared to yourself but for sure, you have to know what's going on around you.
HRH: About your band in particular, is this music popular in Hungary?
Anna: The audience of this kind of music is very strong and great here in Hungary.
HRH: As a female singer, do you feel any difficulties to impose you as a leader of a (Metal) band?
Anna: To be honest no, I've never felt it that way and I really hope that other female singers don't feel it that way either.
HRH: Nowadays, nearly everyone complains about what the music business has become. What do you think about it?
Anna: Everything changes. I think that, thanks to that, a lot of new doors opened in the last years. Of course, there is a bad side of this coin but it has a good one too and I like speaking about the good one. Nowadays, with the internet for example, it is much easier to reach people, share your events and important news with people over the world and this is a very good thing.
HRH: Your first album was really well done. How do you see the next one? And when do you plan to do it?
Anna: We are working on it. Hopefully it will be ready this year. We just released a new EP with 3 brand new songs in December; people can listen to it online on our SoundCloud page (http://soundcloud.com/sorroniaofficial). I think the next album is gonna be more complex, musically more refined than the first one.
HRH: You've toured with Tarja and Xandria. What do you remember from this experience?
Anna: Both these tours were fantastic, amazing experiences. We've learned a lot, experienced a lot; we met amazing people, musicians out there and played very good venues for super audiences! We had hard times as well, when we had to go from one city to another and we couldn't get enough sleep for example, but all of the hard work and every minute was worth it!
HRH: Did it help you to get more popularity?
Anna: Yes, definitely. Touring is one of the best ways to reach people. You are there, you play live and live music is something that nothing can replace I think.
HRH: What are your dreams and projects for 2016?
Anna: We are working on a new album. This is one of the biggest projects for us now but we have also plans for touring Europe this year. It is gonna be an exciting year for us for sure!
Official website: https://www.facebook.com/SorroniaOfficial/