by Justin Gaines
– Sr. Columnist —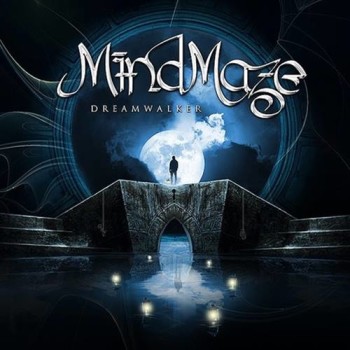 Pennsylvania-based progressive metal band MindMaze followed-up their well-received 2014 album Back to the Edge this year with Dreamwalker, a limited EP featuring cover songs and a few other surprises. The seven-song EP contains the following tracks:
1. Dreamwalker – This is the same version that appears on Back From the Edge.
2. Arena of Pleasure – Because why shouldn't a progressive metal band with a female lead singer cover a W.A.S.P. tune? And one from The Crimson Idol no less. This cover features a really powerful performance from Sarah Teets.
3. Slave to the Cycle – A new studio recording, this song is very much in keeping with the overall sound and approach on Back From the Edge.
4. Promises in the Dark – Continuing the less than conventional cover songs, this is a version of the classic Pat Benatar song. It's "metalled up" just enough, but still has that AOR vibe.
5. Remember – This is an acoustic version of a song from MindMaze's 2013 debut Mask of Lies. It fits here as the calm before the storm, with the storm being…
6. Strange Wings – Yes, the classic Savatage song, presented here with both male and female lead vocals, and sounding a bit more refined than the original. Draekon's Chad Barnes lends his vocals to this one. Honestly, this cover alone is worth the price of admission
7. Dreamwalker (duet version) – The EP closes with a new version of the title track, this one featuring none other than Urban Breed (Serious Black, ex-Tad Morose) alongside Sarah on vocals.
It's rare that an EP release is as essential as a band's proper studio albums, but there's a lot to love on Dreamwalker. The cover songs make the biggest impression, but it's hard to deny the chemistry on the closing version of "Dreamwalker."
If you enjoyed the two MindMaze full-length albums, you're going to enjoy Dreamwalker as well. And if you're new to the band but like well-written Melodic Progressive Metal with strong female vocals, Dreamwalker has a good enough mix of the new and familiar to make a great introduction to MindMaze's sound.
Genre: Progressive Metal
Lineup:
Sarah Teets (v)
Jeff Teets (g) (v)
Rich Pasqualone (b) (v)
Track Listing:
1. Dreamwalker
2. Arena of Pleasure (W.A.S.P. cover)
3. Slave to the Cycle
4. Promises in the Dark (Pat Benatar cover)
5. Remember (acoustic)
6. Strange Wings (Savatage cover)
7. Dreamwalker (duet version)
Label: Self-released
Website: www.facebook.com/mindmazeband
Hardrock Haven Rating: 8/10