Nordic Union | Nordic Union
by Justin Gaines
– Sr. Columnist —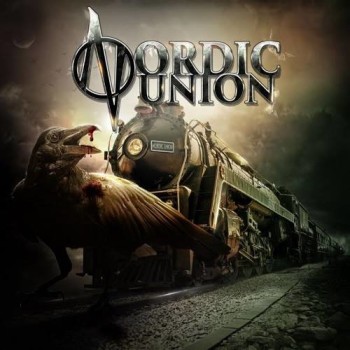 It almost isn't fair to all the other Melodic Rock bands planning on new releases this year. 2016 just started and the bar for Melodic Rock has been set impossibly high by the debut of Nordic Union, a new Frontiers project that pairs Pretty Maids vocalist Ronnie Atkins with Eclipse mainman Erik Martensson. The Frontiers label tends to serve up a lot of these collaborations, and they're all usually solid, but this time they really struck Melodic Rock gold.
Any time an album includes Ronnie Atkins, one of the most recognizable and versatile voices in Melodic Rock and Metal, it's going to be worth paying attention to. Factor in Martensson, who brings not only the hottest songwriting pen in melodic rock these days, but excellent musicianship, production and (and this really is his "secret weapon") absolutely fantastic backing vocals. As with Eclipse and W.E.T., he makes melody the main focus here, and the result is completely addictive.
There are eleven songs on the Nordic Union debut, and they're all first rate. Opening track "The War Has Begun" and "When Death is Calling" are the most Pretty Maids-sounding of the bunch, while the swift, catchy "Falling," "Hypocrisy" and "The Other Side" could have come directly from Eclipse's Armageddonize sessions. Atkins has a particular flair for ballads, and Martensson gives him a great one in "Every Heartbeat," which will have even the most jaded rockers flicking their Bics and wiping away a tear. Again, there's not a single dud here. Every one of these songs will have you singing along by your second spin, if not your first. And make no mistake, you will be spinning this one…a lot.
Ronnie Atkins and Erik Martensson have given us the first must-have Melodic Rock album of 2016, and one that captures the best of both Pretty Maids and Eclipse. Nordic Union is on par with the recent releases by both bands, and that's really saying something. Atkins has made it clear that Pretty Maids is his top priority, and Martensson is doing great things with Eclipse, but here's hoping that they'll find the time in the future to deliver a follow-up.
Genre: Melodic Rock
Band:
Ronnie Atkins (v)
Erik Martensson (g) (b) (k) (v)
Magnus Ulfstedt (d)
Track Listing:
1. The War Has Begun
2. Hypocrisy
3. Wide Awake
4. Every Heartbeat
5. When Death Is Calling
6. 21 Guns
7. Falling
8. The Other Side
9. Point of No Return
10. True Love Awaits You
11. Go
Label: Frontiers Records
Hardrock Haven rating: 10/10