Savage | 7 – Live N Lethal
by John Kindred
– Publisher —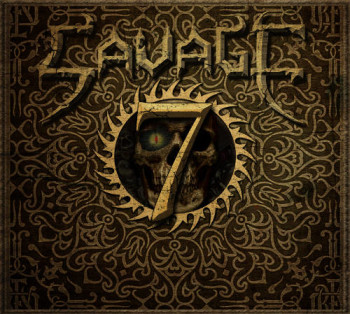 Savage return with the double-CD release of its new studio album, 7, packaged with the release of the groups live album Live N Lethal. The double CD release arrives on Minus 2 Zebra Records. 7 is the seventh full-length release by Savage. Following up 2012's Sons of Malice the band continues to deliver their brand of Metal to die-hard as well as a new generation of fans. Live N Lethal is a recently recorded live concert that pulls its name from the group's 1st studio album Loose N' Lethal.
The album 7 features 12 new songs. Original members Chris Bradley and Andy Dawson alongside Mark Nelson and Kristian Bradley rev the engine and burn the rubber from the tires. Out of the gate "I Am the Law" launches a furious metal assault … it that John Sykes behind the mic? Well, no, it's Chris Bradley who offers a similar vocal delivery. The vocals combined with the dual axe-attack of Kristian Bradley and Dawson offer choice riff-age that harkens back to the glorious Metals days of the '80s. Hammering the point home is the spectacular rhythmic duo of Chris Bradley and Mark Nelson.
The music fits right at home in the NWOBHM genre that was birthed in the late '70s and early '80s and the band musically stands tall amongst their peers from that time period, carrying forward to today. 7 offers fans absolutely no-filler, you get 12 choice cuts that offer heavy and melodic songs.
Live N Lethal features 13 songs. The set was recorded at The Old Library in Mansfield, Nottinghamshire, U.K. by Jeff Spittlehouse sometime in 2014. The Old Library is a venue that houses a recording studio and a 100 seat theater.
The band knocks the dust of its debut studio album Loose N' Lethal performing the entire album in the reverse order of the original track listing. Also include is two songs from Sons of Malice – "The Rage Within" and "Black N Blue" and two songs from Xtreme Machine – "Smiling Assassin" and "We Got The Edge." Live Savage delivers the goods. The music is raw, guitar, bass, vocals and drums, all out front in the mix with limited effects.
Genre: Hard Rock, Heavy Metal, NHOBHM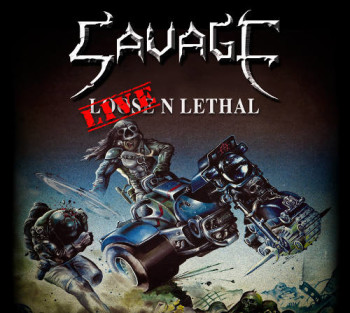 Band:
Chris Bradley – Vocals/Bass Guitars
Andy Dawson – Guitars
Mark Nelson – Drums
Kristian Bradley – Guitar
7 Track Listing:
1. I Am The Law
2. Lock N Load
3. Empire Of Hate
4. Super Spy
5. Circus Of Fools
6. Crazy Horse
7. Speed Freak
8. The Road To Avalon (Sins Of The Fathers)
9. Children Of The Night
10. Payback's A Bitch
11. Shake The Tree
12. Heads Will Roll
Live N Lethal Track Listing:
1. Prelude To Rage
2. The Rage Within (SOM)
3. Black N Blue (SOM)
4. White Hot (LNL)
5. The China Run (LNL)
6. On The Rocks (LNL)
7. Aint No Fit Place (LNL)
8. Dirty Money (LNL)
9. Berlin (LNL)
10. Cry Wolf (LNL)
11. Let It Loose (LNL)
12. Smiling Assassin (Xtreme Machine)
13. We Got The Edge (Xtreme Machine)
Label: Minus 2 Zebra Records
Web: www.savageband.com
Hardrock Haven rating: 8/10