Solution .45 | Nightmares in the Waking State – Part I
by Justin Gaines
– Sr. Columnist —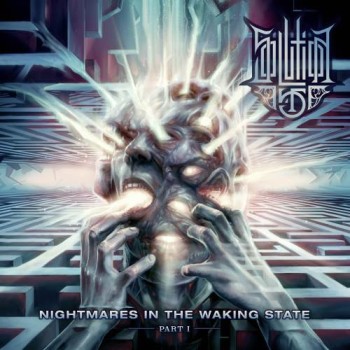 It has been five long years since Solution .45's debut album (2010's excellent For Aeons Past), but the Swedish Melodic/Progressive/Death Metal band finally gave us a follow-up late last year with Nightmares in the Waking State – Part I. As you might guess from the title, this is the first part of a two-album set, the latter of which is scheduled for release later this year.
Solution .45, of course, is the product of former Scar Symmetry vocalist Christian Alvestam, his Miseration bandmate Jani Stefanovic and former Miseration drummer Rolf Pilve. This time around they're joined by second guitarist Patrik Gardberg (of Torchbearer).
As with the first Solution .45 album, comparisons to Alvestam's former band are inevitable. Even more so now that Scar Symmetry has released the first of a multi-album epic of their own. And yes, Solution .45 does have a strong resemblance to Scar Symmetry, as well as Soilwork and Mercenary. Alvestam switches between clean and growled vocals with ease, and sounds fantastic at both styles. The most noticeable difference between For Aeons Past and Nightmares in the Waking State – Part I is that this new album, while still very catchy and melodic, has more progressive and atmospheric elements and feels much more layered and epic. And not just in a "wow, there's an 11-minute song" kind of way. Even the shorter, fiercer songs seem part of a grander whole. This is a big album, and the fact that it's only half of the full experience is almost frightening.
Alvestam and company may have kept fans waiting a long time, but Nightmares in the Waking State – Part I is well worth the wait. Solution .45 has definitely taken their sound to another level with this release, and it will be very interesting to hear Part II. If you liked the Solution .45 debut, or bands like Scar Symmetry, Mercenary and Into Eternity that have multiple vocal styles, Nightmares in the Waking State – Part I is well worth hearing.
Genre: Melodic Death Metal
Band:
Christian Alvestam (v)
Jani Stefanovic (g)
Patrik Gardberg (g)
Rolf Pilve (d)
Track Listing:
1. Wanderer From the Fold
2. Perfecting the Void
3. Bleed Heavens Dry
4. Winning Where Losing Is All
5. In Moments of Despair
6. Second to None
7. Targeting Blaze
8. Alter (The Unbearable Weight of Nothing)
9. Wield the Scepter
10. I, Nemesis
Label: AFM Records
Website: www.solution45.com
Hardrock Haven rating: 8.5/10