The Dollyrots Announce StageIt Release Show For Mama's Gonna Knock You Out EP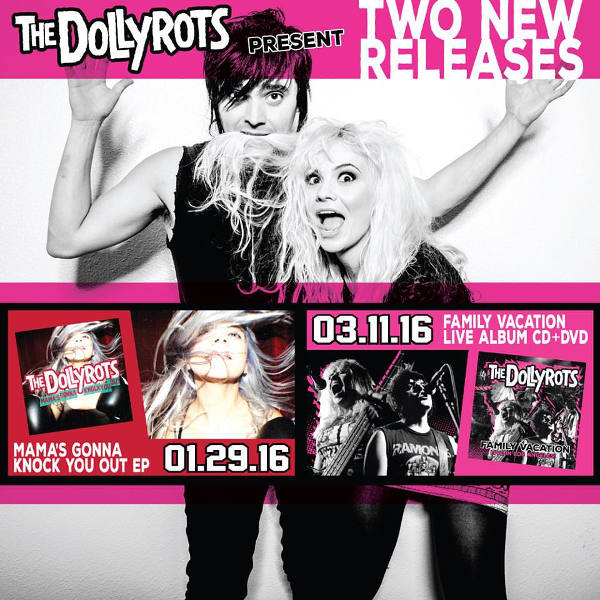 This coming Friday (29th of January 2016) California's pop punk firecrackers The Dollyrots will be celebrating the release of their brand new EP, Mama's Gonna Knock You Out.
The Dollyrots – aka Kelly and Luis, have decided to celebrate the EP's release with an online live streamed concert with the StageIt website. The show will take place at 10pm UK time on Wednesday the 27th of Jan (5pm Eastern US and 2pm Pacific US). Tickets for the show are available from StageIt on the following link – https://www.stageit.com/the_dollyrots/ep_release_party_tour_kick_off/52681. The show is likely to sell out so please get your tickets in advance – available on a "pay what you want" so you can pay as much or as little as you like for the pleasure of seeing The Dollyrots from the comfort of your own home.
Full of catchy melodies, infused with energy and with Kelly O's unmistakable soulful yet spiky vocals, Mama's Gonna Knock You Out is going to be a short, sharp reminder of why everyone needs a dose of The Dollyrots in their life.
Mama's Gonna Knock You Out marks the start of an incredibly busy couple of months for The Dollyrots as they will also be releasing their brand new double release Live DVD/CD "Family Vacation" on the 11th of March.
Praise For Mama's Gonna Knock You Out:
"There's only one minor problem with Mama's Gonna Knock You Out, it leaves you wanting more" – Soundscape Magazine
"Lives up to it's title, unlike being punched in the face you find yourself wanting another shot right afterwards" – Moshville Times
"The breeziest, spikyest, sunshiny-est release of the year so far" – Uber Rock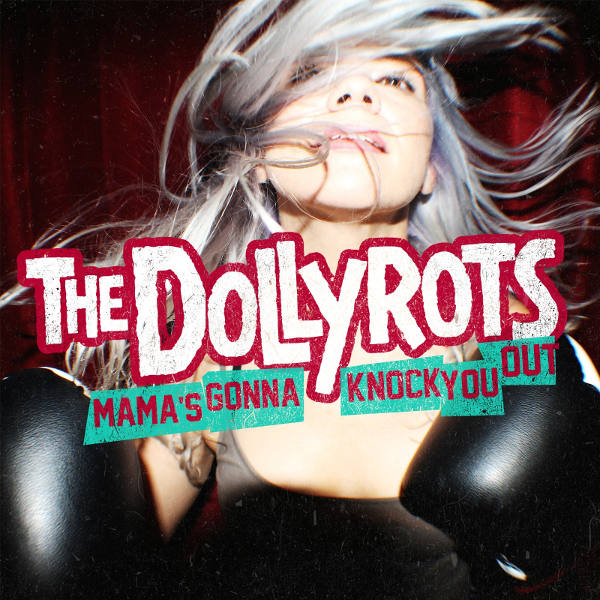 If two new releases in two months weren't enough, The Dollyrots will be making a long awaited live return to the UK alongside Bowling For Soup on the huge "How About Another Round Tour" in February 2016. Having toured the US with their good friends across the Summer, The Dollyrots will once again team up with Bowling For Soup by serving as main support on all dates of the tour. Lacey and MC Lars will also be appearing. A reminder of those tour dates can be found below:
Bowling For Soup, The Dollyrots, Lacey & MC Lars – How About Another Round UK Tour February 2016
1 Feb – O2 Academy Glasgow
2 Feb – O2 Academy Newcastle
3 Feb – O2 Academy Leeds
4 Feb – O2 Academy Liverpool
5 Feb – Manchester Academy
6 Feb – O2 Academy Birmingham
7 Feb – O2 Academy Sheffield
8 Feb – Norwich UEA
9 Feb – Nottingham Rock City
10 Feb – Guildford G Live
11 Feb – London Roundhouse
12 Feb – O2 Academy Bournemouth
13 Feb – Southampton Guildhall
14 Feb – Cardiff Great Hall
15 Feb – O2 Academy Bristol
Tickets for the 'How About Another Round Tour' are on sale now and available from Live Nation (http://www.livenation.co.uk/artist/bowling-for-soup-tickets). Tickets are priced at £20 (£22.50 for London).