Wild Dogs | Reign of Terror
by Justin Gaines
– Sr. Columnist —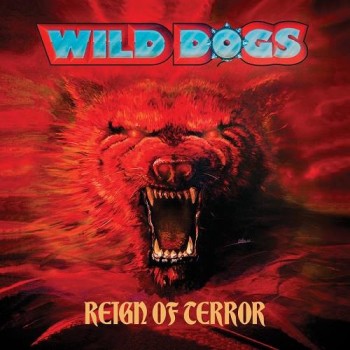 Originally released in 1987, Reign of Terror was the third album from American heavy metal band Wild Dogs. This is the first Wild Dogs album to feature vocalist Michael Furlong, who had a pair of solo albums to his credit before joining. And of course Wild Dogs featured (now ex) Journey drummer Deen Castronovo.
With Reign of Terror, Wild Dogs moved from their more hard rocking early sound to a full-on Heavy/Speed Metal approach. Between Jeff Mark's shredding and Michael Furlong's raspy vocals, it sounds like the unholy love child of Racer X and Accept. Reign of Terror has tons of speed, plenty of power, and just a great classic Heavy Metal energy. The title track and "We Rule the Night" make great Metal anthems, and "Siberian Vacation" and "Streets of Berlin" have a great '80s horror movie soundtrack vibe.
Unfortunately Wild Dogs was signed to the Enigma label, which declared bankruptcy right as Reign of Terror was to be released, and as a result did very little in the way of promotion. It killed whatever momentum the band had built, and at the exact moment when their high speed metal assault should have gone over extremely well. Castronovo moved on to other projects, and the band soon called it quits.
Reign of Terror may not have made Wild Dogs speed metal superstars, but it remains an overlooked gem of the late '80s U.S. Heavy Metal scene. It's a must-have release for all serious fans and collectors of '80s Heavy Metal, and is an album just about any fan of high speed metal, especially the Shrapnel bands of that era, will want to discover, especially now that it has been reissued.
Edition Notes: Divebomb's 2015 reissue of Reign of Terror features newly remastered audio, three bonus demo tracks and a deluxe booklet loaded with vintage photos, press clippings and a new band interview. As expected, it has the crisp sound and sharp presentation Divebomb is known for, and makes for a nice upgrade of this Metal gem.
Genre: Heavy Metal
Lineup:
Jeff Mark (g)
Rick Bartel (b)
Deen Castronovo (d)
Michael Furlong (v)
Track Listing:
1. Metal Fuel (In the Blood)
2. Man Against Machine
3. Call of the Dark
4. Siberian Vacation
5. Psychoradio
6. Streets of Berlin
7. Spellshock
8. Reign of Terror
9. We Rule the Night
10. Eat You Alive (demo)
11. Man Against Machine (demo)
12. Reign of Terror (demo)
Label: Divebomb Records
Hardrock Haven Rating: 8.75/10