Vanden Plas | Chronicles of Immortals – Netherworld II
by Justin Gaines
– Sr. Columnist —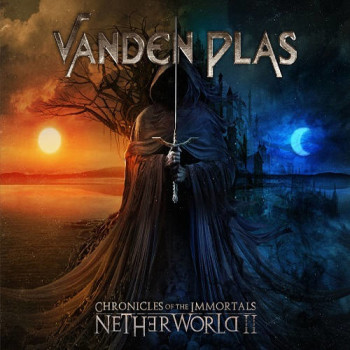 Long running German Progressive Metal band Vanden Plas helped wind down 2015 with their eighth full-length release, titled Chronicles of the Immortals: Netherworld II. As the title suggests this is the second part of the band's very ambitious two-album conceptual epic, and follows Netherworld Part I, which was released a year earlier.
Chronicles of the Immortals: Netherworld is a massive "Rock Opera" style piece that adapts a story by bestselling German fantasy novelist Wolfgang Hohlbein. Fantasy and Progressive Metal have gone together nicely since Rush's 2112, so that's no problem. And Vanden Plas singer Andy Kuntz is no stranger to rock operas, between his turn in Jesus Christ Superstar and his own Abydos project.
Vanden Plas does a great job adapting the author's concept to the Progressive Metal format. As with the first installment, the atmosphere on Netherworld II, and the flow of the songs conveys a strong sense of imagery and storytelling. Sure, you'll need to spend some time with the lyrics to really follow the story, but even without them you can tell this is something larger and more ambitious than the normal album.
Of course the potential downside of releasing such a grand concept album series is that it doesn't capitalize on what might be Vanden Plas's greatest asset: their ability to write catchy, accessible Progressive Metal songs. "Like Dream Theater, but more melodic" is a familiar description, and you don't quite get that on the Netherworld albums. You need a few spins to really get into this album, and that's not something you usually go through with Vanden Plas albums.
Issues with accessibility aside, Chronicles of Immortals – Netherworld II has everything you'd expect from a Vanden Plas release. The musicianship and production are first rate, and Andy Kuntz's vocals are incredibly powerful and evocative. And again, the atmosphere the band has crafted here is really memorable. It's tough to call out individual highlights of any concept album, let alone one that spans multiple albums, but if you're looking to get a feel for Netherworld II's overall character, songs like "Godmaker's Temptation," "The Last Fight" and the 13-minute "Blood of Eden" ought to do nicely.
Chronicles of Immortals – Netherworld II is a more than worthy successor to Part I, and wraps up one of the better executed conceptual releases in the Progressive Metal genre. Even if it does take a little longer to get into than, say, Far Off Grace or The Seraphic Clockwork, this album should not disappoint Vanden Plas fans. And if they weren't already considered a "top tier" progressive metal band, these past two albums will have made that distinction quite clear.
Genre: Progressive Metal
Band:
Torsten Reichert (b)
Andreas Lill (d)
Stephan Lill (g)
Gunter Werno (k)
Andy Kuntz (v)
Track Listing:
1. Vision 11even – In My Universe
2. Vision 12elve – Godmaker's Temptation
3. Vision 13teen – Stone Roses Edge
4. Vision 14teen – Blood of Eden
5. Vision 15teen – Monster
6. Vision 16teen – Diabolica Comedia
7. Vision 17teen – Where Have the Children Gone
8. Vision 18teen – The Last Fight
9. Vision 19teen – Circle of the Devil
Label: Frontiers Records
Website: www.vandenplas.de
Hardrock Haven rating: 8.75/10