by Alissa Ordabai
– Sr. Columnist —
January 20-24, 2016 at Anaheim Convention Center in Anaheim, CA. —

The U.S. musical instruments industry includes nearly 600 companies with combined annual revenue of approximately $2 billion. As a result, the winter show of the National Association of Music Merchants (NAMM) remains one of the most important music industry events — not only for the United States, but for the rest of the world, too. After all, the value of imported products is approximately 70 percent of U.S. production, or $1.4 billion in monetary terms. So it's no wonder the NAMM show floor at Anaheim Convention Center, at times, feels like the Tower of Babel, a cornucopia of languages spoken, both, formally and informally.
But NAMM also continues to grow and to stretch beyond being just a trade show. The program expands each year, including new workshops, seminars and forums. Add to this with performances, artist appearances and award ceremonies, and it becomes clear why this torrent of events has turned the winter NAMM of 2016 into the biggest music biz gathering in the show's history, with more than 99,000 attendees from 137 countries.
The sheer number of Rock stars and virtuosos available for product demonstrations, answering questions and giving out handshakes always adds to NAMM's pulling power and makes it the place to be for musicians and music business professionals. Nikki Sixx, Kerry King, Gary Holt, Steve Vai, Yngwie Malmsteen, Rex Brown, Lita Ford, Jennifer Batten, Eric Gales, John Petrucci, Nita Strauss, Billy Sheehan, Todd Kerns, Chris Broderick, Max Cavalera, John 5, Piggy D, Kiko Loureiro were just some of the many superstars who made appearances at NAMM this year.
However, making sales deals on instruments and music products remains the show's original and prime purpose. And the power of seeing a Rock star endorsing a particular brand often makes all the difference when ordinary folks choose their instruments — which is something that, both, manufacturers and retailers know better than any journalist ever will.
This year's star attraction, Nikki Sixx, partnered with Dean Markley, had fans lined up from early Saturday morning to obtain wrist bands to meet and greet Sixx later that day. When Sixx appeared on the show floor in the afternoon, he wasn't alone, but with his Sixx: A.M. bandmates DJ Ashba and James Michael. Autographs for hundreds of fans were signed on the band's mini-posters advertising new music coming in 2016 and bearing a Dean Markley logo. Dean Markley has been making Nikki Sixx signature strings for years, but the slogan remains the same, claiming that these strings are "built to take a Nikki Sixx kind of licking — then keep taking more."
Later in the week, DJ Ashba revealed his new Schecter signature guitar. Although The Schecter website still does not show any information on this instrument, the specs that Ashba is listed on his site are maple neck, ebony fretboard, mother-of-pearl crow inlays, EMG 81/sustainiac pickups, 3-way pickup selector, kill switch, Grover tuners and D-Tuna/Floyd Rose.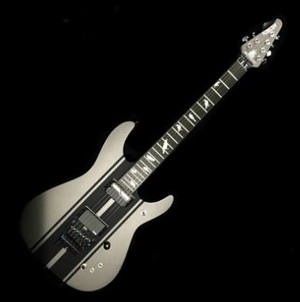 It looks like this time around he chose to go in a simpler, trendier direction than with his 2014 signature Gibson Les Paul, which had custom wiring and Ashba spec'ed Seymour Duncan Alnico II Pro and JB pickups. Since Sixx has three signature bass guitars with Schecter, it was a logical step for Ashba to start collaborating with the company.
The lucky few who got to meet Sixx could later turn to the Seymour Duncan booth just a few aisles away and say hello to Yngwie Malmsteen, who has been using his signature Seymour Duncan YJM Fury pickups since 2011. Noiseless Strat single-coils are based on the original Stack design, but with custom-length alnico 5 rod magnets, 4-conductor lead wire, and wax potting for squeal-free sound.