Elvenking | The Night of Nights – Live
by Justin Gaines
– Sr. Columnist —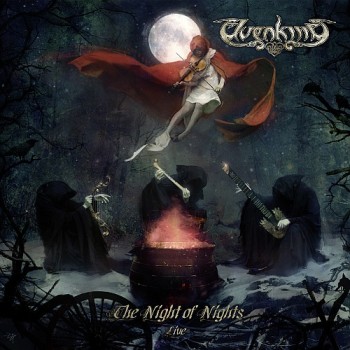 After releasing eight studio albums in their 15+ year career, Italian Folk/Power Metal band Elvenking has finally delivered their first-ever live album, titled The Night of Nights – Live. Now, this being the DVD era and Elvenking being signed to the AFM label, The Night of Nights – Live isn't just any old live album. It's a deluxe, 3-disc set featuring two audio CDs and a DVD with the full performance (plus some fun extras).
Elvenking picked the perfect setting for this live release: a large club in their home town of Pordenone. The band, costumed appropriately for the occasion, treated their "Elvenlegions" with a two-hour set that was heavy on their catchiest, most energizing songs like "Pagan Revolution," "Elvenlegions," "The Divided Heart" and of course "Pagan Purity." A handful of quick instrumental numbers and even a couple of acoustic versions helped change up the pace, so even with it being a long set, it never felt like it. The band was in fine form, and both band and fans seemed to constantly energize each other throughout the performance.
Both Elvenking and AFM did everything right here. The band delivered a high energy performance that made The Night of Nights – Live feel like a truly special occasion and not just a contract obligation, and AFM helped them give fans a package that's well worth the price. The set comes in a gatefold digipack, and includes the full set spread across two audio CDs. The DVD includes six music videos as well as the concert. The set is available digitally, of course, but it's hard to imagine anyone forgoing such an impressive video release for some audio files.
For Elvenking fans, The Night of Nights – Live is a live release that was worth the wait, and is an absolute must-have. It really does capture this unique band at their very best, and is definitely a live performance you'll want to revisit.
Genre: Power Metal, Folk Metal
Lineup:
Damna (v)
Aydan (g) (v)
Rafahel (g)
Lethien (violin)
Jakob (b) (v)
Symohn (d)
Track Listing:
1. The Manifesto
2. Trow's Kind
3. The Wanderer
4. Runereader
5. Pagan Revolution
6. She Lives at Dawn
7. Jigsaw Puzzle
8. Elvenlegions
9. The Cabal
10. A Prayer to Cernunnos
11. Moonbeam Stone Circle
12. Symohn's Bash
13. From Blood to Stone (acoustic)
14. Skywards
15. Disillusion's Reel (acoustic)
16. Elven Aftermath
17. Seasonspeech
18. Through Wolf's Eyes
19. The Divided Heart
20. Neverending Nights
21. The Winter Wake
22. Era Theme
23. The Loser
24. The Oak Woods Bestowed
25. Pagan Purity
Label: AFM Records
Website: www.elvenking.net
Hardrock Haven Rating: 8.5/10