by Anabel DFlux
– Sr. Photojournalist —
Senior journalist Anabel DFlux caught up with fun band Safe, So Simple to chat about their insanely cool music video (all shot in one take!), the new EP, upcoming shows, and so much more!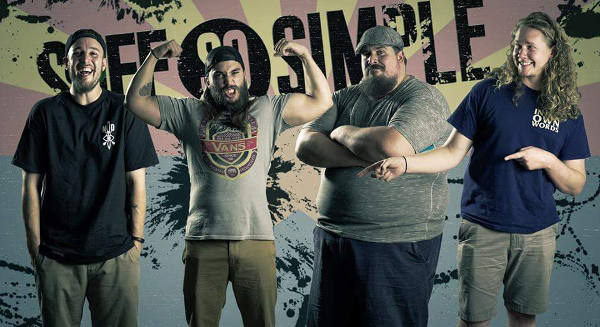 HRH: Thank you very much for answering my questions today! How are you?
Safe, So Simple: Doing well, thanks! And thank you so much for this awesome opportunity.
HRH: Tell me about your newest music video. Why did you pick this song for the video? I hear it was all shot in one take- why did you decide on this route? Did you shoot in one of your houses? Tell me about the production crew and the filming process!
Safe, So Simple: We chose "Teeth Like Sharks" for a couple reasons. We feel it showcases all of what we try to deliver as a band. And also because it's just a fun and up beat song! Yep, all in one shot! We filmed at our cinematographer Jeremy Tremp's house. It was a painstaking process of blocking and staging to make sure we hit our marks. About 5 hours of dry runs for one 3 minute video. We all helped map out the scenes and Jeremy worked as a one crew! We've worked with him on all of our videos and he is so creative and fun! Hes always pushing us to new levels with his desire to be the best.
HRH: Any more music video plans?
Safe, So Simple: Yep! We will be shooting a live performance music video for our track "Do Or Do Not, There Is No Try" at our EP release show Friday, March 11th.
HRH: I hear you have a new EP Too Close To Closure releasing on March 11! Tell me about it. What is this EP about?
Safe, So Simple: Too Close To Closure is the embodiment of our experiences throughout the writing and recording process. This EP has the work of three sound engineers and spanned 16 months to complete. Needless to say, there were times we felt as though it would never happen. Furthermore, quitting would have been easier and cheaper. Despite it all, we continued to face adversity and adopted the attitude that we were just too close to give up. We'd worked too hard and sacrificed too much. We deserved that sense of closure. We've seen a lot of adversity, but we've continued to move forward. We are so grateful for everyone who pushed us and helped us complete it!
HRH: How are the songs written?
Safe, So Simple: The songs on this EP have been our most collaborative yet. Typically starts with one of us having a riff or lyric idea that we slowly develop into a finished product.
HRH: I hear the EP is produced by Matt Good. How did you meet, and what was the recording process like?
Safe, So Simple: We were introduced to Matt through a local promoter. He contacted us and helped us set up the studio time. Overall, that experience was surreal. We are all fans of From First To Last, so we had a difficult time focusing through our fan-girling. And honestly, Matt is an insanely talented guy. His ear for music and creative environment allowed us to be at our very best.
HRH: Which song is your favorite, and why?
Safe, So Simple: My favorite track is definitely "Do Or Do Not, There Is No Try." We recorded that track with Cameron Mizell and it was hands down our best experience in the studio to date. It has a ton of vocal harmonies and guitar work and really is the sound we try want to deliver. Not to mention the quality is just amazing!
HRH: How do you describe your music to people, and what image do you think your music conveys?
Safe, So Simple: Our music is fun! We try to pull from a variety of musical influences and it always helps keep us creative and thinking outside of the box. I hope we create a fun and positive image. We want our fans to connect to our music and be inspired to follow their dreams!
HRH: When and why did you start playing?
Safe, So Simple: Oh man…here's where I reveal just how old I am…(laughs)! I picked up the bass guitar when I was 15. I'm now a 30 year old drummer. Music has always been a way for me to express myself and it's been a constant for of release. I grew up in a very musical home and I've always loved performing!
HRH: How would you define the word "success"?
Safe, So Simple: I personally define success as following through on something you start. My biggest motivation for still making music is because I've never really been able to say I gave it the chance it deserved. Set a goal, commit, and follow through.
HRH: Any upcoming shows in the works?
Safe, So Simple: We have our EP release show Friday, March 11th at Club XS. It's a free all ages show! We have a few tours being booked for the summer and some local stuff in the Spring. We'll have details VERY soon!
HRH: Any words for your fans before we conclude this interview?
Safe, So Simple: To the fans, thank you! Honestly, we couldn't do what we do without all of your support. We owe it all to you!
Connect with Safe, So Simple here:
https://www.facebook.com/safesosimplemusic/
https://twitter.com/safesosimple
Teeth Like Sharks:
https://www.youtube.com/watch?v=rLZwwuk7aMM&feature=youtu.be"