by John Kindred
– Publisher —
March 9, 2016 at Voodoo Lounge in Kansas City, Mo. —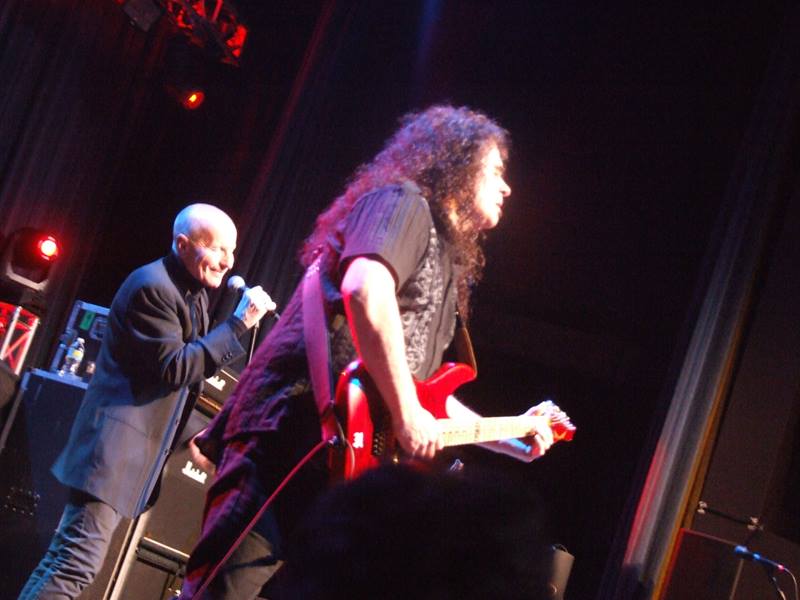 Offering Rock 'n' Roll for the working man, UFO returned to Kansas City.
Supporting the latest studio album A Conspiracy of Stars, the band was introduced by longtime UFO devotee Rock journalist Eddie Trunk.
Phil Mogg, Andy Parker, Paul Raymond, Vinnie Moore and Rob De Luca were introduced individually by Trunk as each joined him on stage. Performing UFO's favorite anthems as well as newer material, the band proceeded to burn through a fiery set of music.
Mogg's British humor and banter provided an intimate exchange between the audience and himself as he joked and conversed with the audience. As he sang throughout the evening, he did so without the embellishment of effects placed on his vocals. He obviously doesn't mask his vocal ability within the confines of synthetic enhancement. With that, you get the good and bad from a live performance, which is honorable. As the night rolled on, it appeared that his voice warmed up and became stronger.
The music of UFO is built for the guitarist to shine, and Vinnie Moore did just that. His first task was to perform those classic songs like his predecessor. He did that and added his own flair to the mix. Remember, Moore is from the Neo-classical school of shred, making his debut on Mike Varney's label Shrapnel Records in '86 with the instrumental album Mind's Eye. While his tone is slightly different, his skills are sharp. Moore is perfect match to the street-tough style of Hard Rock that UFO delivers.
Paul Raymond, the man behind the keys and synths and guitars, provided that magic that helps to makes the UFO sound unique. He is a powerhouse, and his haunting melodies on songs like "Love to Love" are majestic. Andy Parker continues to be the hammer, providing the percussive backbone that drives the music. His new counterpart, bassist Du Luca, takes over for the absent Pete Way and commands his instrument, and he provided the rhythmic rumble and memorable melodic bass lines.
The band was rock solid tonight. As the machine warmed up and gathered speed, the band seemed to get better with each song. Highlights of the night were "Love to Love," "Cherry," Venus" and "Lights Out." But newer material, such as "Burn Your House Down," also sounded pretty damn good. The infamous "Rock Bottom" was killer. The three-song encore included "Doctor Doctor," "Too Hot To Handle" and "Shoot Shoot." And, on the final songs, Mogg's voice had hit full stride. The band could have continued on performing, but, alas, the concert had reached its finality.
It was a brilliant show, and it definitely is worth seeing UFO live if they ramble through your town.
LIVE! | UFO Photo Gallery
Setlist:
1. We Belong to the Night
2. Fight Night
3. Run Boy Run
4. Lights Out
5. Rollin Rollin
6. Venus
7. Only You Can Rock Me
8. Burn Your House Down
9. Cherry
10. Love to Love
11. Messiah of Love
12. Makin' Moves
13. Rock Bottom
Encore:
14. Doctor Doctor
15. Too Hot to Handle
16. Shoot Shoot
Online: http://www.ufo-music.info/