Adam Clemans and Scott Hedrick of Skeletonwitch
by Steve Patrick
– Sr. Columnist —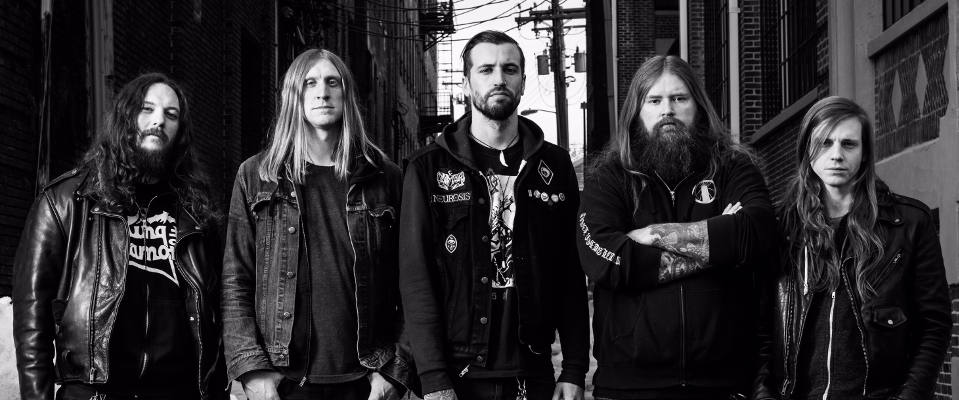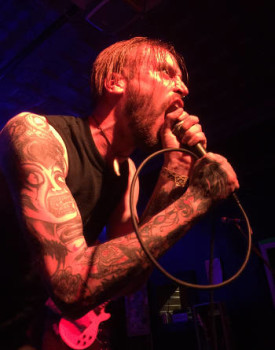 Blackened metal purveyors Skeletonwitch have recently returned to the world's stage with a new face leading the charge. Just over a year after the band parted ways with lead singer Chance Garnette, Skeletonwitch declared that Adam Clemans (Wolvhammer) would be the band's new conduit of Satan's message.
Lineup changes are never easy, but longtime fans of Skeletonwitch can rest easy with the decision to move forward with Clemans on vocals. Hardrock Haven bore witness to Clemans' live debut on March 16th at 123 Pleasant Street in Morgantown, WV. At the show, Clemans effortlessly tore through 12 Skeletonwitch standards and also peppered in 2 new songs ("Well of Despair" and "Black Waters" that will be appearing on the the band's as-yet-untitled EP.
The day after the show, Skeletonwitch embarked on the 2016 Decibel Tour alongside Tribulation, High on Fire, and Abbath. This tour is currently laying waste to North America as we speak.
Just prior to the Morgantown show, Clemans and longtime Skeletonwitch axe-maniac Scott Hedrick sat down with us for an interview. We spoke about the band's upcoming EP, the Decibel Tour, how the CBS show Limitless seems to love them, and Adam's favorite Skeletonwitch album.
::: Watch the Interview :::
For more information on Skeletonwitch, please visit www.skeletonwitch.com. The band's new track "Well of Despair" is currently available digitally on skeletonwitch.bandcamp.com, iTunes, or Amazon or in physical format at any of the Decibel Tour dates.
Visit the band online: http://skeletonwitch.com/
Videographer- Justin DelPrince
Live photo- Steve Patrick