Eternal of Sweden | Heaven's Gate
by Franco Cerchiari
– Sr. Columnist —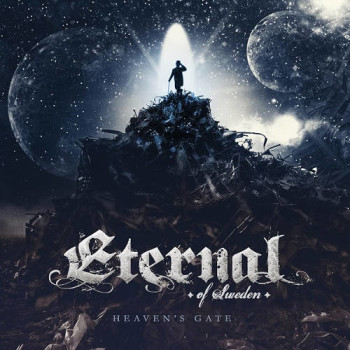 Not to take anything away from American Metal, for there is some extraordinary music coming from bands hailing from this side of the great pond (New Jersey's Symphony X, Utah's Katagory V, Florida's Circle II Circle and Kamelot, Michigan's Tiles, Colorado's Jag Panzer, and California's Cage,) but Europe, specifically Sweden and Finland seem to be a stomping ground for some of the world's best. Hailing from Sweden comes the Melodic Power Metal band Eternal of Sweden and their sophomore offering, Heaven's Gate, released on the Black Lodge Records label. Fans of Secret Sphere, Last Tribe, Civilization One, Vanishing Point, Thunderstone, Firewind, or Cardiant are going to want to add this one to their collections.
The music of Heaven's Gate is explosive, thunderous, loud, melodic but heavy, with a weight that comes straight out of the speakers dead set on using each musical bar to its fullest potential as a means to rock hard and pound away till it is just best to give in and enjoy what it is that power metal is all about – heavy melodies with lofty vocals. The sound was really quite good, a bit cluttered in a time or two, but, and here's what made this a great listen – is attention was paid to allow each song to breathe, each band member was allowed to come alive, to become part of each song, so because of that each song came into its own. The drums were played with fervor, the bass galloping along giving a bottom end boom, (especially as heard on the excellent "Surrounded By Shadows,") and the guitars and keyboards created a frame around each song that kept the music from meandering, and drifting away. Guitars and keyboards stack upon each other while lying atop of the melody are the loud, dynamic, energetic, and at times growling vocals of Christer Gards (for a comparison think Chitty Somapala) who wholly – and majestically – commands the lead vocal slot. Naming such influences as Ronnie James Dio, Rob Halford and the sorely missed Steve Lee, with such power does Christer sing throughout Heaven's Gate, and not by any means to take anything away from the other members of Eternal of Sweden, but what works so well with Christer's voice is that it is not so encompassing that the listener is forced to choose between the music and the voices, but rather as a whole do the songs come together and the result is a true dive into the world that is Eternal of Sweden.
The sounds of ghostly synthesizers open the first track "Ruins," that quickly explodes into a frenzied paced power metal outing. Just as great is the following title track with the in your face lyrics ("….dad was a sailor and mother, she was a whore…") The wonderful merger of music and voices, combined with the chord progressions, the excitement by which the song was played, as well the heave and pitch of emotions of the guitar during the mid track solo all made the title track this CD's highlight. In addition pay attention to the talents of keyboardist Pontus Lekardegard on the mid-tempo, emotional, beautiful, but forceful, "Angel," the bombastic, glorious drums of "Freedom Now," the incredible guitar work of "Praying For A New Tomorrow," the soaring, majestic "Eternal Fire," the heaviness of the Firewind sounding "Evil Dance," and closing Heaven's Gate is the keyboard heavy, the excellent, "Burning With Pride."
Of course useless American "Hard Rock and Metal" radio will ignore this great band. And that is so wrong, for bands like Eternal of Sweden who put everything they have into their songwriting, their rehearsals, and their musical delivery, and release such strong music as that what was heard on Heaven's Gate are the ones who struggle throughout their careers to be heard. It is not fair to the fans, and to the Eternal of Sweden (and countless bands like them) who deserve to be heard in not only their native country but here in America as well. While it can be said with a virtual certainty that American radio will forever remain stagnant with a blind eye to Metal bands from around the globe, it is with a true plea to fans of the melodic, the powerful, the loud, the glorious, the heavy, the towering, and the imposing sounds that is Melodic Power Metal make this a part of your collections, for Heaven's Gate was indeed a great listen.
Genre: Melodic Power Metal, Heavy Metal
Band Members:
Christer Gard – vocals
Anders "Slabben" Sandstrom – bass
Pelle Hinden – drums
Pontus Lekaregard – keyboards
Bjorn "Bjuppen" Andersson – guitars
Track Listing
1. Ruins
2. Heaven's Gate
3. Surrounded By Shadows
4. Angel
5. The Purity Inside
6. Freedom Now
7. Eternal Fire
8. Evil Dance
9. Burning With Pride
Label: Black Lodge Records
Website: www.eternalsweden.com
Hardrockhaven Rating: 8.8/10