by Justin Gaines
– Senior Columnist —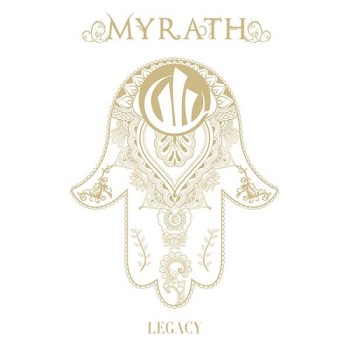 After unleashing their epic masterpiece Tales of the Sands in 2011, Tunisian Progressive/Power Metal band Myrath made fans wait nearly five long years for a follow-up. Myrath's new album, their fourth overall, is titled Legacy, and needless to say expectations are quite high.
With Tales of the Sands, Myrath had pretty much perfected their brand of symphonic, Middle Eastern-influenced Progressive/Power Metal. They were more or less the Tunisian equivalent of Kamelot. On Legacy, the core elements of the Myrath sound are in place, but it has a much different impact. With a couple of exceptions, the epic symphonic elements are dialed back and the ethnic, melodic elements are dialed way up. It's almost worthy of the "Folk Metal" tag, but that conjures up images of bearded pagans toting accordions when instead it's violins, luth and ney that swirl around these songs like a sandstorm.
Legacy may lack that grand symphonic scope that Tales of the Sands had, but the melodies are so addictive that it's not hard to overcome that initial disappointment. The first single, "Believer," is the most obvious example, as it's arguably the catchiest song Myrath has ever recorded. The Arabic/Middle Eastern melodies are prominent throughout the album, but are especially strong on songs like "Endure the Silence," "Duat," and "Nobody's Lives." Beneath those melodies is the solid heavy metal crunch you expect from a power metal band.
Myrath covers a lot of ground lyrically on Legacy. "Get Your Freedom Back" and "The Needle" tackle current events, while "Duat's" focus is the mythology of yesteryear. "The Unburnt" even pays tribute to the Game of Thrones series. Internal struggle is a recurring theme as well.
Legacy is a very different album from its predecessor, and may take a few spins to really sink in. When it does though, you'll find yourself humming these melodies hours later. It's also an album that has the potential to expand's Myrath's fanbase beyond the Kamelot/Circus Maximus Prog/Power scene and into Folk Metal and even Melodic Rock territory. And when a band is as talented as Myrath is, the more people to discover them the better.
Genre: Progressive Metal, Power Metal
Lineup:
Zaher Zorgati (v)
Malek Ben Arbia (g)
Elyes Bouchoucha (k) (v)
Anis Jouini (b)
Morgan Berthet (d)
Track Listing:
1. Jasmin
2. Believer
3. Get Your Freedom Back
4. Nobody's Lives
5. The Needle
6. Through Your Eyes
7. The Unburnt
8. I Want to Die
9. Duat
10. Endure the Silence
11. Storm of Lies
12. Other Side (US bonus track)
Label: Nightmare Records
Website: www.myrath.com
Hardrock Haven Rating: 8.5/10