Resurrection Kings | Resurrection Kings
by Justin Gaines
– Sr. Columnist —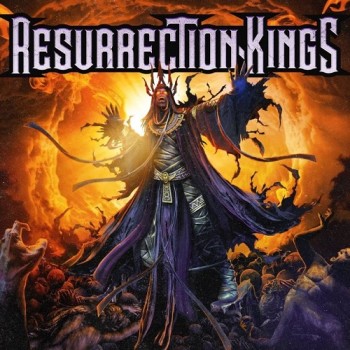 Resurrection Kings is one of two high-profile projects that debuted this year featuring former Dio guitarists (Vivian Campbell's Last in Line being the other). Resurrection Kings features guitarist Craig Goldy, who played on Dio's Dream Evil and Magica albums (among others), as well as in bands like Giuffria and Dio Disciples. Goldy is joined by vocalist Chas West (Bonham, Tribe of Gypsies), bassist Sean McNabb (Dokken, Lynch Mob) and fellow Dio alum Vinnie Appice on drums. The prolific producer Alessandro Del Vecchio lent his services to the project and wrote some of the material.
Despite the presence of Goldy and Appice, the Resurrection Kings debut doesn't have much of a Dio sound to it. Goldy and Del Vecchio have crafted songs that are much more in line with Whitesnake and Joe Lynn Turner era Rainbow than anything else. Sure, you'll have moments when Goldy's guitar licks make you think of a classic Dio track, but for the most part, this is a bold, bluesy Melodic Roock album.
Goldy is definitely in his element here, and his guitar work is the backbone of this album. Chas West has a strong, soulful vocal style that fits this kind of bluesy Melodic Rock perfectly. It remains to be seen whether this turns out to be a proper band or yet another project from the Frontiers factory, but there's enough chemistry here to make you want to see it continue.
The almost Badlands-sounding "Livin' Out Loud" is one of the album's better moments, as are the soulful, melodic (and still rocking) "Who Do You Run To" and the swaggering "Path of Love," where West vamps like Coverdale to great effect.
As long as you don't go into this expecting a Dio-style Heavy M etal album, there's a lot to like about the Resurrection Kings debut. It has top-notch guitar playing, fantastic vocals, and a great classic rock vibe. If you're a fan of Whitesnake, Rainbow, Burning Rain and Voodoo Circle, this is an album that's well worth hearing.
Genre: Melodic Rock, Hard Rock
Lineup:
Chas West (v)
Craig Goldy (g)
Sean McNabb (b)
Vinny Appice (d)
Track Listing:
1. Distant Prayer
2. Livin' Out Loud
3. Wash Away
4. Who Did You Run To
5. Fallin' For You
6. Never Say Goodbye
7. Path of Love
8. Had Enough
9. Don't Have To Fight No More
10. Silent Wonder
11. What You Take
Label: Frontiers Records
Website: https://www.facebook.com/ResurrectionKingsMusic/
Hardrock Haven Rating: 8/10