by Justin Gaines
– Sr. Columnist —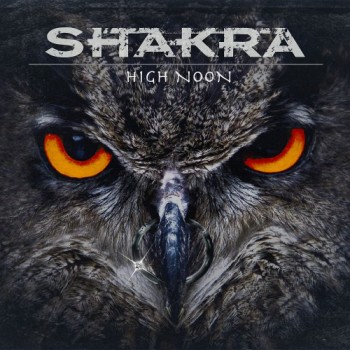 Right on schedule, Swiss Melodic Hard Rock veterans Shakra are back with a new studio album, their tenth overall, titled High Noon. The big news from the Shakra camp is that vocalist Mark Fox, who was the frontman for Shakra's best albums, is back in the fold, which will no doubt excite fans of the heavier Shakra sound from albums like Everest and Fall.
Before we look at how well High Noon measures up, it's worth mentioning that the two albums Shakra released with John Prakesh on vocals (2011's Back on Track and 2013's Power Play) were quite good, and with any luck, we'll hear more from Prakash in the future. There's a certain chemistry Shakra had with Fox, though, and it's good to have that again.
You can tell right away that Shakra had their earlier albums in mind when writing High Noon. This is very much in that Everest style, sounding like a harder-rocking, high-energy Gotthard-meets-Pink Cream 69 Melodic Rock album. The songs are super-catchy, have a good, solid Hard Rock crunch to them, and Fox sounds like a guy who's back in his element.
The one-two punch of "Hello" and the title track are sure to put a smile on the faces of a lot of Shakra fans, and the bluesy swagger of "Eye to Eye" keeps the party going. The slower "Life's What You Need" is the most Gotthard-sounding of the bunch, and makes for a nice change of pace before the appropriately-named "The Storm" kicks High Noon back into hard rock mode. The whole album seems engineered to be the perfect Shakra record.
A new Shakra album is always something to celebrate, but a new Shakra album with Mark Fox is an even bigger deal. High Noon is exactly the kind of album Shakra needed to deliver and is not going to disappoint longtime fans of this Swiss powerhouse. It also makes a great introduction to newcomers who like their Melodic Rock on the harder side. Fans of bands like Pink Cream 69, Bonfire, Gotthard and Pretty Maids, in particular, should love this one.
Genre: Melodic Rock, Hard Rock
Lineup:
Mark Fox (v)
Thom Blunier (g)
Thomas Muster (g)
Dominik Pfister (b)
Roger Tanner (d)
Track Listing:
1. Hello
2. High Noon
3. Into Your Heart
4. Around the World
5. Eye To Eye
6. Is It Real
7. Life's What You Need
8. The Storm
9. Raise Your Hands
10. Stand Tall
11. Watch Me Burn
12. Wild and Hungry
Label: AFM Records
Website: www.shakra.ch
Hardrock Haven Rating: 8.75/10