by Justin Gaines
– Senior Columnist —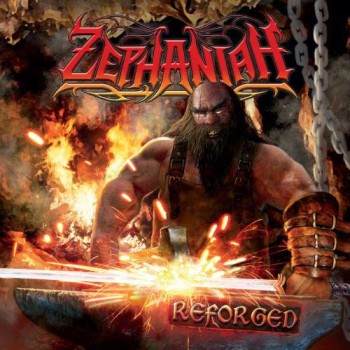 It's been eight years, but Indiana-based Heavy/Power Metal band Zephaniah is finally back with a follow-up to their 2008 debut Stories From the Book of Metal. Their new album is titled Reforged, and right away you can tell how much the band has grown since their first release.
In terms of overall style, Zephania hits somewhere between traditional Heavy Metal and Power Metal, with a fair share of thrashing elements thrown in for good measure. Jag Panzer, Iced Earth and Dragonforce are some touchstones, but they really have their own sound, complete with machine gun rhythms, technical guitar harmonies and soaring, higher-pitched vocals. Speaking of which, Logan Detwiler sounds really good here, and is a powerful enough presence to help balance out the over the top guitar theatrics. Speaking of which, Justin Zych and Tony Rudney serve up some jaw-dropping solos here that are ultra-fast and technical without breaking the songs' flow.
With just eight songs and clocking in at 52 minutes, Reforged gets right to the good stuff and doesn't bother with filler. The high speed, high energy title track sets the perfect tone right off the bat, and the anthemic "Battle Hymn of the Victorious" closes the album down on a perfectly glorious crusading note. It's the trio of songs in the middle based on the Mad Max films – "Mad Max," "Road Warrior" and "Thunderdome" – that really shine. They're epic and heavy and cheesy and awesome, all at the same time.
Reforged is a big step forward for Zephaniah, and is just an all-around enjoyable heavy/power metal album. If you like your Metal fast, powerful and with a decidedly old school influence, and especially if you're into bands like Dragonforce, Judicator, Iced Earth, Jag Panzer and Wulfhook, Zephaniah is a band that you are going to want to hear. Reforged is proof positive that American Heavy Metal is alive and well!
Genre: Heavy Metal, Power Metal
Lineup:
Logan Detwiler (v)
Justin Zych (g)
Tony Rudney (g)
Ian Bender (b)
Cody Johns (d)
Track Listing:
1. Reforged
2. Destiny
3. Mad Max
4. Road Warrior
5. Thunderdome
6. Quest For the Royal Crown
7. Judgement
8. Battle Hymn of the Victorious
Label: Divebomb Records
Website: www.facebook.com/zephaniahmetal
Hardrock Haven Rating: 8/10