by Alexandra Mrozowska
– Sr. Columnist —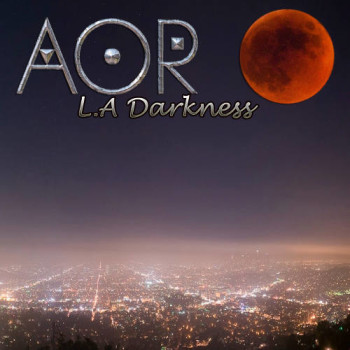 Los Angeles-related album titles and cover artwork distinctively Californian in theme are hallmarks for the AOR series now – associated of French musician Frédéric Slama and his star-studded project immediately, now that the 15th album released in this formula hits the shelves. What set the dynamics for its predecessors and provided the framework for the project to operate was always a number of renowned guest singers sharing the microphone – each of those performances being a treat for an AOR/Melodic Rock fan. With the aforesaid number fifteenth, entitled L.A Darkness, there is no difference in any of those aspects. Also somewhat traditionally for Frédéric Slama and his project, names of the singers involved tended to electrify fans of the genre on both sides of the pond. This time around, the microphone was in charge of Jeff Scott Soto (Yngwie Malmsteem, Talisman, W.E.T), Kevin Chalfant (The Storm, 707, Two Fires, Journey, Shooting Star, The V.U), Steve Overland (FM, The Ladder), Jesse Damon (Silent Rage, Kiss), Henry Small (Prism), Paul Sabu (Only Child, Kidd Glove, John Waite), Philip Bardowell (Unruly Child, Places Of Power, N.O.W) and Rick Riso (Chasing Violets). To describe this particular bunch as interesting for an AOR fan would have been an understatement.
The uptempo track number one, "The Smartest Girl In L.A", has Jeff Scott Soto revisiting his Talisman and Eyes days with style; those who value his early and mid-'90s output above everything else will be particularly pleased. With "The Locked Soul", things gravitate towards mellower AOR sound musically, the charge behind the microphone taken by FM's Steve Overland. "One Foot In Heaven" with Kevin Chalfant (The Storm, Two Fires, Journey etc.) continues in more or less the same manner as its predecessor. The album retains its feisty, edgy vibe with "Blueprint For Love", Jesse Damon's shining moment which could have been mistaken for a long-forgotten outtake from Silent Rage's Shattered Hearts or Don't Touch Me There era.
Philip Bardowell's vocal expressiveness finds its outlet in the performance of emotionally laden mid-tempo "Desire Turning Into Dust", followed by Steve Overland's return in guitar-driven track number six, "Heart In Pawn". "Seven Storms", with Prism singer Henry Small on board, has a slightly late '70s/early '80s feel to it whereas the uptempo, keyboard-laden "Why Girls Say No", sung by Rick Riso, could have served for a definition of Pomp Rock should a need to arise to coin one. "Dangerous Fascination" takes a listener back to the glory days of Only Child and Kidd Glove with the vocal performance of Paul Sabu – a Melodic Rock gem in its own right. As for the album's grand finale, instrumental tracks are overall not a novelty in AOR's camp albeit a rarity of sorts, especially in the case of their recent albums. This fact, however, is quite a pity if to consider the quality of "Burning Rainbows" which has L.A Darkness closed on a high note.
Accordingly to its title, L.A Darkness is hailed to explore "the darker" side of AOR/Melodic Rock. Whether this particular presupposition is reflected in the sound and style of the album or not, it is up to the listener to decide. Facts are that the CD encompasses what's always been the highlights of the project – a strong line-up and catchy, well-crafted material much embedded in the '80s AOR aesthetics. With the fifteenth album under his belt, Frédéric Slama is not going to disappoint his staunch fans for certain, although chances are he earns some new ones as well.
Genre: Melodic Rock, AOR
Band:
Frédéric Slama: Guitars & Keyboards
Tommy Denander: All Instruments
Kevin Chalfant: Lead & Backing Vocals
Steve Overland: Lead & Backing Vocals
Jeff Scott Soto: Lead & Backing Vocals
Paul Sabu: Lead & Backing Vocals
Jesse Damon: Lead & Backing Vocals
Henry Small: Lead & Backing Vocals
Philip Bardowell: Lead & Backing Vocals
Rick Riso: Lead & Backing Vocals
Alessandro DelVecchio: Backing Vocals
Colin Rodgers: Bass & Drums
Tracklist:
1. The Smartest Girl In L.A. (Jeff Scott Soto)
2. The Locked Soul (Steve Overland)
3. One Foot In Heaven (Kevin Chalfant)
4. Blueprint For Love (Jesse Damon)
5. Desire Turning Into Dust (Philip Bardowell)
6. Heart In Pawn (Steve Overland)
7. Seven Storms (Henry Small)
8. Why Girls Say No (Rick Riso)
9. Dangerous Fascination (Paul Sabu)
10. Burning Rainbows (Instrumental)
Label: Escape Music
Website: www.slama101.fr
Hardrock Haven rating: 8.5/10